In the late 1970s, science historian James Burke produced and starred in a documentary series called Connections. In it, Burke traced the many unexpected links between scientific discoveries, inventions, and other historical events that at first glance appeared to be unrelated. The series was a smash hit in Britain and on public television in the U.S., leading to multiple TV sequels as well as books and long-running magazine columns.
Mr. Burke, you may guess, is a bit of an inspiration to me. The series on alternate history scenarios in baseball that I began in my last column owes at least a little to his style, the long chains of circumstance that may wander into sweeping digressions, yet always come home in the end, even if from surprising directions. If I can approach the quality of his work, I'll be doing well.
I know I can match the sweep of his digressions, in any case. I'll try to keep them interesting.
This article's scenario encompasses one of the most polarizing figures in baseball history, even if it doesn't begin or end with him. It also involves one of baseball's most popular players, and tangentially one of its most famous moments (that tangentially involved that player). But it begins outside the sport of baseball altogether, with a rendition of Sweet Georgia Brown.
Meet the new Boss …
Scenario No. 3
Change: The founder of the Harlem Globetrotters gets an NBA franchise.
Result: Willie Mays wins another World Series. As a manager. Of the New Jersey Yankees.
Abe Saperstein had nothing to do with baseball. He was the owner of a traveling basketball team, originally based in Chicago but named to highlight its all-black roster: the Harlem Globetrotters. Running these wizards of the court would be enough for some, but Saperstein had higher ambitions. He wanted his own team in the National Basketball Association, and he thought he was going to get it. He had lent support to the NBA over the years, scheduling doubleheaders with his Globetrotters to boost league attendance. By 1960, he believed he had enough chits with the league to get a franchise in Los Angeles.
The NBA had other ideas, or at least Bob Short did. Short was the young and rather new owner of the Minneapolis Lakers, and seeing the recent success of the Brooklyn Dodgers and New York Giants in relocating to California, followed their example. He packed up his team and turned it into the Los Angeles Lakers, with no objection from the league. (Years later, encouraged by previous success, he would buy the second Washington Senators franchise and move it to Texas.)
Saperstein did object. Feeling betrayed, he decided to take the NBA head-on, creating his own rival league. He cobbled together an eight-team circuit to start play in 1961, including a Los Angeles Jets franchise to compete directly with those cursed Lakers. Most of the teams came from minor basketball leagues, a little like how Ban Johnson turned the Western League into the American League in 1901.
One of the founding franchises of Saperstein's American Basketball League was the Cleveland Pipers, winner of the minor National Industrial Basketball League's title in early 1961. Its principal owner was a local shipbuilding executive named George M. Steinbrenner III.
The ABL was a failure. Saperstein did his best, scheduling Globetrotters exhibitions before ABL games to give them the boost the rival league once had gotten, and introducing the three-point shot to the pro game, something the NBA instituted only years later. It didn't help, or not enough: The L.A. spite franchise went under in less than a year, and the whole league folded midway through its second season.
Steinbrenner ended up taking a $2 million bath on the enterprise. His Pipers did win the only ABL title, and made another bit of history. Their head coach, John McLendon, was the first black head coach of a major league basketball team. No thanks to Steinbrenner, though: His was the lone nay in a 15-1 vote confirming McLendon's position, and Steinbrenner's managerial style drove McLendon to resign midway through his first ABL season.
The unique Steinbrenner style was already established: miserable relations with underlings, and success in spite of it all.
There were other contretemps in his time with the Pipers. One of Steinbrenner's partners with the team was childhood friend Jim Stouffer, part of the family that owned Stouffer's Foods along with a hotel chain. George reportedly took serious advantage of Jim, stiffing him on payment for a party held for the team, even forging a five-figure check. The Stouffers, close to the Steinbrenner clan, kept this nastiness buried—but they did not forget it.
Step forward to late 1971. Vernon Stouffer, patriarch of the Stouffer clan, was the owner of the Cleveland Indians, but he was in financial trouble. His company merged with Litton Industries in a 1967 stock swap, and Litton shares crashed by more than half in early 1968, and kept falling to about 15 percent of their previous value by 1971. This left Vernon Stouffer strapped for cash, and he stopped spending on the Indians. This left an already struggling team in dreadful straits.
Stouffer was ready to sell. Al Rosen, one-time Indians player and the 1953 MVP in the American League, was now a brokerage executive in the city, just the right go-between. He approached Steinbrenner with an ambitious proposal. Not only did he have the opportunity to buy the Indians, but he might get a new stadium out of it. Developer Edward DeBartolo had a huge tract of land where he hoped to build a sports complex, including football and baseball stadiums. Cleveland Browns owner Art Modell was already interested. If a new Indians ownership got on board, DeBartolo's plan was headed for reality.
Steinbrenner jumped. He rounded up fellow investors, and gained the support of Indians GM Gabe Paul, who already had Indians stock and wanted to stay in. With Steinbrenner's connections to the Stouffer family, he was picked by the group as the natural front man for negotiations.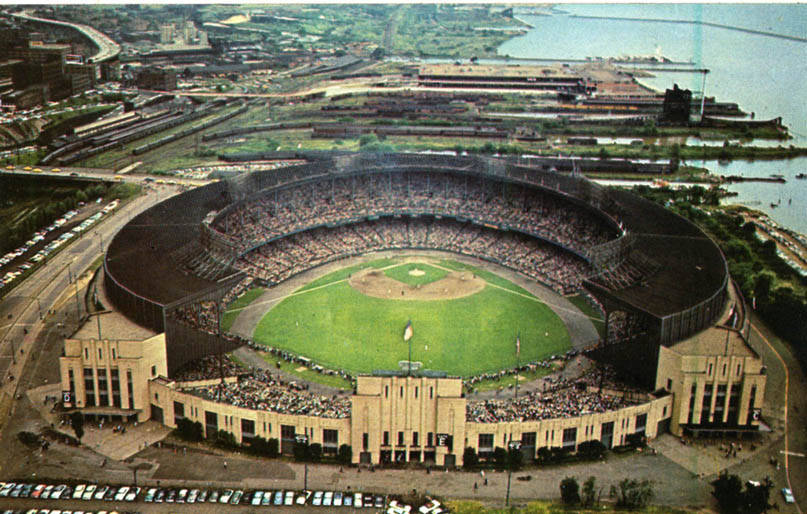 Oops.
This actually worked for a while, as he began negotiations with Jim Stouffer, and they rapidly settled on an $8.6 million purchase price. The old friends shook hands, and all that was needed was Vernon Stouffer's approval to make George Steinbrenner the owner of the Cleveland Indians. The press was notified of an impending announcement at Steinbrenner's offices, and a call went through to Vernon Stouffer in Arizona.
It was only mid-afternoon out in Scottsdale, but it was clear Vernon had already had a few. He angrily accused Steinbrenner, not only of lowballing him, but of leaking the sale price to the press. One account had him declaring "You and your friends are trying to steal my team." He refused the deal and hung up, leaving Steinbrenner in shock, with a press conference that needed cancelling.
Now, it's a bit difficult to predict the specific actions of someone predisposed to follow Jimmy Buffett's "It's Five O'Clock Somewhere" principle, but we can make educated guesses. Alcohol lowers inhibitions, such as those that might keep you from making a snap business decision based on how a potential buyer treated your son a decade ago. Without those old resentments rankling, you might be less contemptuous, and a little more calculating.
The elder Stouffer was right on the general point: His team was worth more than Steinbrenner and company had offered. Less than a year later, he would sell out to Nick Mileti's group for $10 million. A less personally angered Stouffer might have angled for that money earlier. "I know a lowball when I hear one," he could have told Steinbrenner. "When you and your people have a serious offer, call me back."
Steinbrenner would have been ticked off, and his relations with the younger Stouffer might have suffered. He would not have been put off, though, not a man who would become so famous for shelling out to get what he wanted. There would have been more negotiations, and both sides eventually would have gotten what they sought. Stouffer would have gotten more money, and Steinbrenner would have gotten his baseball team.
This means that, when CBS put the New York Yankees up for sale a year later, there would have been one fewer bidder. We'll leave Cleveland for the moment, and look at what would have happened in New York when the Yankees came on the market.
CBS purchased the Yankees from Del Webb and Dan Topping in 1964, and proved a poor caretaker. Within two years, the Bronx Bombers plunged from the pennant to the AL basement, and played middling ball for the rest of the media empire's tenure. CBS waited for a second-half surge during the 1972 season to offer the team for sale, saving a bit of face on a team that had gone from marquee franchise to albatross in less than a decade.
Even with Steinbrenner taken out of the equation, there were interested parties, and the most interesting of them was someone older New Yorkers would remember. Herman Franks played six years in the majors (interrupted by World War II) as a backup catcher, including a stint on the Brooklyn Dodgers that included their 1941 pennant. After his playing days, he'd coach with the Giants for several years, and manage them from 1965 through 1968, frustratingly finishing second all four years.
By 1972 he had higher ambitions, and the wherewithal to pursue them. He put together an investment group, and got financial backing from the Lehman Brothers firm. He began making offers to CBS that summer, which in our reality got past $13 million. His ceiling might have ended up lower without Steinbrenner bidding against him.
But here we find a conundrum. Steinbrenner bought the Yankees for a reported $10 million, over $3 million less than the Franks group offered. why would CBS take a quarter less money than it could have gotten?
It was another act of face-saving. Franks reportedly had plans for the Yankees, as did a second competing group based in Bergen County, N.J. CBS chairman William Paley, and especially his CEO for the Yankees Michael Burke, blanched at the prospect of handing over the Yankees to someone who would move them out of aged Yankee Stadium—and into the New Jersey Meadowlands.
Burke appears to have steered Paley toward the Steinbrenner bid partly because it would keep the Yankees in the Bronx, and partly because it would keep Burke as the head of the Yankees. As it developed, the unique Steinbrenner style drove Burke out within months, so he didn't gain much there. On the other point, Steinbrenner was as good as his word: the franchise stayed put, and it's tough to imagine it going anywhere else within our lifetimes.
With Steinbrenner not in the mix, though, Paley and Burke would have been stuck. They could either sell out to the northern New Jersey group that, by dint of geography, would certainly move the team to the Meadowlands, or they could sell out to the ex-ballplayer who would only likely move the team. And who, by the way, was offering two million dollars more than the Bergen County people.
So at that early January 1973 press conference, it will be not a Cleveland shipbuilder but an old Brooklyn Bums backup backstop at the podium as the new owner of the jewel in baseball's crown. He'll have two scoops for the assembled media. First, building on his experience as a general manager in the Pacific Coast League, he'll be taking the GM reins for the Yankees. Natural enough.
Second, he's got his first manager in mind, and it's a choice that sends shock waves rippling across the major leagues. Herman Franks intends to hire Willie Mays to manage the New York Yankees.
The fact that Mays would become the first black manager in major league history is almost a secondary consideration. (It's a touch of cross-time irony that Mays would be superseding Frank Robinson, hired by the Cleveland Indians who weren't bought up by Steinbrenner.) Mays' already legendary status in the game is enough to overcome the shock of this racial precedent. It isn't enough to overcome the awkward matter of his contract to play for the New York Mets.
The solution is straightforward, though traumatic. Faced with the Mets holding up the Yankees for excessive compensation for his playing contract, Willie Mays retires as a player to take those historic reins with the Yankees. On the heels of his strong 1972 performance with the Mets, the sacrifice amazes and dismays many fans. Those fans will never feel the hurt of Mays staggering through the 1973 campaign, and now neither will Mays. Stuck forever on 654 home runs, his decision is made.
The reaction against the Mets, the darlings of baseball just a few years ago, is surprisingly strong. Both fans blaming them for the end of Mays' career, and long-time partisans of National League baseball in New York who thought the Mets should have done anything to keep Mays from going over to the despised Yankees, turn against the Amazin's. There are some who would later blame this fan backlash for the Mets falling just short in the mad, mediocre scramble that was the 1973 NL East race. Of course, the Reds probably would have trounced them as easily as they did St. Louis, on the way to winning their rematch World Series against Oakland, so this probably doesn't change much.
So how would these new owners fare with their new teams? In Steinbrenner's case, he would not have very long to find out.
His promises of being an absentee owner would have gone by the boards almost before he uttered them. He could justify that easily enough: the Indians were in a 60-102 hole, it would take a lot of digging to get out of it, and who better than someone as dedicated as he was to winning?
He could start with most of the roster. Of the position players, Chris Chambliss and Graig Nettles would prove useful, but Ray Fosse was breaking down under injuries, and nobody else wound up being that valuable. The pitching was worse, though Stouffer (meaning general manager Gabe Paul) gave Steinbrenner a parting gift by trading the slumping Sudden Sam McDowell to the Giants for Hugh Duffy and Gaylord Perry, who would expectorate his way to the Cy Young Award in 1972.
Steinbrenner would get busy, but with uncertain success. The era of free agency had not yet arrived, so he couldn't open his checkbook and snap up good players. He'd have to make trades, guided by his perceptions of players' abilities, which, shall we say, one could question. He'd still have Gabe Paul as GM, and as far as he avoided horning in on Paul's job, things would probably go well. He surely wouldn't avoid horning in, so things would probably go less well, but still be an improvement.
Managers would be another matter. Ken Aspromonte, hired the month before Stouffer sold out, would have been living on borrowed time managing a team that wasn't going to win now. Maybe he'd make it to late 1973, or maybe it'd be someone else getting sacked when Steinbrenner pulled his coup. The Detroit Tigers fired manager Billy Martin at the end of August 1973, and while in real life the Texas Rangers snapped him up in little more than a week, in our timeline someone else is even faster to scoop up this fiery manager with a habit of winning.
The team of Steinbrenner and Martin would last exactly one year. Some relationships may be fated to happen, but sometimes a larger fate intervenes. And in the America of 1973-74, there was nothing larger than Watergate.
The story as it happened in our reality is pretty familiar. Steinbrenner made illegal contributions to Richard Nixon's re-election campaign in 1972, in some cases using employees of his shipbuilding company to donate his money in their names. He would plead guilty to reduced charges in August 1974, avoiding jail time but drawing a two-year suspension from baseball from Commissioner Bowie Kuhn.
In the new timeline, some elements would change. Our Steinbrenner didn't involve Yankees employees in his scheme because he didn't yet own the Yankees. Alternate-Steinbrenner, with the Indians at his disposal, would probably have used a couple of them. Also, when the facts of his finagling came out in hearings during late 1973, he would have incurred the wrath of one of his limited partners: Howard Metzenbaum.
Metzenbaum built a $20 million fortune from a parking lot business he co-owned with Ted Bonda, another Steinbrenner partner with the Indians. He also had political aspirations. He ran for the Senate in 1970, narrowly beating John Glenn in the Democratic primary but losing to Robert Taft Jr. in the general election. He meant to try again someday.
His reaction to learning what Steinbrenner had done, and involving the Indians to boot, would have been not only outrage, but betrayal. In years past, Steinbrenner had been one of the Democratic Party's biggest fundraisers, so much so that Ted Kennedy offered his name as chairman of the DNC! Steinbrenner had been trying to lobby a maritime bill favorable to his shipbuilding concerns through a Democratic Congress, and this was the price he, successfully, paid. The Nixon contributions were a balancing of the books, trying to stop adverse rulings to his company by the administration which might have been political payback.
Metzenbaum would have loudly dissociated himself from Steinbrenner, selling out his piece of the team by the end of 1973. It would have been too late, though. One of Ohio's Senate seats fell vacant early in 1974, and Metzenbaum was the Democratic governor's original choice to fill it. With the active Steinbrenner scandal still clinging to him, though, Metzenbaum would have been passed over. His political career would have been short-circuited, probably never to get back on track.
Bowie Kuhn would have had a bigger problem dumped into his lap. Campaign foolery he thought pretty venial stuff, though the obstruction of justice charge Steinbrenner admitted to disturbed him more. Involving employees of the Indians, however, dragged the good name of baseball into the political mud, and the connection of that Metzenwhozits guy only made them more of a partisan target. Drawing the enmity of an entire political party was clearly not in the best interests of baseball.
Kuhn struck fast. On Aug. 31, 1974, the day after Steinbrenner's sentencing, the commissioner of baseball ordered him to sell his stake in the Cleveland Indians.
Steinbrenner went ape, vowing to fight the decree, take it to the Supreme Court, strike down baseball's sacred anti-trust exemption if that's what it took for him to keep what was his. He might have done untold damage to baseball, had his co-owners not taken matters in hand. Ted Bonda, strengthened by the share he took off Metzenbaum's hands, got enough partners on his side to force Steinbrenner out. Bonda ended up primary owner, with the blessings and gratitude of Commisssioner Kuhn.
The price was high, though. The Indians ended up as financially wobbly as with the Stouffers, Bonda having overextended himself in Steinbrenner's ouster. The Ed DeBartolo stadium venture, which had been moving forward with Steinbrenner's energy and money buttressing it, wavered and then partly collapsed. The football stadium would get built for the Cleveland Browns—incidentally ensuring they would never move to Baltimore—but the baseball field went by the boards.
In the end, so did the Cleveland Indians. The upticks in both performance and attendance during the Steinbrenner years reversed themselves. Bonda would finally call in the favor he had earned with Kuhn, arranging for the team to relocate. Activists who had been denouncing the team nickname for years got their wish in ironic fashion, as the Indians became cowboys. The Cleveland franchise landed in Arlington, to become the Texas Rangers.
No, there wasn't already a Texas Rangers team. Remember Bob Short, aced out of moving the Minneapolis Lakers to L.A. by Abe Saperstein? Maybe he struggled along in Minnesota; maybe he moved to San Francisco and struggled along there, Horace Stoneham to Saperstein's Walter O'Malley. Either way, he would not have been impressed with how lucrative a franchise relocation could be. So when he bought the second Washington Senators, he struggled along in place with them, never transplanting them to Texas.
Or maybe he never bought the team, and Bob Hope scooped them up instead. Yes, that Bob Hope. There are so many jokes to make here, but I don't have Bob's writers, so I won't try that.
As for the banished Steinbrenner, he would aptly experience a Nixonian rehabilitation, only faster. Many observers thought Kuhn had panicked trying to steer baseball clear of political entanglements, and considered Steinbrenner something of a martyr. So when the ownership of an incoming NFL expansion franchise suddenly backed out in a financial dispute with the league, Steinbrenner went for the bomb, and Commissioner Pete Rozelle did not intercept him. Less than a year after losing the Indians, a vindicated Steinbrenner found himself the owner of the Tampa Bay Buccaneers.
Today, it's hard to imagine Steinbrenner as anything other than the stereotypical football owner, as brash and hard-nosed as the players in the trenches. His exploits are legendary: the clashes with Rozelle, the bizarre cycle of hiring and firing head coach George Allen, and of course the Super Bowl titles, two of them in epic battles with the Raiders and fellow pain-in-the-neck owner Al Davis. A full accounting of his NFL career, however, is beyond the scope of this baseball article.
With that branch closed, we can now return to New York City—briefly. Franks and the other new owners of the Yankees listened to the city's ideas for renovating the deteriorating Yankee Stadium, but the deteriorating neighborhood around it was of greater concern. They ended up making their deal with the New Jersey Sports and Exposition Authority to occupy the baseball stadium now to be built in the Meadowlands.
Mays' Yankees remained in the old stadium as their new one was erected. As New York City had bought up Yankee Stadium preparatory to its renovation, and owned Shea Stadium at that time also, there was some talk of expelling the ingrate Yankees from New York altogether in retaliation. Perhaps the example of the public backlash against the Mets over the Mays debacle allowed cooler heads to prevail. The Yankees played out the string in a stadium that already felt haunted by the ghosts of a team that had not yet perished.
The time in limbo ended in April 1976, with the first game at the new Yankees Stadium (note the plural). Retaining many of the old dimensions and features, it eased the traumatic transition for fans who cherished continuity and tradition. One tradition was forcefully maintained: Despite my self-indulgence in setting the scenario, the team remained the New York Yankees. A few bootleggers selling merchandise with an interlocking N-J logo were made examples of, despite gray areas in trademark law.
The greatest Yankees tradition was not a name or a stadium, however. It was championships, and the team of Franks and Mays would finally restore it.
Do not let the initials fool you: I am not Steve Treder. I'm not going to postulate the chain of every single trade, waiver move, and free-agent pickup the Yankees make to regain their accustomed place in October. I will merely point out the broad paths, the likeliest directions the Yankees will take on their trek to a title.
One of them will be the same route the Steinbrenner Yankees took: the emerging free-agent market. With the largest fan base in America still there to feed them spectators, as well as a brand-new ballpark as an attraction, the Franks Yankees will have the cash flow to support aggressive moves. Familiar acquisitions like Catfish Hunter and Reggie Jackson will still come off in this scenario. Jackson in particular will be eager for the chance to play for the majors' first black manager, maybe even inking the deal a year early rather than detouring to Baltimore.
Franks and company will also exploit another opportunity Steinbrenner didn't have: the Cleveland Indians' fire sale. Bonda will be moving some of his more expensive talent to keep his Indians afloat, and the Yankees will be able to include enough money in the deals to make them his preferred suitor. Effective players like Graig Nettles, Chris Chambliss, and Dick Tidrow will go from Chief Wahoo to pinstripes in this reality, the same as in ours.
Perhaps the spending spree will be less massive, as it's an ex-ballplayer and not a hard-lobbying shipbuilder behind these Yankees. That might leave them a few games to the bad in '76, but with the 10 1/2-game margin of victory they had in the division that season (our version), they can absorb the hit and still reach the postseason. Chris Chambliss will be there to hit a walk-off homer (I'll let history repeat itself here), and the Cincinnati Reds will be waiting to crush them—for what is now their third World Series win in four seasons, a dynasty to contend with the Yankees of old.
It all comes together for Willie and the ex-Bronx Bombers in 1977. Mays creates an admittedly race-based rapport with Reggie, who checks his ego a little, starts hustling on defense in emulation of his manager, and actually becomes more of a team leader than a controversy magnet. New York holds off a strong challenge in the division, bounces the Royals again, and in the World Series faces the Dodgers, an old Yankees nemesis. They're an old Willie Mays nemesis, too, and he rises to the challenge, beating Dem Bums to win the World Series.
Willie Mays makes all sorts of history. He's the first black manager to win the World Series, and the fact that this doesn't completely dominate the "Willie won the Series" story lines is actually a positive indicator for race relations. The bigger parlay comes a few months later, when he receives the call from Cooperstown. It's been five years since his last game in 1972, and he's in—and he's now the first reigning world champion manager to be elected to the Hall of Fame.
This is a good point at which to draw the curtain: the Yankees restored to greatness, Willie Mays lauded as no baseball figure has been since maybe Babe Ruth. No more of the story needs to be told—which is an ironic conclusion. It is because of the success of owner Herman Franks and manager Willie Mays, and the exalted reputations (or more exalted for Mays) they attain, that a certain baseball story ends up not being told.
Franks played one game in 1951, his last game in the bigs, with the New York Giants. From that ending, he moved smoothly to his new beginning as a coach, and in late July, manager Leo Durocher found a particular use for him. With the Giants in third place and fading, Durocher installed Franks in his office in the Giants' clubhouse beyond center field, with a telescope and an electrical signaling system.
Herman Franks was instrumental in the sign-stealing scheme the Giants used during their famed 1951 stretch drive and their legendary playoff against the Brooklyn Dodgers. In our world, there were always rumors circulating that something underhanded like this happened, finally given confirmation by the work of Wall Street Journal writer Joshua Prager. In the alternate world …
Divulging a decades-old secret is difficult enough. Divulging such a secret that will throw mud on the name of one of the most respected owners in baseball? Not to mention on someone who is not only one of baseball's very greatest players and a successful manager, but also a civil rights standard-bearer?
It won't happen. Ranks will close. Lips will stay sealed. People will take their secrets to the grave. When Herman Franks dies in 2009, a passing generation of players and fans may recall the rough-edged bench jockey he had once been, but the dominant attitude will be of unsullied respect.
Only now, with Franks, Bobby Thomson, and so many other Giants dead, and with a long-retired Willie Mays beginning to fade into a merely historical figure, would the long-suppressed rumors start percolating again. Could the story be revived, the allegations proven? Every passing day would make it unlikelier, and a lot of days have passed since 1951. A lot of the connections have gone cold.
But the connections back to Abe Saperstein, and the Los Angeles expansion team he got in the NBA, would still be vibrating, however unseen.
References & Resources
Central to this scenario was information in Bill Madden's Steinbrenner: The Last Lion of Baseball, along with a dollop from Peter Golenbock's George. Back issues of The Sporting News revealed the outlines of Herman Franks' bid for the Yankees, while the NorthJersey.com site tipped me off to the Bergen County group's offer. Baseball-Reference filled in plenty of details.
A writer for The Hardball Times, Shane has been writing about baseball and science fiction since 1997. His stories have been translated into French, Russian and Japanese, and he was nominated for the 2002 Hugo Award.