Woody Studenmund's Ballpark Reviews
I've reviewed ballparks for the Hardball Times for over a decade, but I've never seen anything quite like the Atlanta Braves new field, SunTrust Park. That's because SunTrust isn't "just" a baseball stadium. Instead, it's a small city!
Atlanta already had a perfectly good ballpark in 20-year-old Turner Field near downtown, but chose to move 25 minutes (depending on traffic) from the city center and build in a large wooded area at the intersection of two major freeways. This alone was a huge decision, because most recently built baseball stadiums have been in or near the city, not out in the suburbs. But then the Braves doubled down by surrounding their new home with "The Battery Atlanta," a business complex that will eventually contain 60 bars, restaurants, and shopping opportunities centered on major draws like a 4,000-seat Live Nation concert hall, an Omni Hotel, a Comcast office building and more. This combination means that customers will potentially be drawn to the site 365 days a year instead of only 81. While St. Louis and San Diego have similar themes around their ballparks, those ballparks are still located in the city center, as opposed to Atlanta, which just built its new ballpark and "Battery" in a previously wooded suburban area 25 minutes from downtown!
Inside the ballpark, this business/entertainment connection continues, as the Braves offer "a space for every occasion." Check out this list of special sections that allow a visit to SunTrust to be "an all-encompassing luxury experience." There's the Delta SKY360 Club, the SunTrust Club, the Konica Minolta Conference Center, the Coors Light Chop House, the Home Depot Clubhouse, the Xfinity Rooftop and Hank Aaron Terrace, the Infiniti Club and more. In essence, the Braves are attempting to attract fans not only with baseball but also with the kind of positive social interaction that you might find at SEC football tailgating. To judge from the game I attended — I went on Opening Day — they've succeeded, as the crowd arrived (and drank) early and stayed late, clearly enjoying being with other Braves fans.
But perhaps it's time to talk about the ballpark itself. It's a gem! It seats only 41,000+ fans, but it otherwise has quite a bit in common with Dodger Stadium (at least once you get inside). The stadium is dug into the ground a bit, and it has four decks with a fairly sharp vertical rise, so most seats have excellent views of the action. The playing field distances are virtually symmetrical, with only a 10-foot short porch in right field (with a higher wall) causing any irregularities. The bullpens are asymmetrical, with the home bullpen more or less in center field and the visiting bullpen all the way in left field. The color scheme is a beautiful combination of brick and "Hunter green," giving the ballpark a traditional feel. The foul lines are mini-Fenway in design, giving rise to the possibility that a double down the line will bounce past the outfielder into center, becoming a triple.
Except for this and the porch, however, there are no gimmicks on the field. There's a familiar-looking Coca-Cola sign in left field, but it's outfitted with a baseball (and a six pack) instead of the San Francisco glove. The outfield light towers have a vertical "I" shape as opposed to old-fashioned light standards that are shaped like a "T" or are horizontal. It's a little hard to tell if it's a hitters' or pitchers' park, but my guess is that it won't be far from the league average, except that left-handed dead pull hitters should be able to take advantage of the porch in right. As you'd expect in an open stadium in a rainy area, well over half of the seats are covered by a roof or the next deck up.
And then there's Monument Garden. Under the stands directly behind home plate is an historical display that is by far the best I've seen in any baseball stadium (with apologies to center field in Yankee Stadium). Monument Garden combines photos, videos, statues, bats, baseballs, gloves, trophies and written descriptions, and it does so in a way that allows fans to get up close and personal with the displays, much like an exhibit in my hometown of Cooperstown.
The quality and variety of the food was a bit underwhelming. I enjoyed the BBQ pulled pork sandwich and an ice cream bar in the shape of a Braves tomahawk, but the rest of the items were very average. Two exceptions that I didn't try, the bacon cheddar popcorn and the foot-long corn dog, looked visually unappealing, but they might have tasted great. To be fair, however, I didn't have access to any of the premium venues, so I probably missed out on the best food.
As you'd expect, SunTrust has a number of high-tech capabilities. Thanks to Comcast, it has enough bandwidth (supported by 1,350 WiFi access points) to allow every fan to be texting (or taking selfies) at the same time with the fastest speed of any American sports venue. The stadium also is set up to be well served by Uber cars. There's a special lane that allows Ubers to drive right up to the stadium, and they claim that there's an efficient Uber pickup system linked to a specific access point.
Naturally, there were a few glitches. Almost none of the Braves employees outside the ballpark had any idea of where to find "will call," in part because the Will Call signage is hard to see from more than 10 feet away. I tried hot dogs from three different venues, and none of them were truly hot despite my request that they be well done. Perhaps worst of all, the vaunted Uber pickup scheme wilted under the immense Opening Day demand, with nobody really understanding how the system worked. My guess is that all these problems (and others that I didn't notice) will go away quickly once the Braves management gets used to the new attraction.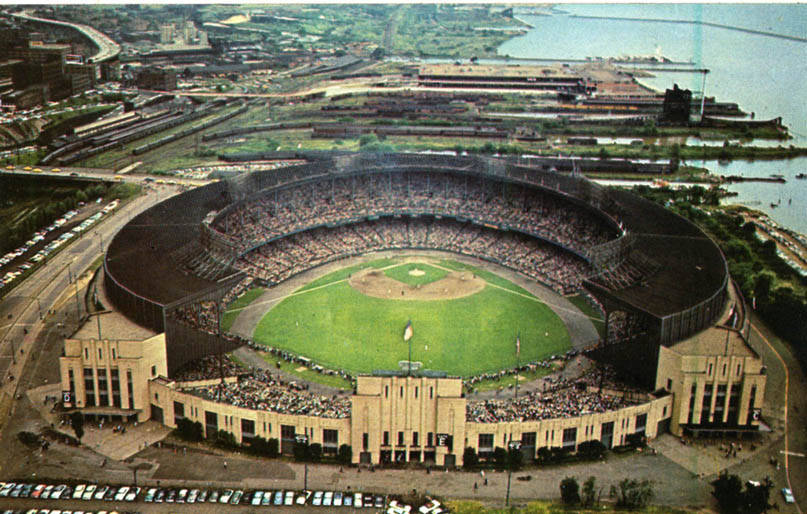 A more permanent problem is that the concourses in a number of areas are simply too narrow for a sell-out crowd. My tour of the ballpark came to a complete halt at least three times when huge crowds of fans heading one way encountered huge crowds of fans attempting to go in the opposite direction. The concourse opposite Monument Garden was by far the worst example of this difficulty, and it's not at all obvious that the problem can be fixed very easily.
But these are small problems compared to the compact beauty of the stadium and its exciting approach to combining baseball, business and social activities. It's a winner! This certainly is good news for the Braves and their fans.
How does SunTrust compare to the other 29 major league ballparks? I think it's very, very good, ranking just outside the top 10, comparable in overall quality to Philadelphia's Citizen's Bank Park and San Diego's Petco Park. My favorites are:
San Francisco's AT&T Park
Pittsburgh's PNC Park
Chicago's Wrigley Field
Boston's Fenway Park
Seattle's Safeco Field
Baltimore's Camden Yards
Los Angeles' Dodger Stadium
Cleveland's Progressive Field
New York's Yankee Stadium
Minnesota's Target Field
Beyond these 10, there are 18 other ballparks that are terrific places to watch a game. For the mathematically inclined, think Poisson distribution, not Normal distribution. SunTrust probably comes in 14th on the list, but the actual rank isn't as important for those outside of the top 10. Only Oakland and Tampa Bay have stadiums that, in all honesty, need to be replaced. But I suppose that's good news for me, because it means I might be reviewing another new ballpark in a few years.