At one time, Bobby Murcer was nicknamed "Lemon." He got the name from New York Yankees teammate Fritz Peterson in 1969. The name stemmed from the shape of Murcer's face, which had the same general outline of a lemon, and from the sometimes sour expression on his face. When he squinted his eyes and pursed his lips, he looked like he had just bitten into a lemon.
Both reasons are readily evident on Murcer's 1975 Topps card. He doesn't appear particularly happy here. It's almost as if he has seen a foreshadowing of the trade that will send him from the New York Yankees to the San Francisco Giants. Of course, Murcer didn't know about the trade when he posed for the card. The colors of the Giants seen here are not actual; they are airbrushed. At the time this photograph was taken, likely during the 1973 season at the original Yankee Stadium, Murcer was still happy and content as a member of the Yankees.
Under normal circumstances, Topps took photographs of players from the previous season and then used them in that year's new set. So most photos from the 1975 set were obtained in 1974. But this photo could not have been taken in 1974 because the Yankees did not play any games that season at Yankee Stadium, which was under renovation and would not reopen until 1976. The Yankees played the 1974 season at Shea Stadium in Queens. So this photo must date to 1973, or perhaps even earlier.
In some ways, this card represents the start of the unhappy phase of Murcer's career. He wanted no part of the Giants or cold, blustery Candlestick Park. He wanted only to play his entire career with his beloved Yankees.
Murcer's association with the Yankees began in 1964, the final year before the adoption of the major league draft. A coveted amateur free agent, he received a higher offer from the Los Angeles Dodgers, another team that he liked. But he gladly took less from the Yankees, who had been his No. 1 choice all along.
Murcer would become so well known as a power-hitting outfielder that it's easy to forget that he began his professional career as an athletic shortstop. The Yankees viewed him as the heir apparent to Tony Kubek, who had been forced to retire at age 29 from a chronic back condition. But Murcer wasn't exactly Kubek at shortstop. He routinely sailed throws past the first baseman, sometimes reaching the stands on the fly. It soon became obvious that Murcer would have to learn another position.
After debuting for the Yankees in 1965 and 1966, when his errant heaves from shortstop put all those box seat holders at Yankee Stadium in jeopardy, Murcer saw his development rudely interrupted by the realities of war. Although Murcer never set foot in Vietnam, he had to spend significant time in military training. Drafted into the Army in the fall of 1966, Murcer became a radio corpsman stateside. That cost him the entire 1967 and '68 seasons. He was slightly terrified by the experience, but his time in the military, both in training and as a corpsman, taught him about strength and self-reliance, about discipline and responsibility. In a strange way, the experience made Murcer a better ballplayer.
Murcer returned to the Yankees in 1969. That season, manager Ralph Houk tried him at third base, but he made 14 errors in 31 games. So the manager switched Murcer to center and right field, where he played far more comfortably. Both in the field and at bat, Murcer emerged as a completely different player than the prewar version. He drew comparisons to Mickey Mantle, who had just retired during the spring. Some writers talked about him as the true successor to Mantle.
That wasn't remotely fair, but Murcer did hit 26 home runs and slug .454, power numbers that surprised some folks given that he was all of 5-foot-11 and 160 pounds. He didn't look like a slugger, even in a year when baseball started to change the rules to counteract the Year of the Pitcher. He didn't look like Mantle either, but he did have the ability to play center field, the same position that "The Mick" had played in his prime.
In 1970, Murcer moved to center field full time. His slugging fell off somewhat, but he more than compensated by ramping up his level of patience. With 87 walks to his credit, Murcer's on-base percentage came in at .348. He could also steal a base, 15 to be exact, even though he tended to get caught more often than Houk would have desired.
At times when being a Yankee fan produced a number of mediocre and dark moments, Murcer provided some illumination. In the early 1970s, the Yankees found themselves weighed down in a funk of mediocrity, unable to keep up with powerhouse teams like the Baltimore Orioles. They had middle infielders who couldn't hit (Gene Michael), a second baseman who struggled to turn double plays (Horace Clarke), a parade of feeble third basemen (at least until Graig Nettles arrived in 1973), no real right fielder, and a back end of the starting rotation that lacked the depth to stay even with the pitching-rich Orioles. There was simply too much playing time for the likes of Jerry Kenney, Rich McKinney and Mike Kekich.
Yet, the Yankees were still worth watching in the early 1970s. They had Thurman Munson behind the plate. They had the underrated Roy White in left field, the steady-as-they-go Mel Stottlemyre leading the pitching staff, and an emerging relief ace in Sparky Lyle, who arrived in 1972. And they had Murcer.
There's a tendency to forget how fine a player Murcer was from 1969 to 1973. In June of 1970, Murcer hit home runs in four consecutive at-bats. They didn't come in one game, but spanned a doubleheader against the Cleveland Indians. Murcer's feat tied a major league record, but quickly became overshadowed by an odd occurrence in the doubleheader. Indians first baseman Tony Horton created headlines when he struck out against the "Folly Floater" thrown by Yankees reliever Steve Hamilton and then crawled back to the Indians' dugout. Horton's psychological problems became a big story, pushing Murcer into the background.
In 1971 and '72, Murcer was not only the Yankees' best player, but one of the top five in the American League—and that's a conservative assessment. He slugged .543 and .537, respectively, at a time when a .500 slugging percentage meant something. In 1971, he led the American League with a .427 on-base percentage and an OPS of .969. In 1972, he led the league in runs scored and total bases. He did all of this while carrying a paper-thin lineup that had Clarke leading off and over-the-hill veterans like Felipe Alou and Johnny Callison batting behind him.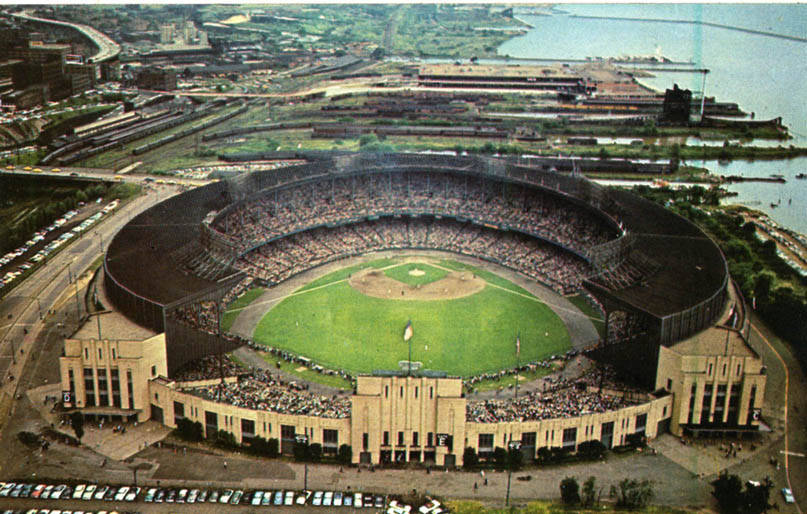 Murcer showed some slippage in 1973, as his OPS fell off by 77 points, to .821. Still, he hit 22 home runs, made the All-Star team, and finished ninth in the MVP race. He was 27 years years old, and there was no reason to think that Murcer was heading for a downfall.
The 1974 change in venue, from Yankee Stadium to Shea Stadium, would prove to be far more debilitating than anyone thought. Murcer hated Shea, where the ball didn't travel well. He hit only 10 home runs for the entire season and slugged a pathetic .378. After watching him cave into the dimensions of Shea Stadium, the Yankees decided it wasn't worth the wait for the opening of the renovated Yankee Stadium in 1976, when Murcer might be able to revive his game and reacquaint himself with the short porch in right field. General manager Gabe Paul, who didn't like Murcer to begin with and had grown to distrust him because of his coziness with owner George Steinbrenner, pulled off a blockbuster deal. It was a one-for-one transaction that sent Murcer to San Francisco for another prime time outfield star, Bobby Bonds.
Like most Yankees fans, I was furious. Murcer was just about my favorite Yankee, along with Munson. Why? After all, he had never played for a championship team in New York and he had failed to live up to the expectations—however unfair and ridiculous—of being the next Mantle. Well, neither of those realities mattered to me. In my mind, Murcer was plenty good; he was a little guy who showed surprising power from the left side of the plate, ran faster than most white guys were supposed to run, played a very good center field, and hustled at all times. He also seemed to be an easy-going, down-home gentleman.
I lost track of Murcer as he played those in-between years in San Francisco. But, perusing old issues of The Sporting News and various newspaper clippings, it's easy to trace the San Francisco years. He hated Candlestick Park, which he termed the worst ballpark he ever played in, because of the incessant cold, the fierce winds, and the unforgiving artificial turf. Murcer made his feelings about The Stick publicly known. "The weather conditions are so bad at Candlestick Park," Murcer told writer Phil Elderkin, "that if I were a Giants fan, I'd never pay to watch a game here." The Giants' front office was not thrilled.
When the Giants approached him about signing a long-term contract before he became a free agent, Murcer showed little interest. He told the Giants that to re-sign with San Francisco, he would have to have a $1 million contract. That ended that conversation. So prior to his walk year of 1977, the Giants peddled Murcer to the Chicago Cubs as part of another blockbuster trade, this time involving Bill Madlock.
In 1979, Murcer struggled for the Cubs, with some fans calling his play lackadaisical and booing him at Wrigley Field. Meanwhile, across the leagues, the Yankees became mired in a season of disappointment and tragedy. Expected to win the American League East after their second consecutive world championship, the Yankees endured a miserable first half to the season. A bad omen came when backup catcher Cliff Johnson became involved in a clubhouse skirmish with right-hander Goose Gossage, tearing a ligament in Gossage's thumb and sidelining him for the next three months. The Yankees placed the blame squarely on Johnson, whom they dumped at the June 15 trading deadline, sending him to Cleveland for a mediocre left-hander named Don Hood.
Eleven days after the deadline, Murcer became a Yankee again. Given his suppressed numbers with the Cubs (a .258 average with seven home runs through 58 games), Murcer slipped through waivers in both leagues, allowing the Yankees to acquire him for a minor league pitching prospect named Paul Semall. A lanky right-hander, Semall had won 17 games pitching at Double-A in 1978, but lacked a big time fastball. He was a decent prospect, but nowhere near a blue chip. As it turned out, he never pitched in the major leagues. None of that mattered; Yankee fans like me were simply thrilled that Murcer had returned to the pinstripes after a five-year absence.
Then came the Aug. 2 plane crash that claimed the life of Thurman Munson, who was just 32 and was Murcer's closest friend on the team. Just a few days later, a drained Murcer delivered a beautiful and moving eulogy of Munson at the funeral service. Not coincidentally, Murcer became a source of inspiration to his teammates, who were looking for a leader in the midst of a season gone mad.
Just hours after the Yankees attended Munson's funeral, the realities of the 1979 schedule dictated that they play a Monday night game against the Orioles, who were on their way to the American League East title.
Though the season was a lost cause by then, a nationally televised game on ABC became a must-see event for diehard fans of the Yankees. Even if it was only to hear what Howard Cosell had to say about the Yankees, Monday Night Baseball was a necessity in our household.
Murcer was not supposed to play that night; manager Billy Martin had wanted to give him the game off because of the emotional stress of the Munson eulogy. But Murcer told Martin that he wanted to play. In fact, he insisted, to the point that Martin changed the lineup card.
The game did not begin well for the Yankees. They trailed the Orioles, 4-0, and, understandably, seemed exhausted. Then, in the seventh inning, circumstances began to change. Murcer initiated a comeback with a three-run homer. Still, the Yankees trailed by a run heading to the bottom of the ninth. Facing Orioles relief ace Tippy Martinez with two runners on base, Murcer laced a pitch down the left field line, bringing home both runners to win the game in Hollywood fashion. As his teammates congratulated him, Murcer yelled, "This one's for Munson!"
Murcer remained with the Yankees through 1983. No longer a star outfielder, he emerged as a useful role player, filling in mostly in left and center, as a DH, and as a pinch-hitter. He became an important part of the underrated 1980 Yankees, hitting 13 home runs in under 300 at-bats as part of a deep and versatile bench managed by Dick Howser. He then closed out his career with three seasons as a DH. When Murcer retired in the middle of the 1983 season, he fittingly gave way to another Yankee who would become beloved, a young first baseman-outfielder named Don Mattingly.
Thankfully, Murcer's second career in baseball would give us a deeper glimpse into his personality. He moved into the Yankee broadcast booth, where his laid-back Southern style became the perfect foil to Phil Rizzuto's comic madness. Murcer didn't deliver in-depth analysis like a Tim McCarver, but he made up for that with a calm, easygoing manner, a flair for storytelling, and a willingness to be the punch line to Rizzuto's jokes. He was a good and easy listen. He also became a fixture at Old-Timers' Day, where he sported a microphone and performed an amusing routine working with guest "hitting instructors" in a futile quest to pick up another hit at his advanced age.
I received a first-hand taste of Murcer's good-natured manner in the early 2000s, when I interviewed him for a show that Billy Sample and I hosted on MLB Radio. Murcer didn't disappoint; he was just as friendly and folksy with me as he had always sounded while working Yankee games. And little did he know that he had just fulfilled a dream for me, allowing me to interview one of my childhood heroes.
A few years later, Murcer's broadcasting career would be interrupted by unforeseen circumstances. During the summer of 2006, he began to experience a series of headaches, which resulted in the eventual diagnosis, coming on Christmas Eve, of a brain tumor. Murcer bravely fought the disease for two years, even writing a book.
Two years later, Yankee fans received the news that we had all dreaded. The brain tumor had taken him at the age of 62. Murcer's death did not come as a complete shock. After hearing him on a Yankee broadcast earlier in that 2008 season, I came away feeling discouraged. He didn't sound right; his voice was weak and distant, and he lacked his usual positive energy. I came away from that broadcast with a sick and unwanted feeling that he might not announce another Yankee game.
Then came reports that Murcer's health was sagging, that he wasn't doing as well as he had appeared to be during the previous summer. But even with all of those warning signs, I wasn't completely prepared. I thought we'd see him attend at least one more Old-Timers' Game, maybe even make a studio appearance on the YES Network. So when I heard the news of Murcer's death, I still felt the hit. It's always that way when you hear about the death of one of your favorites.
It's even worse when a favorite player is one of the good guys. That's not to say that Bobby was perfect. He sulked when Yankee manager Bill Virdon switched him from center field to right field in 1974, held a grudge for too long against Gabe Paul for trading him to the Giants, and whined too much about the unpleasant winds of Candlestick Park. He also chafed under Howser's platoon system in 1980, becoming so disillusioned that teammates changed his nickname from Lemon to "Black Cloud."
Then there was Murcer's unfortunate entrance into pop culture. In the early 1980s, after he retired and moved up to the broadcast booth, he recorded a song, "Skoal Dippin' Man," that essentially glorified the use of smokeless tobacco. Murcer severely regretted his involvement, especially after his mother and brother both died from cancer. Like the other episodes, the association with tobacco didn't make Murcer any less of a gentleman or a man of high character; it just made him more human.
Bobby Murcer's 1975 Topps card reminds us of some of those unhappy times. But just as he received a reprieve when he returned to the Yankees in 1979, we can take satisfaction in knowing that Murcer enjoyed his career far more than most. We can also take solace in knowing that Murcer, on balance, was one of baseball's good souls, a man who made life for us Yankees fans back in the day so much better.
References & Resources
Christian Science Monitor
The Sporting News
Bobby Murcer's biographical file at the National Baseball Hall of Fame
Yankee for Life, by Bobby Murcer