Look up Carlos Bernier on baseball-reference.com, or in most any encyclopedia, and you'll find only the briefest of entries:
Year  Club  Pos-G    G   AB   R   H  2B  3B  HR  RBI  BB  SO  SB  CS    BA   OBP   SLG
1953   PIT  OF-86  105  310  48  66   7   8   3   31  51  53  15  14  .213  .332  .316
One season, that's it. We see that he was 26 years old, and played primarily center field for a miserable 50-104 last place team. It's obvious that he had serious speed, though his stolen base percentage was pretty bad. We see that he walked a lot, struck out a lot, and generally didn't hit much at all except triples.
What is one to conclude from such a tiny snippet of a career? It would seem that this was a guy with a set of wheels but not much else, who knocked around the minors for awhile, finally got his shot at age 26 with a really bad team, didn't impress anyone, and then disappeared into minor league oblivion.
To some extent that summary would be accurate. But it would also be oh, so inadequate in really describing Carlos Bernier, or his career. In fact Bernier was a very good player, certainly good enough to have had a substantial major league career, and in fact he enjoyed a very long and highly accomplished professional baseball career, both in the mainland US and in Puerto Rico. The baseball career of Carlos Bernier was in fact deeply intertwined with many of the most interesting and complicated issues of mid-20th century professional baseball: integration, racism, and the changing relationship between major league and minor league baseball in the 1950s and 1960s. Let's look beyond the MLB-only superficiality and get to know something more about Carlos Bernier.
Bernier (pronounced "bur-NEAR") was born January 28, 1927, in Juana Diaz, Puerto Rico. As with so many other players, of his era and others, black and white, foreign-born and American, he lied about his age. Who's Who in Baseball for 1954, as well as the Mutual Baseball Almanac for that year, both list him as having been born in January of 1929. The MacMillan Baseball Encyclopedia, Total Baseball, all the official record books for decades went along with the 1929 birth date; apparently it's only been the result of SABR's intensive biographical research within the past few years that's exposed the fib. So during his playing career, it's a safe assumption that Bernier's teams believed him to be two years younger than he was, although it's also reasonable to imagine they might have had suspicions.
Bernier's first season in mainland Organized Baseball came at the age of 21, in 1948 with Port Chester, New York, in the Class B Colonial League. The Port Chester ball club was affiliated that season with the St. Louis Browns' organization, but often in those days minor league affiliates employed some players farmed by the big league team, as well as some of their own. My guess is that Bernier was likely one of their own, contracted independently.
Whatever the case, it's certain that Bernier was a pioneer: he was one of the handful of black players in Organized Baseball in 1948.
He was a switch-hitter, who played 31 games at second base, and 67 games in the outfield. In 270 at-bats his stat line (see bottom of article) was quite similar to that which he would show with the Pirates in 1953: he hit for neither average nor power (248/373/359), struck out a lot, but also walked a lot and stole a bunch of bases. With just 67 hits, he scored 72 runs.
This performance caught someone's eye: Bernier began the 1949 season at the triple-A level, with Indianapolis of the American Association, the Pittsburgh Pirates' top farm club. I suspect he was formally engaged with the Pirates' organization at that point; triple-A farm teams in those days often employed their own players alongside the parent club's, but those players were generally veterans who were there for the purpose of drawing fans and winning games. The 22-year-old (supposedly 20-year-old) Bernier, with his limited O.B. experience, was clearly a developing talent.
The engagement was profoundly brief: after just two pinch-running appearances early in 1949, Bernier was let go. He immediately caught on again in the Colonial League, this time with the independent entry from Bristol, Connecticut. Now a full-time right-handed batter and outfielder (both of which he would remain for the rest of his career), at Bristol Bernier had a tremendous year, leading the team to a runaway pennant. Bernier hit a ton (336/465/516), led the league in runs scored (136 in 120 games), and obliterated the league record for stolen bases with 89 (second in the league was 36).
But Bristol was an independent team, and there was no promotion up any organizational ladder for Bernier. In 1950 he was back with Bristol, and there he performed splendidly again: in 52 games, he stole 53 bases and scored 67 runs. But on July 14th, the fledgling Colonial League disbanded, and Bernier (along with fellow black Puerto Rican teammate Ruben Gomez) hooked up with St. Jean, Quebec, in the Class C Provincial League. In 64 games over the remainder of the season, Bernier tore that league apart, hitting 335/451/574, and scoring 69 runs. (Vic Power was in that league, and he hit 334/402/533.) The St. Jean club, with Bernier on board over the second half, finished in first place. Over his total 1950 season, Bernier stole 94 bases, hit 24 homers, and scored 136 runs in 116 games.
Still no major league organization signed him. In 1951 the 24-year-old (presumably 22-year-old) Bernier joined the independent Tampa Smokers of the Class B Florida International League. As we know, this league favored pitchers to an extreme degree, and Bernier's dampened hitting stats reflect it (271/375/407). Nonetheless, Bernier led the league with 51 steals (second was 35), 21 triples (second was 11), and 124 runs (second was 94), leading Tampa to an easy pennant.
This performance did gain Bernier a real promotion: in 1952 he was back at the highest level of the minor leagues, this time with the Hollywood Stars of the Pacific Coast League. The Stars were the Pittsburgh Pirates' top farm club, but the PCL in that period wasn't a "triple-A" league; it was officially designated as an "Open" classification. (The PCL was striving to gain Major League status, and to do so it was requiring its member clubs to adhere to a set of conditions and operating policies that had them behaving little in the manner of farm teams, and much in the manner of major league teams, in the nature of their player contracts and talent development function.)
The PCL in 1952 was a very low-scoring league (as were most leagues, major and minor, in '52; I suspect it might have been a very cool, damp summer nationwide). Bernier's .301 batting average for Hollywood was third best in the league, and he led the PCL with 105 runs scored and 65 stolen bases (second was 33); once again Bernier's team won its league championship.
Hollywood and the Los Angeles Angels (affiliated with the Cubs) were the only PCL teams in 1952 that were farm clubs at all, and the PCL imposed special restrictions on the freedom with which their major league affiliates could option players in and out of the league. In an article I wrote for Nine a few years ago, I questioned why the last place, 42-112 Pirates of 1952 never gave Bernier even a late-season call-up, but having since learned about the PCL's Open Classification arrangement, I now suspect Bernier's Hollywood contract didn't allow it.
But as we know, in 1953 Bernier was promoted to the majors by Pittsburgh. He was the first black player ever to play for the Pirates. (Pittsburgh became the second National League franchise integrated by Branch Rickey, who had taken over their operation in 1951.) Bernier played 57 games as the Pirates' center fielder in '53 (and 29 other games in right and left), and as we've seen, his performance was pretty bad: he didn't hit, and he didn't steal well (15-for-29). Based on this disappointing rookie year, it wouldn't seem surprising that Pittsburgh didn't stick with Bernier as a regular outfielder for 1954.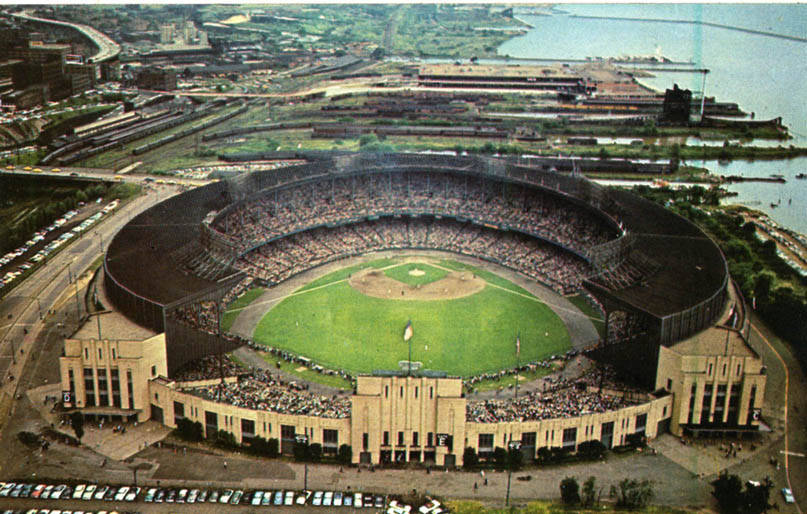 But here's where the story gets perplexing. We know that Bernier did badly in his major league debut, and that the Pirates never game him another chance. But the Pirates, under Rickey's direction, were in an extreme "youth movement" phase in the early-to-mid-1950s. There were lots of young players who performed poorly for Pittsburgh in this period, who were given second and third and even more chances. Pitchers Bob Friend and Vern Law both had dismal season after dismal season for the Pirates, and both were allowed to persevere until they blossomed. Ron Kline was 0-7, 5.47 in his rookie year with the Pirates; Elroy Face was 6-8, 6.58; both were brought back. First baseman-corner outfielder Bob Skinner hit 249/316/370 in his rookie season, was sent back down for a year, came back up and hit 202/282/326 — and was still kept in the majors. Bobby Del Greco, Lee Walls, Bob Purkey, Roman Mejias – the list of young players in that period who did badly in their first exposures at the major league level, and were given further chances by the Pirates anyway, is a long one. This was a sensible thing for the team to do; developing talent is often a matter of having the patience to allow players to work through adversity.
Bernier got no such chance. He was on the Pirates' spring training roster in 1954, but didn't make the team. Instead Pittsburgh went with 23-year-old Dick Hall as one of their center fielders; Hall had hit .246 in the Class B Big State League in 1953, .242 in the Class B Carolina League in 1952, and .138 in an 80-at-bat major league trial in '52. Center field continued to be a gaping hole for the Pirates: in 1955 they often used converted infielder Eddie O'Brien (233/290/254) in center, and in both 1954 and 1955 wound up playing slow-footed slugger Frank Thomas quite a bit out there, despite the vast left-center spaciousness of Forbes Field. Overall they never got an adequate performance from anyone in center field until Bill Virdon was acquired via trade in May of 1956. Bernier, meanwhile, was back in Hollywood the entire time, continuing to get on base, steal, and score runs as well as anyone in the PCL. After 1953, as we know, Bernier never played another inning in the major leagues.
Exactly why this happened is an intriguing question. Consider what Bernier's son, Dr. N. Bernier-Collazo, has written:
… he lived in an era when it was fashionable to discriminate; in fact, many states upheld laws that discriminated against people of color. My father's only shortfall was that he did not handle the injustices of society with the same grace as a Jackie Robinson or a Roberto Clemente. He was quite angry at the injustices and faced them head on, even if it meant challenging a white major league umpire who made a racial slur. I have often wondered how different life would have been for him with all of his talents if he had played now, instead of then. His career would have been spent primarily in the majors, rather than the minors. Fans must understand that he did not leave the major leagues because he did not have the talent to be there … He did not remain in the majors because he could not tolerate the injustices of a country where it was still acceptable to hang people of color for drinking out of fountains designated for whites only. In the Pacific Coast League, he did not have to confront the challenges he had to confront in Pittsburgh.
I'm not certain of the precise factuality of all of this. Dr. Bernier-Collazo more than implies that his father voluntarily chose to remain in the PCL, as opposed to being assigned there by the Pittsburgh organization; I find this implication dubious. But I heartily agree with the assertion that Carlos Bernier had ample talent to remain and thrive at the major league level. His sustained star-level performance at the triple-A level through 1964, and especially his breadth of talent — the OBP ability, the great speed, the decent power – suggests that given the proper opportunity, Bernier would have been a very solid major leaguer. I doubt he would have been a star – his strikeout proclivity was significant – but it's quite clear that his poor hitting performance in 1953 was out of line with his true level of ability. I estimate that if he had remained in the majors, Bernier would have been a .240-to-.280 hitter, and his capacity to draw walks, with his great speed and ability to hit the occasional homer, would have rendered him a very useful player for a number of years, as a fourth outfielder/platoon center fielder if not a starter.
But it never happened. What did happen was that back in the PCL in 1954, while having another fine year (313/393/439), Bernier was involved in an incident that likely became a factor in his failure to ever again be promoted to the majors. In August of that year, Bernier got into an argument with a PCL umpire, and struck the ump, earning himself a suspension for the remainder of the season – the headline in Jet magazine was "Hits Umpire, Negro Coast Star Banned for Season."
Indeed, Bernier developed a reputation for feistiness that undoubtedly made major league organizations leery of him. A history of the Hollywood Stars describes a feud between Bernier and Los Angeles Angels' infielder Gene Mauch:
Mauch and Bernier fought more than once – Mauch, who would go on to become one of the nicest MLB managers who ever lived, delighted in scooping up sand in his free hand into Bernier's face every time the Star would steal second.
Another Jet article, from December 1955, deals with brawls in the Puerto Rican Winter League, and names Bernier and Vic Power as principals. And the remembrance by Bernier's son includes this:
Despite his extremely competitive demeanor on the field, he was a gentle soul off the field with the greatest qualities: kindness, compassionate, generous, responsible, and loving … Many people don't know what a wonderful person he was because they only witnessed his exploits and his aggressive style of play on the field.
To whatever degree he deserved it, Bernier became known as a combative player, and it's only accurate to say that in the 1950s and early 1960s, the chances were not good of a major league team acquiring/promoting a black Latin player who was (a) no longer very young, (b) had done poorly in a previous major league opportunity, and (c) had a reputation for aggressiveness. After 1953 Bernier was a career minor leaguer, and in that period – the very end of the era in which there were such things as career minor league stars – he became a highly accomplished minor league star. Bernier led the PCL in stolen bases in 1955 and 1956, in triples in 1956 and 1958, in runs scored in 1958, in walks in 1959 and 1963, in batting average in 1961, and in on-base percentage in 1961 and 1963.
Bernier capped off his 18-year career on Organized Baseball with a season in the Mexican League in 1965 – giving him an O.B. career with home-team stints not only all over the mainland U.S., but also in Canada, Hawaii, and Mexico. His career minor league record – 298/397/449, with 1,594 runs, 2,374 hits, 1,317 walks, and 594 stolen bases – is among the greatest of all time. Bernier is a very well-deserving member of the Pacific Coast League Hall of Fame. Moreover, he annually starred in the highly competitive Puerto Rican Winter League – only Rickey Henderson, 32 years later, eclipsed his stolen base record there.
All in all, to see Carlos Bernier's baseball career as a .213 one-liner is to see it all wrong. That forlorn one-season major league performance indicates brevity and failure, and Bernier's career was in fact quite the opposite: it was long and successful, and bursting with color and interest and excitement and victory. A remarkable number of Bernier's teams, after 1953 as well as before, were league champions or strong contenders, and Bernier himself was nearly always a key reason why.
Among the many dozens of Bernier's teammates from 1948 through 1965, here are a few we haven't yet mentioned: Jim Bagby Jr. (the pitcher who halted Joe DiMaggio's 56-game hitting streak), Gus Bell, Harry Byrd, Murry Dickson, Johnny Edwards, Joe Garagiola, Lenny Green, Ray Jablonski, Al Jackson, Julian Javier, Ralph Kiner, Ed Kirkpatrick, Bobby Knoop, Brooks Lawrence, Johnny Lindell, Dale Long, Bill Mazeroski, Mickey McDermott, Jim McGlothlin, Tom "Plowboy" Morgan, George "Red" Munger, Irv Noren, Claude Osteen, Howie Pollet, Rick Reichardt, Pat Seerey, Diego Segui, Dick Stuart, Willie Tasby, and Bob Veale. Those guys could play a little ball. Carlos Bernier lived a baseball life that few have ever matched.
Besides, any career that includes five years in Hollywood, and four more in Honolulu, has to have been a blast.
Year  Club            League      Class   G   AB    R    H  2B  3B  HR  RBI   BB   SO  SB  CS    BA   OBP   SLG
1948  Port Chester    Colonial    B     104  270   72   67   7   7   3   29   54   60  24   -  .248  .373  .359
1949  Indianapolis    AA          AAA     2    0    0    0   0   0   0    0    0    0   0   -  .000  .000  .000
1949  Bristol         Colonial    B     120  444  136  149  25   5  15   56  107   73  89   -  .336  .465  .516
1950  Bristol         Colonial    B      52  192   67   55  10   2   9   33   41   33  53   -  .286  .412  .500
      St. Jean        Provincial  C      64  242   69   81   9   2  15   39   51   35  41   -  .335  .451  .574
      Total                             116  434  136  136  19   4  24   72   92   68  94   -  .313  .433  .541
1951  Tampa           Fla. Intl.  B     135  501  124  136  11  21   5   58   83   81  51   -  .271  .375  .407
1952  Hollywood       PCL         Open  171  652  105  196  24   9   9   79   56   78  65   -  .301  .356  .406
1953  Pittsburgh      NL          MLB   105  310   48   66   7   8   3   31   51   53  15  14  .213  .324  .316
1954  Hollywood       PCL         Open  119  431   85  135  24   6   6   41   57   58  38   -  .313  .393  .439
1955  Hollywood       PCL         Open  168  580   93  162  24   8  12   73   70   93  29   -  .279  .357  .410
1956  Hollywood       PCL         Open  159  626   91  177  22  15   3   57   64   77  48   -  .283  .349  .380
1957  Hollywood       PCL         Open  126  445   62  129  17   5   3   49   55   63  12   -  .290  .368  .371
1958  Salt Lake City  PCL         AAA   151  546  121  181  27  11  15   86   76   70  34   -  .332  .413  .504
1959  Salt Lake City  PCL         AAA   152  513   73  144  19  10   9   81   91   85  21  12  .281  .389  .409
1960  Columbus        Intl.       AAA    35   76   13   14   1   0   1    6   15   19   4   0  .184  .319  .237
      Indianapolis    AA          AAA    98  325   57   91  14   5   4   35   64   51  18   -  .280  .398  .391
      Total                             133  401   70  105  15   5   5   41   79   70  22   -  .262  .383  .362
1961  Indianapolis    AA          AAA    19   48    7   13   1   0   1    9   12    6   1   -  .271  .417  .354
      Hawaii          PCL         AAA   127  433   89  152  18   6  20   87   95   59  22  10  .351  .468  .559
      Total                             146  481   96  165  19   6  21   96  107   65  23   -  .343  .463  .538
1962  Hawaii          PCL         AAA   121  380   81  119  20   2  17   72   95   73   7   7  .313  .451  .511
1963  Hawaii          PCL         AAA   153  544  113  163  16   4  26   84   98  103  10   7  .300  .407  .487
1964  Hawaii          PCL         AAA   124  432   92  127  14   5  27   68   81   87  22  11  .294  .405  .537
1965  Reynosa         Mexican      AA    87  295   44   83   9   6  12   42   52   37   5   4  .281  .389  .475

                         G    AB     R     H   2B   3B   HR   RBI    BB    SO   SB    BA   OBP   SLG
Minor League Totals   2287  7975  1594  2374  312  129  212  1098  1317  1241  594  .298  .397  .449
References & Resources
The pronunciation of Bernier's name comes from a delightful book that includes a pronunciation guide for many, many players' names: Baseball's Forgotten Heroes, by Tony Salin, Masters Press, Chicago, 1999.
The Jet articles focusing on Bernier were identified by the marvelous resource, BaseballLibrary.com.
Bernier's career record can be found in the wonderful SABR publication, Minor League Baseball Stars, from 1978.
Steve Treder has been a co-author of every Hardball Times Annual publication since its inception in 2004. His work has also been featured in Nine, The National Pastime, and other publications. He has frequently been a presenter at baseball forums such as the SABR National Convention, the Nine Spring Training Conference, and the Cooperstown Symposium. When Steve grows up, he hopes to play center field for the San Francisco Giants.