By all accounts, 42 is a wonderful movie, beautifully filmed and superbly acted. It is a film that does a skilled job in telling the story of Jackie Robinson's entrance into the major leagues and the season-long struggles that he faced as the game's greatest racial pioneer. It is a film that may earn Harrison Ford an Academy Award nomination for his performance as Branch Rickey.
But there is an ongoing controversy with this film, and it involves the characterization of former Pirates pitcher Fritz Ostermueller. The veteran moundsman is seen intentionally throwing a pitch at Robinson's head, hitting him with that pitch, and then attempting to insult him with a dismissive and racially tinged remark.
The portrayal has drawn the wrath of Ostermueller's daughter, who contends that her father was not a racist, but a kind and open-hearted man. "I'd just like people to know that the man that they portrayed was not Fritz Ostermueller, was not my dad," said his daughter, Sherrill Ostermueller Duesterhaus. "It was Hollywood taking maybe a little piece of history and rewriting it their way."
"I can understand Hollywood making a good story," said Sherrill, "but not at an expense of someone else and someone else's memory and legacy." Sherrill may not be the most objective source on the subject, but it's also safe to say that she knew her father better than most people did.
Ostermueller is no longer around to defend himself. Diagnosed with cancer in 1956, he died one year later, at the age of 50. He has been gone for nearly 60 years. So we are left to rely on the testimony of others, a group that includes his surviving family members.
Who was the real Fritz Ostermueller? That is a question that historians like myself are trying to contend with as the film continues to enjoy a successful run in theaters nationwide.
There are at least two clear mistakes in the film's characterization of Ostermueller. 42 shows him to be a right-handed pitcher; baseball fans who recall the 1930s and 40s will surely remember him to be a left-handed pitcher, and a good one at that. He won 114 games over a decade and a half, finishing in the top 10 in league ERA three times.
Far more importantly, the film shows the Ostermueller/Robinson incident to involve a beanball that nails Robinson in the head. The incident refers to a game between the Dodgers and Pirates at Forbes Field on May 17, 1947. In the top of the first inning, Ostermueller hit Robinson with a pitch, marking the fourth time that Jackie had been hit overall that season. But in actuality, when Ostermueller hit Robinson with a pitch that day, it was in the left arm, and nowhere near his head.
My first reaction to hearing of such inaccuracies was this: if the filmmakers couldn't correctly identify Ostermueller as a left-handed pitcher, and couldn't accurately portray Robinson being hit in the arm instead of the head, then what else did they get wrong in portraying Ostermueller? Why should we believe anything that 42 says, or even hints at, about the career of Fritz Ostermueller?
First off, let's provide a biographical summary of Ostermueller. Born in Quincy, Illinois, he was raised on a dairy farm. After some experience playing in a church league and then for his college team, he signed with Quincy's minor league club and began working his way up the professional ladder within the Cardinals' organization. A stint at Rochester showcased him as a star; he led the International League in ERA and drew interest from several major league teams.
With their expansive minor league system and a strong major league rotation, the Cardinals had no room for Ostermueller. The Red Sox purchased the talented left-hander and assigned him to work with Hall of Fame southpaw Herb Pennock, who helped him refine his control. As a rookie in 1934, Ostermueller pitched very well, finishing in the top 10 in ERA among American League hurlers.
Ostermueller's performance began to dip in his second season. As the decade continued, his ERAs rose into the high 4.00s, even though he reached double figures in wins in 1938 and '39. His performance seems to have been affected by arm problems that he first encountered in 1937, resulting in eventual surgery.
The Red Sox ran out of patience with Ostey in 1939. After the season, they sold him and veteran right-hander Denny Galehouse to the St. Louis Browns. The war years brought Ostermueller a considerable level of tumult. He struggled so much that the Browns sent him back to the minors. After he returned, he was hit in the elbow by a batted ball and had to undergo another surgery. As a result of the injury, he came up with a distinctive delivery, which mimicked the motion of a rocking chair and caught the attention of fans and writers.
In 1943, Ostey volunteered to enter the military as part of the World War II effort, but an examination showed him to have arthritis, resulting in his rejection for military service. The Army later reclassified him, allowing him to serve briefly in 1945.
In July of 1943, the Browns traded Ostey to the Brooklyn Dodgers for Bobo Newsome. He seemed to find a home with the Dodgers, where he pitched well in relief for the balance of 1943 and the first half of 1944.
Despite his solid pitching, the Dodgers cut him loose in midseason and tried to send him to the minor leagues, a move that Ostey protested. Dodgers GM Branch Rickey didn't like Ostermueller, whom he referred to as "not my kind of a pitcher." Part of the dislike stemmed from the feeling that his veteran left-hander drank too much. As sportswriter Tim Cohane once wrote: "[Ostermueller] has been known occasionally in the past to quaff a species of liquid refreshment more stimulating than beef tea." Rickey took note of the habit, and Ostey never forgave Rickey for the slight.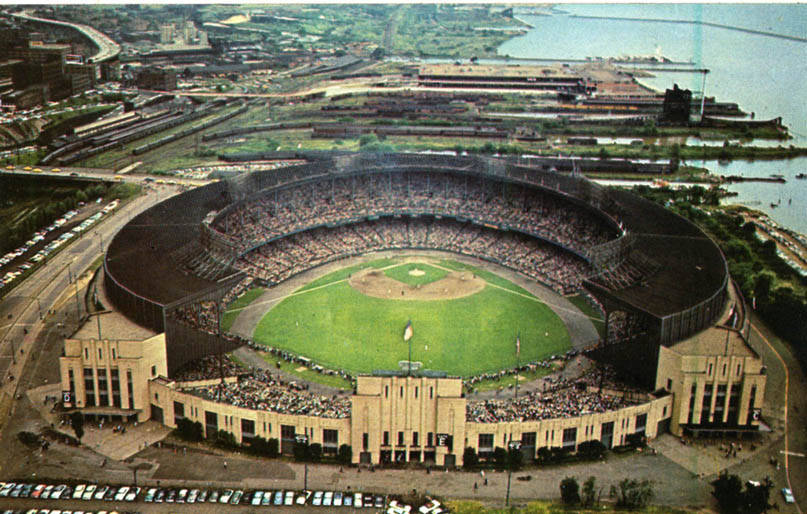 Initially signing with the Reds, Ostermueller then signed with Pittsburgh and emerged as an effective pitcher for the Pirates over the next three and a half seasons. It was with Pittsburgh that Osty coined the famous saying that was originally credited to his Hall of Fame teammate, Ralph Kiner: "Home run hitters drive Cadillacs; single hitters drive Fords."
Though Ostermueller was now in his late thirties, he put up two of his best seasons in 1945 and '46, winning a combined 25 games. (I guess it was quite appropriate that Ostermueller was nicknamed "Old Folks.") The consummate crafty left-hander, he relied on control and deception. In some ways, Osty enjoyed the last laugh on Rickey.
Ostermueller remained an effective pitcher in 1947, Robinson's rookie season. But his career took a downturn in 1948, forcing him into retirement.
As a pitcher, Ostermueller had an uneven but respectable 15-year career. He showed resiliency in coming back from multiple surgeries, and overcoming multiple rejections from various teams.
Now for the more pertinent issue. In trying to come up with answers about Ostermueller's character, I began my search by examining his file at the National Baseball Hall of Fame Library. It is a decent-sized file, with about 40 or so newspaper clippings. Unfortunately, most of the clips are pre-1947, so they give us no indication as to his feelings regarding race relations. Of the few articles that are dated from 1947, there is no discussion of the game in which he hit Robinson with a pitch; there is not even a passing mention of the now-famous incident.
In looking at the articles post-1947, there are just a few mentions of Ostermueller's pitching career, along with two different obituaries. Once again, the articles offer no discussion of the Robinson incident, and no examination of his racial attitudes. In a column written by Pittsburgh writer Al Abrams, Ostermueller is described as "a particular favorite" of the writer. There is certainly no indication that he was any kind of a racist or a hater.
So based on his clippings file, Ostermueller looks good. But the absence of any written allegations of racism does not necessarily make him innocent of the charges posed in 42. After all, the issue of race was not always discussed in the mainstream press, even in 1947 when Robinson was making history.
Having exhausted Ostermueller's clippings file, I next made my move toward the Internet, trying to read as many biographical articles as possible. One of the best sources comes from SABR's Biographical Project, which features an extensive bio written by John F. Green. There is not a single mention of Jackie Robinson, or even the words "race" or "racism" in this lengthy article, which is perhaps the most extensive biographical effort made of Ostey's career. Similarly, I found no evidence of race being brought up in other Internet articles that predated the ongoing issue surrounding 42.
That leaves us with one other avenue, and that is perhaps the most useful source in a story of this kind. Are there any surviving teammates of Ostermueller who might give us some insight into his character? This is where the helping hand of a Pittsburgh writer named Bob Hurte, who is a friend of mine, comes into play. A historian and budding author, Hurte has communicated in recent years with one of Ostermueller's teammates, a man who seemed to have first-hand knowledge of Ostey's feelings. At the time of Hurte's conversation with him, this player preferred to remain anonymous; he did not want to publicly impugn his late teammate or his family, nor did he want to become embroiled in a public controversy. But this player told Hurte that Ostermueller did portray bigoted sentiments during his time with the Pirates. The unnamed teammate said that Ostermueller once referred to Robinson by saying, "I'm going to hit that black bastard." Based on that remark, the teammate believed that Ostermueller threw at Robinson intentionally, and for reasons having to do with race.
It is the player's prerogative to remain anonymous. And it is certainly ethical for Hurte to respect the player's right to privacy. At the same time, Hurte believed (and still believes) that the teammate is a credible source, one without an axe to grind. He believed the teammate when he described Ostermueller in such a way. And I happen to think that Hurte is being perfectly forthright and sincere here, to the point that I am willing to use Hurte as a secondary source.
Now for some readers, that might not be good enough. And I understand that. But given the passage of time, and the lack of eyewitnesses surviving from the 1940s, it is the best we have to go on in trying to reconstruct events from nearly 70 years ago.
So what conclusions can we draw from this experience? First off, 42 erred badly in its characterization of Ostermueller, particularly in showing him to have hit head Robinson in the head, when he did not. That's an important detail to miss, and one that exaggerates the severity of the incident.
Second, Ostermueller does not seem to be completely innocent. Based on the recollections of a teammate, Ostermueller had racist feelings, and allowed those feelings to manifest themselves in the form of a hateful incident. That doesn't necessarily make Ostermueller any different from many players of that era, but it is an incident that is definitely part of the Robinson story.
Both the filmmakers and Ostermueller appear to have made mistakes. Let's hope the final record reflects those shortcomings.
References & Resources
Fritz Ostermueller's biographical file at the National Baseball Hall of Fame Library