The Red Sox and Bronson Arroyo have agreed to a three-year, $11.25 million contract. After Arroyo started off the year great, going 4-1 with a 3.18 ERA in his first nine starts, everything seemed to fall apart. Over his next 23 starts, he was 10-9 with an ERA over 5. Let's see if we can figure out what happened to Arroyo and if there's a chance he'll rebound in 2006.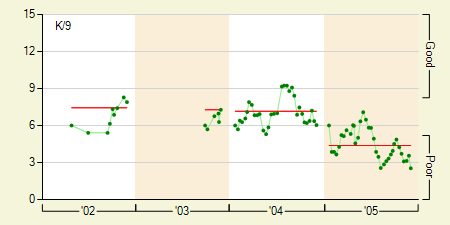 Starting off with his strikeouts per 9 innings (K/9), it looked like he was finding his groove around mid-May, but took a serious nose dive shortly after. In 2004 he displayed a very solid K/9 of 7.1, but in 2005 he could only manage a poor K/9 of 4.3. What exactly happened here?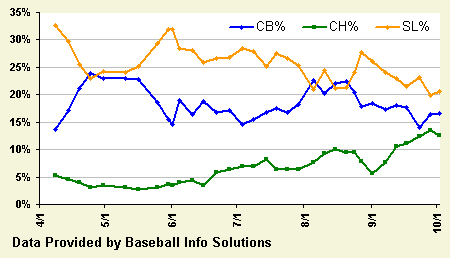 If you break his 2005 season down by pitch type, you'll see that he started off the season throwing his changeup pretty much never, to throwing it nearly as much as his curveball and slider. Funny thing is, his changeups started to ramp up right around the same time his K/9 fell off a cliff. Coincidence? Probably not.
Furthermore, his changeup, with the exception of his fastball (which he throws a lot), was his most hittable pitch. When he started throwing more changeups, he also ended up throwing less sliders and cureveballs, his two least hittable pitches.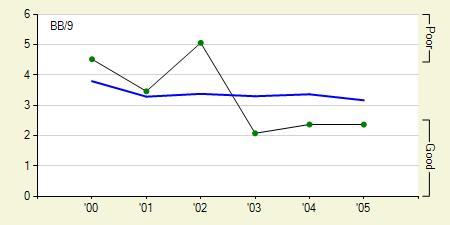 It seems as though a lot of Arroyo's problem could be a pitch selection issue. His walks per 9 innings (BB/9) look pretty good too, so if he can manage to work on his changeup and get his strikeouts back to where they were in 2004, there's not a bad chance he'll be a pretty decent pitcher.