A.J. Pierzynski
A.J. Pierzynski will remain with the White Sox after agreeing on a three-year $15 million contract. Last year, he was sixth in home runs among all catchers, and only four home runs away from the leader, Jason Varitek. Despite the career high in home runs, his batting average dropped to a career low of .257. Up until two years ago he was a career .300 batter, but things have slipped the past couple years. Let's see if his current power will continue, and if his batting average will remain in the dumpster.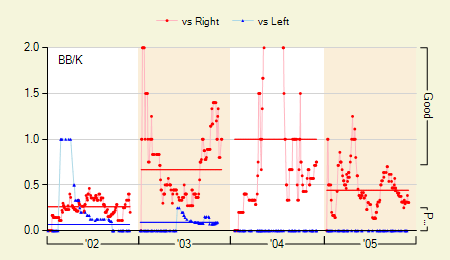 Oddly enough, his walk to strikeout ratio (BB/K) has been a bit on the rise, but what's going on against left-handed pitchers? His BB/K against lefties really has been zero the past two years. In the past four years he's only had three walks against lefties in 433 plate appearances. This pretty much gives him the honor of being the least-disciplined batter against lefties in all of baseball over the past four years. His league-worst on-base percentage of .258 isn't even a good batting average. Lefties aside, his overall rise in BB/K doesn't explain why his batting average has tanked the past two years, but his batting average on balls in play (BABIP) does.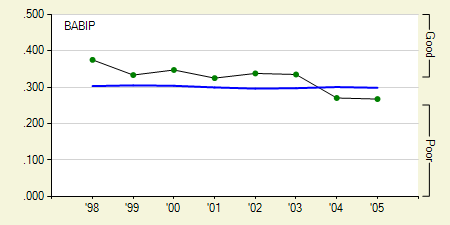 The year his BABIP dropped was the year he left the Twins. There's nothing in his home/away splits to suggest he played better at the Metrodome, so we can rule out a change in scenery. He did however experience a drop in line drive percentage and an increase in fly balls in 2004. From 2002 to 2003 he hit a very high 25% of his balls for line drives. Then in 2004-2005 he hit only 20% of his balls for line drives, while he showed an increase in his fly balls by about 5%. Chances are that in 2005, while playing at U.S. Cellular Field, a few of those extra fly balls became home runs.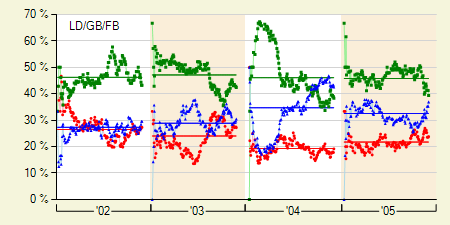 It looks like A.J. Pierzynski has sacrificed his average for power. Playing the next three seasons for the White Sox is only good news for his power numbers. His batting average on the other hand doesn't look like it's going to recover without a loss in power unless he can improve his plate discipline, especially against lefties. I'd suggest the White Sox sit him against lefties, but their backup catcher Chris Widger isn't any better—that is unless prospect Chris Stewart becomes a viable option.
Heath Bell
I was having a lot of trouble finding someone to write about today, until I stumbled upon Heath Bell. Who is Heath Bell you ask? He was drafted in the 69th round of the 1997 draft by the Devil Rays, and then a year later he was signed by the Mets as a free agent. Last year, still with the Mets, he pitched 46 innings with a not-so-wonderful ERA of 5.59 and was eventually sent back down to AAA. Let's take a look at why he intrigued me so much.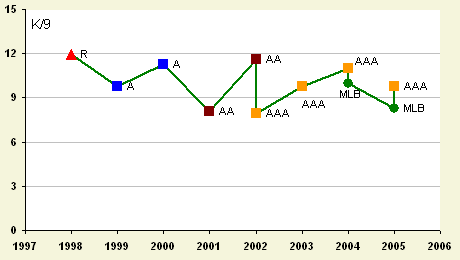 First of all, he's a strikeout pitcher. His strikeouts-per-nine-innings rate (K/9) while in the majors sits at a very strong 8.87. As you can see, he's been pretty dominant at every level of play at one time or another. So if he's striking out this many people, with an ERA that high, he must walk a lot of batters, right?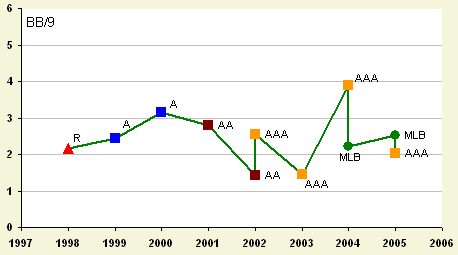 Actually, no. His walks-per-nine-innings rate (BB/9) is well below the league average. In fact, he's never had a problem walking batters. These are not the statistics of a pitcher with an ERA over five. Most of his ERA is to blame on an extremely high batting average on balls in play (BABIP). Nearly 38% of the balls he hit into play became hits, which was poor enough to give him the ninth-worst BABIP of any pitcher in baseball. It was so bad, that even his low number of home runs allowed couldn't save his ERA.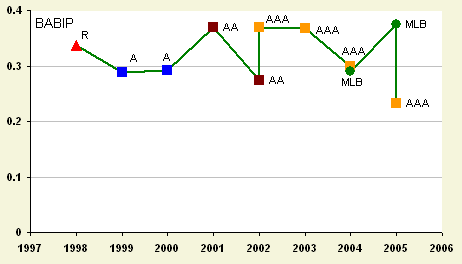 I'd be somewhat shocked if Heath Bell wasn't back in the majors next year and much improved. As far as his strikeouts, walks and home runs go, he's better than a lot of team's current closers. He might be a bit hittable at times, but there is no way his BABIP will be as high as it was in 2005 again. It's also worth mentioning he's very much a ground ball pitcher which only adds to his appeal. Don't be surprised if he becomes an important piece of the Mets bullpen next season.