Back in December, the Reds signed Jason LaRue to a two-year, $9.1 million contract, and then in January they signed Javier Valentin to a one-year $1.15 million contract, ensuring that the surprising catching tandem would stay intact for the 2006 season. The two combined for 28 home runs and batted .268 with 110 RBIs, which made them offensively the most productive catchers in the National League. It's really too bad they aren't one person. Let's take a closer look and see if they'll continue to be the dynamo combination that they were in 2005.
LaRue will be entering his eighth major league season and for the past five years has been pretty consistent hitting no fewer than 12 home runs and no more than 16. Last year he had a career-high batting average of .260, which dipped as low as .230 back in 2003.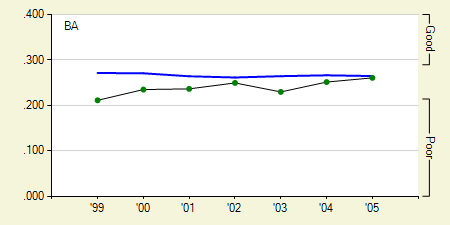 His real problem is making contact with pitches; he only does so 68% of the time when he swings the bat. That puts him among the 20 worst in baseball for the 2005 season. Naturally, his strikeout percentage (K%) sits at an ugly 28%. He did, however, show consistent signs of improvement after striking out a horrible 37% of the time during the first two months of the season; he managed to consistently stay around 24% the rest of the season. Still not great, but it is improvement.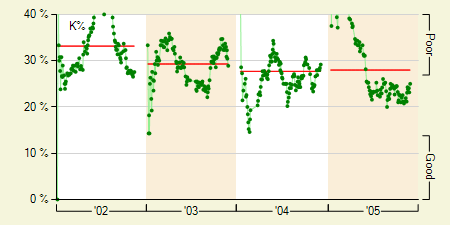 With his decreasing strikeout rate, perhaps he'll be able to keep his batting average near the .260 mark, but you pretty much know what you're going to get with LaRue, and I wouldn't expect 2006 to be any different. Valentin on the other hand is a completely different case.
Last season, Valentin exploded with 14 home runs in 221 at-bats after hitting just six the previous season. He also had a career-high .281 batting average, along with career highs in just about everything else. He's always been a part-time player at the major league level and the last time he played a full season was back in 2002 for Triple-A Edmonton, where he hit 21 home runs in 455 at-bats.
His plate discipline is actually quite similar to LaRue's, since they both swing at pitches outside the strike zone about 20% of the time, and they both see a similar percentage of pitches inside the strike zone, but there is one major difference. Valentin can actually make contact with the ball and does so around 81% of the time, which makes his strikeout percentage (K%) more than 10 points lower than LaRue's.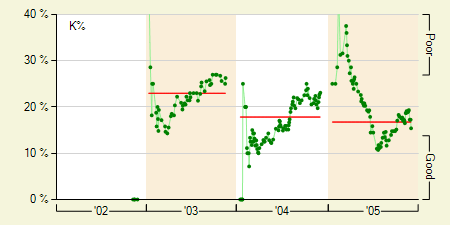 His one big problem is left-handed pitchers. He bat .186 against lefties last season compared to the .301 he bat against righties. In 2004 he bat just .109 against lefties. Actually, in 2004 he was the worst and in 2005, he was in the bottom 20 against left-handed pitchers. Despite his inability to hit lefties, his on-base percentage splits look pretty good, and he's actually better against both righties and lefties than LaRue.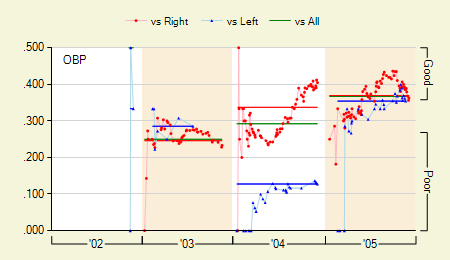 Bottom line with Valentin is that he hasn't been given much of a chance in the majors, and often catchers are considered late bloomers offensively, so it seems to me that his breakout season was indeed for real. He's also a better batter than LaRue, but it's doubtful he'll be able to avoid the platoon at catcher unless LaRue is injured or performs horribly (which seems unlikely considering his consistency). The two of them should once again give the Reds top offensive production from the catcher position. If Valentin does get a chance at 400 at-bats, look for him to improve on his 2005 season.