How will they spend a truckload of money in the next few years?
Toronto's payroll for 2011 is estimated at around $65 million. That is 35 percent lower than where it was in 2008 and leaves room for Toronto to seek some high-end talent in the coming years. Blue Jays President Paul Beeston hinted at a payroll easily exceeding $100 million someday soon. So any discussion of this team for 2011 should maybe take a back seat to the positioning they've done for seasons beyond this one. The future is especially exciting for Toronto fans, given some attractive options entering the free agent market at the end of this season, including a couple of elite sluggers who could transition to designated hitter in the later stages of the big contracts they'll command.
The Jays' rebuilding phase began by shedding players with bloated contracts and some about to enter free agency. It continued this past offseason by dumping yet another high-priced underperformer along with a cost-effective starter who had a couple more years of arbitration eligibility. The Jays entered 2010 without Alex Rios and Roy Halladay. Now, they'll go into 2011 without Vernon Wells and Shaun Marcum. The latter have been replaced by Juan Rivera and Frank Francisco, neither of whom figures to be a piece around which the Blue Jays will build.
What they will likely build around is the haul of prospects they've acquired in the past two years, like Kyle Drabek, Travis d'Arnaud, and Brett Lawrie. Those three rank in the top 40 of Baseball America's 2011 prospect rankings. While Drabek may have a hard enough time replacing Marcum's projected contribution in 2011, let alone Halladay's place in the rotation, cost-effective young players like him are a big reason Toronto has money to spend on the free agent market in coming years.
With payroll at what must be near rock bottom, how will the Jays perform during the remainder of this rebuilding period? That depends on how they answer the next four questions.
How will Jose Bautista follow up his stunning 2010 season?
If internet articles were stored in volumes, many would be filled with examinations of Jose Bautista's 2010 season. Last year, Bautista exploded for 54 home runs. Only a few players, like Davey Johnson and Brady Anderson, had seasons in the past as remarkable and unlikely. Former single-season home run record-holder Roger Maris once had the most historically significant outlier of a season, but he still didn't enjoy as big of an increase in homers as Bautista did in 2010. To varying degrees, those three players drew a lot of attention for their increases in power numbers. But Bautista plays in an era that is both post-steroid and current-cyber. Incredible and unlikely seasons like the one he put together last season unfortunately bring some performance-enhancing drug speculation, but also fortunately inspires a mountain of sabermetric analysis.
That mountain of analysis seems to indicate that some part of Bautista's power spike is permanent. At the same time, he is universally expected to regress somewhat. No matter how real his power spike is, he likely cannot overcome the odds against his repeating last season's numbers. Oliver projections here at The Hardball Times call for a 40 home run season this year. That would still be a great season, but it may be a bit optimistic. Bautista's Marcel forecast predicts a more mortal 30 home runs. That sounds like a good over/under and would be a valuable middle-of-the-order presence.
One thing helping Jose's chances of hitting at least 20-25 homers is the potential for a full season of at-bats, opportunities he didn't always have in previous seasons. The big boon last year came when he hit fewer grounders and more fly balls. He almost doubled his career average of flies that left the park (21.7 percent of those bad boys). If he can sustain that increase, he can certainly keep hitting home runs. If those numbers regress to his career averages, he won't hit nearly as many as last year. On the bright side, his batting average on balls in play was only .233 in 2010, and a rise to normal levels should mean a better average and on-base percentage.
After all the money-saving deals Toronto has made the past couple of seasons, they recently signed Bautista to a five-year, $65 million deal. Jays management shrugged off criticism from those suggesting the payday rewarded one fluke year by noting that their scouting leads them to believe Bautista's tools make him likely to continue to produce at a similar level. In 2011, he'll likely see a decrease in home runs in exchange for an increase in singles and doubles, but he should still be a pretty productive player for the Blue Jays.
What will Lind and Hill do in 2011?
Aaron Hill and Adam Lind have their own questions going into the year, but where Batista surprised, those two disappointed in 2010 seasons. We are left wondering if they can return to the form they showed two years ago and along with Jose form a very solid middle of the order for the Jays. If so, the team that led the majors in home runs last season may do it again in 2011.
Hill's problems last year (.205/.271/.394) were tied to a hideous BABIP of .196, the lowest such average in MLB. Rory Paap looked at Hill's struggles here, and is fairly confident of a rebound for the Toronto second baseman. This short entry at Fangraphs came away with a similar conclusion.
Hill's line drive percentage in 2010 was 10.6 percent. That's about half of his career average heading into the year. His fly ball percentage soared to 54.2 percent, far above the 41 percent he hit the year before—a year when he blasted 36 home runs. Since the Blue Jays as a team seemed to adopt a bombs away mentality last year, it looks like Hill tried too hard to elevate the ball and subsequently killed his on-base percentage and batting average in search of higher power.
If he can keep batted balls off the ground at his career norm, this season will probably come down to whether he can hit more line drives, something he had success with in 2009. If he does, his home run total may never get back to the 36 he hit in 2009, but he could get on base at a far more acceptable level and actually help the team score more runs. That's something they didn't do relatively as well last year, despite all the homers they hit, as they finished ninth in MLB in runs.
Lind also suffered from a lower than average BABIP. Although he won't likely see as big of a turnaround as Hill may, he should still benefit from a bounce back to career numbers. As noted in this entry, Lind has mashed before, and while he may never reach elite walk totals, his average should rebound to levels that will push his OBP back in the mid-.300s.
With Edwin Encarnación expected to see the bulk of the at-bats as designated hitter, the Jays would greatly benefit from Hill and Lind reaching base more than a third of the time. As long as their power is not completely compromised, run scoring should at least remain steady from last year and could even increase. Such an increase could help the Jays continue their eight-year run of outscoring opponents, something they'll probably need a high-powered offense to accomplish, because there are some question marks in the starting rotation.
What will the starters do with their ace gone?
This is the same question that faced a Jays pitching staff that went into last season without Roy Halladay anchoring the rotation for the first time in almost a decade. While Shaun Marcum's exit after one year as the Jays' No. 1 starter won't compare with losing Halladay, the Blue Jays do find themselves looking for their third Opening Day starter in three years. Early reports suggest that first-year manager John Farrell will choose from youngsters Ricky Romero, Brandon Morrow, and Brett Cecil. Here's a brief look at how those three did last year:
Player            ERA     FIP     WAR     K/9

Ricky Romero      3.73    3.64    4.0     7.46
Brandon Morrow    4.49    3.16    3.7     10.95
Brett Cecil       4.22    4.03    2.5     6.1
Romero will probably be the guy to start the season, but the rest of the staff is exciting as well. Morrow was one of MLB's most dominant pitchers last year, but he will need to improve on his wildness (4.06 BB/9) to take the next step. If nothing else, the Jays see potential in all three pitchers due to their youth and the moderate successes they've seen so far. Top prospect Kyle Drabek could be ready to break out, as detailed by Harry Pavlidis. The fifth spot in the rotation should go to either Marc Rzepczynski or Jesse Litsch.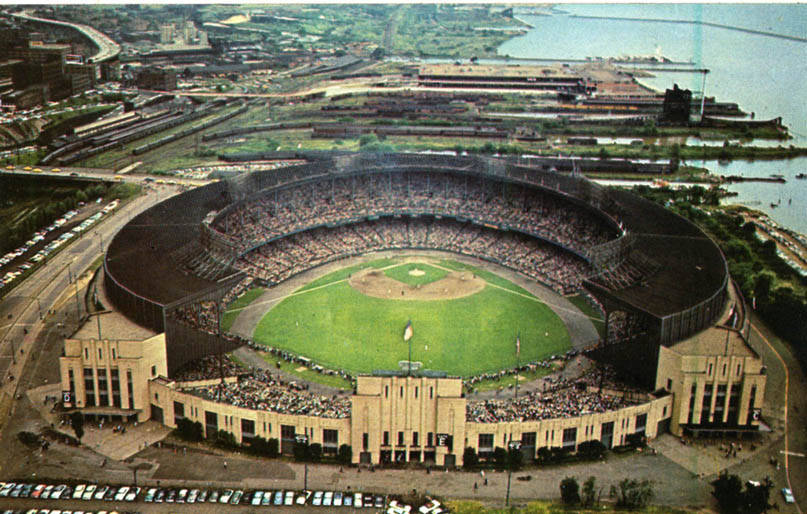 Young and unproven starting pitchers could be a major problem for a team that must regularly face patient stacked lineups inside their division. Even if they all pitch well, it's doubtful that Jays' management will let them all rack up over 200 innings, considering their youth. So, an important part of the Jays pitching staff will be the bullpen, which will not only have to put out fires, but also keep the young staff from burning out. Hopefully for Toronto, offseason acquisitions Frank Francisco, Jon Rauch and Octavio Dotel will shore up a bullpen that can shorten the games and take some of the burden off the rotation.
Have they gone all in for offense at the expense of preventing runs in the field?
The nice thing about the Blue Jays' makeover is the ability they've shown to play some pretty good baseball during the overhaul. Two seasons ago, when they posted a 75-87 record, they actually outscored opponents by 27 runs on the year, a differential that on average would leave a team somewhere around 85-77. Coincidentally, 85-77 is the actual record they posted last year, after they had traded Halladay and led some of the brightest minds in baseball to predict a last-place finish in their division.
The Jays matched 2009's run differential again last season by bombing home runs. They hit 46 more last season than the second-best team in the majors. However, if Bautista does come back to earth, if Hill and Lind fail to return to 2009 form, and if the team's on-base percentage is below league average again, the Jays may drop out of the top third in run scoring in MLB, despite their swing-for-the-fences mentality. If that happens, there will be a lot of pressure on the young staff to keep opponents' scoring down. The bad news for the pitching is that they've made some lineup changes that could compromise the defense in order to keep the offense blasting homers.
The team was about average in Ultimate Zone Rating last season.
This season, Lind will see time at first base, along with Encarnación. Lind has only played 11 games at first as a professional, and Encarnación even fewer. Bautista will move in from right field to play third full time. Of the six positions Bautista has played in his career, third base rates as his worst, according to UZR. He reportedly has a strong arm, but his range may be lacking, combining for at best an average defender at third. Travis Snider moves from left field to right, and the reason he played more in left is because he's not known as a great defender, though his manager last year feels his defense will improve with time.
It's not all bad news for the Jays defense in 2011, as shortstopYunel Escobar will play a position he is comfortable with and good at. Rajai Davis has logged time in center field, and his speed allows him to cover a lot of ground. But with a rookie catcher (Arencibia) getting the bulk of the starts, and a couple of players moving to new positions, the Jays may be at best an average defense playing on a fast track this season, with an inexperienced starting staff.
The best bet may be to look for another year with 80-85 wins, which will be well short of a playoff spot in their brutal division. With help potentially on the way as soon as 2011, we may look back on the Jays as having one of the more successful rebuilding runs in recent history.