After identifying six pitching prospects to watch in 2008 last week, I thought it would only be appropriate to do the same for hitters. Below are a few hitters who I think have a strong chance of seeing their names pop up on various top-100 lists in 2009.
The criteria I use for this list include prospects who rank in the range of Nos. 5-10 in their organization and are looked at as among the top 120-300 prospects in the game. On a grade scale, these pitchers are in the B-/B range.
With that said, let's get started. (For any of the animations below, if the timing is thrown off you can simply refresh the browser.)
3b | Milwaukee Brewers (AA) | Age – 22 | Drafted – Round 4, 2005
Gamel has a professional approach at the plate: He waits for his pitch and takes what is given to him. His plate discipline has come a long way since 2005 when his BB% was 5.6%; last year, his walk percentage improved to a personal-best 12.3%. He does strike out, but it's generally not a concern because the rate (K% of 18%) isn't particularly high. And his K% has dropped from the 2005 figure of 22.7%, so the improvement is evident.
Gamel sprays line drives to all fields and has the ability to hit for a moderately high average. Compare his swings from 2006 (left) and 2007 (right):
Three changes stand out to me in the later video:
1. A slightly more open stance.
2. Different hand placement (lower and more out in front).
3. Different actions (or loading) of the hands.
Opening up his stance allowed Gamel to get around faster on pitches inside, lowering his hands probably gave him a shorter swing (shorter path to the ball), and keeping his hands out in front of him allowed him to more effectively load his hands (where "load" is the movement of the batter's hand before he swings) without adding too much length to his swing. As a result, Gamel was able to add more power without creating problems in contact rate.
However, a quick glance at his power output shows Gamel posting similar power production for all three of his professional years:
Isolated Power
Helena (R) – .170
West Virginia (A) – .182
Brevard County (A+) – .172
Nevertheless, if you take a deeper look into the data, you will see that Helena favors hitters heavily and West Virginia does less so; Brevard County, on the other hand, is a pitcher's park. When you take this data and adjust for the level of competition, we can see that Gamel has actually improved his power production by a moderate amount. His BABIP, which he raised by 50 points last year, also points to Gamel making harder contact.
What's holding Gamel back?
To start, he hasn't really put up eye-popping numbers, and he is not exactly very young for his league, though he probably is slightly younger than your league-average prospect.
However, the big concern is Gamel's defense. Gamel is basically regarded as a butcher at third base. He went into winter ball knowing that he needed to work on his defense and—at least by his view—he made strides. Gamel's value increases tremendously if he can stay at third base.
Outlook
Gamel has yet to put up numbers that really make you say "wow," but he has improved each and every year in gradual amounts. He is a prime candidate to take his improvements and transfer them to a breakout performance in 2008. Overall, he profiles as an average-to-above-average everyday player at the major-league level.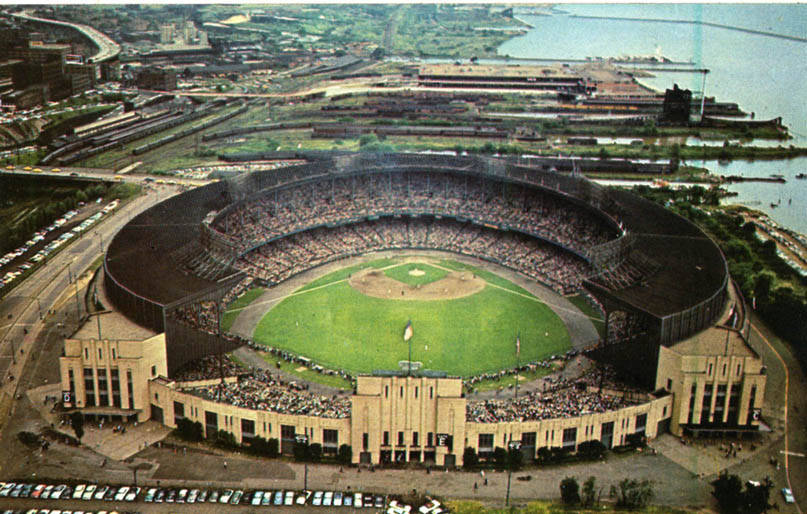 OF/1b | Cleveland Indians (A+) | Age – 20 | Drafted – Round 3, 2005
Heading into 2007, Weglarz was mostly an unknown—his debut in 2005 was subpar (only .660 OPS in 166 PA), and he barely played in 2006 due to a broken hand. However, last year at age 19, Weglarz broke out: He put up an .892 OPS in Low-A Lake County, in a park that plays mostly as neutral but that suppresses home runs.
Let's take a look at his swing and take note of some of the adjustments that Weglarz has made since being drafted. Notice the difference between Weglarz's stride and contact point in his draft video (top) and the video of Weglarz last year (bottom):
See how much longer Weglarz's stride was in high school? A stride of that length hindered Weglarz's ability to efficiently carry his weight forward, which is a key component for producing power.
What Weglarz did in the bottom video is shorten his stride into foot plant to make it easier for him to shift his weight forward into foot plant and then forcefully rotate his hips. The earlier, longer stride had actually left Weglarz less time to shift his weight forward, which kept more weight behind on his back leg as he began to rotate his hips, thereby sapping him of potential power.
The other major thing to point out in his draft video is his contact point. See how he makes contact so far out in front? Making contact at that point means he is starting his swing earlier than one would normally want to see. When a hitter does this, he has less time to pick up the pitch type, location and movement. This leads to the batter getting fooled more often than not.
Letting the ball travel deep into your hitting zone is an indicator of bat speed. In an earlier article on Matt Kemp, I said this:
Let's say two hitters make contact at the same time; batter A swings a split second earlier while batter B waits just a bit longer. It should be assumed that batter B has the better bat speed because his bat travels the same amount of distance in less time. Better bat speed = more force applied to the ball = better power.
On the evidence of last year's video of Weglarz, most of these problems have been fixed. He now lets the ball travel deeper into his hitting zone, as you can see by his contact point in frame 13. Even though he fouls off the pitch, you can see how he makes contact with the ball at a deeper position than before. By letting the ball travel deeper, Weglarz has more time to choose whether he should take or swing away.
By the numbers
Weglarz displays plus raw power, and last year's .221 ISO should increase as he continues to mature. In addition to his power, Weglarz's other plus attribute is his batting eye: He sported a BB% of 16% last year, which is excellent especially for his age. He also hit both right-handed and left-handed pitchers at a fairly equal rate.
What's holding Weglarz back?
Weglarz still has contact issues—he swings hard and really goes after it. That tendency will naturally lead to a lot of swinging-and-missing. Weglarz also is a big kid with long arms, so at times he can get busted inside. He will need to increase his contact rate in order to reach his full potential. His high K% (24) will likely put a cap on just how high his batting average can go.
Even for his size, Weglarz still isn't the greatest of athletes. The Indians are using him in left field, but he was a first baseman in high school, and he will likely see time at that position as his career advances. Either way, his bat will have to carry him.
Outlook
Weglarz is still new to the top-prospect scene, so he is still relatively unknown. If he can put up similar production in Single-A Kinston, you will see his name popping up on almost every top prospect list by year's end. He profiles as an everyday 1B/DH/LF type.
OF | San Diego Padres (AA) | Age – 23 | Drafted – Round 2, 2006
Huffman put up some extremely gaudy numbers at his college, Texas Christian University: In each of his three years there, his OPS topped 1.000, including a 1.240 OPS in his final season. He continued that success first at Short-Season Eugene (1.015 OPS) and then last year in Single-A Lake Elsinore (.924 OPS).
Huffman makes hard, consistent contact. He shows a plus batting eye and solid contact rate while also displaying above-average power, making him an all-around very solid player.
The swing
Huffman has a small yet effective load with his hands. He does a good job of shifting his weight forward and aggressively stepping into foot plant before unloading his hips. He generates good bat speed, and even though he could stand to let the ball travel a little deeper, he rotates his hips violently on his front leg, taking an aggressive hack at the ball.
What's holding Huffman back?
Huffman was a second baseman coming out of college, but he wasn't able to remain at the position. The Padres moved Huffman to left field and as a result have put much more pressure on his bat to carry him to the major-league level. If Huffman was able to play a premier defensive position, his value would increase dramatically because of the offense that he brings to the table, but in being relegated a corner outfield slot, his bat becomes much more average.
There is a possibility that Huffman could be moved to third base, but for that to happen he would need to be moved to another team—the Padres have already moved their top prospect Chase Headley to left field because he was blocked by their current third baseman, Kevin Kouzmanoff, so we know there is no chance of a position player being shifted to put Huffman at third.
One other thing to point out is that, although Huffman was solid in Double-A last season, he did not come close to matching the production that he posted at previous levels. He put up a .793 OPS but his batting average fall and his K% rose. His ISO also dropped from .215 to .162; however, he did maintain his stellar BB%. Huffman does not have much, if any, projection left.
Outlook
Although the move to a corner outfield slot lowers his overall value and puts more pressure on his bat, Huffman does have the bat to succeed. However, he might have to find another team to truly get a shot due to players already ahead of him on the Padres' organizational depth chart. If I were a team looking to find a player to buy low, Huffman would be at or near the top of my list.
OF | Oakland Athletics (AAA) | Age – 22 | Drafted – Round 6, 2005
Cunningham offers a lot to like. He's a good athlete with a solid body to go along with plus make-up, and he does a lot of things well. He can hit for average, displays solid power, runs well and can play all three outfield positions. He has also shown pretty good plate discipline and a solid contact rate.
As a 21-year-old last year, Cunningham put up strong numbers for three teams at two different levels, but his peripherals varied sharply. In Single-A Winston-Salem, Cunningham showed excellent plate disciple by walking 11% of the time and striking out just 12% of the time; however, he showed only moderate power (.182 ISO) and put up a solid but unspectacular.852 OPS. Upon being traded from the White Sox to Arizona, Cunningham was placed in Single-A Visalia, and he raked immediately: The plate disciple was gone (3.7 BB%), but he hit for an extremely high average (.353) and improved his overall power production slightly (.195 ISO). His K% went up to 17%.
Finally, promoted to Double-A for the last part of the season, Cunningham saw his average fall back to earth (.288), saw a rebound in his plate discipline (9.1 BB%), and also saw his power production spike (.246 ISO). His K% again rose slightly.
No matter who the real Cunningham is, he was very productive last season.
The swing
Cunningham has a nice, simple swing. He loads his hands well and has a slight knee twist to help in unloading his hips. However, I would like Cunningham to carry his hips forward for a slightly longer period and to have a more aggressive move into foot plant. I'm also not sure I like how he "gets tall" when he twists his knee, as I think he hurts his power. I would prefer a more athletic/compact position (you can look at this Alex Rodriguez article by Jeff Albert to get a better feel for what I'm talking about).
On the other hand, Cunningham does do a pretty good job of waiting on the ball and turning on a firm front leg. Overall, Cunningham's swing isn't really conducive to hitting bombs, but it's solid nonetheless.
What's holding Cunningham back?
Although Cunningham does everything well, he does nothing great, which is a major reason he is overlooked. Also, he is sort of in no-man's-land in terms of position—he can play all three outfield spots, but he might not have the range to play center field full-time (if at all), and he is not projected to have the power to be an everyday corner outfielder.
Outlook
Cunningham projects as a first-rate fourth outfielder—not quite good enough to be an everyday player, but somebody you would want to play all over the outfield while logging about 500 plate appearances.
Other hitters of note
1b | San Diego Padres (AA) | Age – 21
Blanks is a giant of a player, standing 6-foot-6 and weighing close to 280 pounds. With that size, one would assume that Blanks' bat would be his calling card… and one would be correct. Blanks hits for a moderate average and sports a solid batting eye, but it's his plus raw power that people rave about. And he hasn't even reached his true power potential yet.
Despite his size, Blanks is a good athlete and runs well. He strikes out a little more than one would like, but he improved on that last year. He can get too pull-happy at times, but overall Blanks offers a lot to like.
SS | Los Angeles Dodgers (AA) | Age – 20
Son of former major leaguer Ivan De Jesus, the junior De Jesus displays plus defense at shortstop; Baseball America has said that he has the organization's best infield arm. Around two years younger than his peers, De Jesus has shown excellent plate discipline and judgment of the strike zone as evidenced by his high BB% and low K%. He also has shown the ability to hit for a moderately high average.
The negative for De Jesus is that he has displayed minimal power thus far (though he did show increased power last year). Although he has a small build, his swing has the potential for more power than his current numbers indicate; however, he needs more loft and a bigger load to reach that potential. Of course, the big positive is that De Jesus doesn't have to have much of a bat to make a major impact because his glove is so good.
References & Resources
This article is part of the 2008 Prospect Preview Series. You can find other articles associated with that series here.
Friar Forecast
Minor League Baseball
Major League Baseball