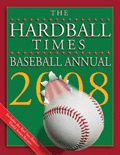 Over three years ago, when we started this little website of ours, we decided that publishing the best baseball content on the Internet wasn't going to be enough—we wanted the best baseball print content, too. So we decided to publish a baseball annual, the sort of book you don't see anymore. We wanted to make a book that would review the season just past, throw in some historical research and commentary and interesting baseball analysis, and load up on the stats. And we made it.
And so it goes. Our fourth THT Annual is now at the printer, and the format is still the same. Of course, it's probably not really "the best" content anywhere, but I think this year's Annual is pretty darn good, the best we've ever published. Now that it's finished, for delivery to your home by the end of the month, I can tell you exactly what's going to be in it.
Following is a brief review of the Table of Contents:
The 2007 Season

Ten Things I Learned This Year, by yours truly
Division reviews of each of the six divisions, written by THT's "in house" writers. I have no idea what "in house" means these days. We don't live together, thank goodness.
Matthew Carruth covers the events of the postseason.

2007 Commentary

I've got a little something I call "The Story Stat," which uses WPA to cover some of the major events of the season.
Will Leitch of Deadspin returns with his own take on the 2007 season.
SABR's David Vincent, the "guru of home runs" (or something like that) contributes insight on the many home run milestones of 2007.
"Championship Hangover" is Brian Gunn's excellent summary of the travails of 2007's St. Louis Cardinals, who had one of the more Shakesperean summers in recent baseball history.
Another great team "story" in 2007 concerned the Seattle Mariners, and USS Mariner's David Cameron pitches in on the improbable season in the Pacific Northwest.
First Inning (and THT) writer Chris Constancio covers the top prospects of the game.
THT's Brian Borawski, a member of SABR's Business of Baseball committee, reviews the business events of the year.
Derek Carty, of THT's Fantasy Focus, has an early look at the top "overs and unders" of 2008
Jonathan Helfgott, who spent a year researching the globalization of baseball, has contributed an outstanding piece on the current state of the international game.
And Bill Ferris, of the Detroit Tiger Weblog, has contributed the newest version of our annual "GM in a Box," this time highlighting Dave Dombrowski. As Bill pointed out, the last two GMs who suffered through our glare, John Schuerholz and Walt Jocketty, recently lost their jobs. Time to start talking about a "THT Curse."

History

"The Months of 2007 in History," by our Richard Barbieri, provides some intriguing historical context to the year just past.
John Brattain chronicles the "decline and fall" of the Major League Baseball Players Association, otherwise known as the union.
Chris Jaffe continues his managerial ruminations by researching the managers who most loved (and avoided) small ball strategies, and
Guest writer Jon Daly has placed former manager Billy Southworth "in a box," a la Bill James' Manager in a Box series.

Analysis

MGL kicks off our Analytic section with a superb "before and after" look at how each team performed. His uses his Super Linear Weights, including UZR and baserunning linear weights, to pick the highlights and lowlights among all teams.
"The Best Fielding Teams of 2007" is John Dewan's regular contribution to the Annual, applying his fielding plus/minus system to all teams, as well as key bunting and throwing defensive stats.
"A Random Walk through a Markov Model in 2007" sounds terribly imposing, but it's simply John Beamer's review of the mathematical model that best "explains" baseball, with some specific examples and a terrific spreadsheet to download. You'll definitely love both the spreadsheet and article if you like to play baseball "what if."
Bill James has contributed a piece called "Mr. Clutch," which is also a sneak peek at what his new book The Bill James Gold Mine will include.
Tangotiger has contributed two terrific pieces. The first is called "With or Without You," and it exploits Retrosheet's data to isolate the impact catchers and pitchers have had on baserunning. The article includes a complete list of every catcher who was behind the plate for at least 15,000 batters during the Retrosheet years, and ranks them all in terms of defensive prowess.
Tango's second article is called "With or Without Derek Jeter" and applies the exact same analysis to Jeter's fielding chops, perhaps the most controversial sportswriters-vs.-analytics topic in baseball today. I'd like to see sportswriters pick a hole in this one.
"The Dollar Value of Player Performance" is a contribution by Vince Gennaro, who has written the fantastic Diamond Dollars. Vince picks apart the economics of player development vs. free agent strategies and critiques each team's current strategy and Major League Baseball's current operating practices.
"Do Managers Matter?" is a great piece by David Gassko, researching the impact managers have on player performance.
John Walsh has used MLB's Pitch f/x data to find out what causes the "platoon advantage." Why, exactly, do lefties hit right-handed pitchers better, and vice versa?
Our final article is from Greg Rybarczyk, of Hit Tracker. Greg reviews the "technical" highlights of 2007's home runs, and then does something brand new: He combines his Hit Tracker system with Pitch f/x data to analyze the quirks and foibles of two of this year's high profile free agents, Torii Hunter and Andruw Jones.
As I always like to say at this point, that's just the first half of the book, the wordy part. The second half of the 368-page book is all graphs and numbers. We've followed the same format as previous years, but we've added a number of new stats, including David Smyth's Base Runs, Revised Zone Rating, home/away and lefty/righty splits and extra batted ball stats. Plus, we've added a list of "Stat Facts" for each team, and our Appendix includes complete win stats (Win Shares and WPA) for all players as well as John Burnson's Playing Time Constellations (as in last year's Annual).
Finally, there's a new addition to this year's Annual. You'll find several cartoons by Tuck in the Annual, sprinkled about for your reading enjoyment.
I hope you can see why I think this is the best THT Annual ever. In fact, the Annual is so crammed with good stuff that I didn't get to include several items I had worked on. As you can imagine, for instance, I put together a few graphs for the Annual, but wasn't able to include this one. It shows Colorado's record over the past four years, and it's fun to see how the Rockies have progressed not only from year to year, but day to day.
Anyway, there is a load of stuff in the Annual. I'm extremely biased, but I think it's worth your money. Please support the site and order it directly from our publisher. Plus, if you order it now along with our 2008 Preseason Book, you can get 10% off the purchase by entering code HTC08.
My only regret? We sent it to the printer two days before Barry Bonds was indicted. Talk about bad timing…
Dave Studeman was called a "national treasure" by Rob Neyer. Seriously. Follow his sporadic tweets
@dastudes
.