Buy the book at Lulu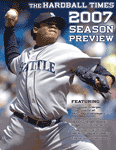 Pitchers are pitching, batters are batting, fielders are fielding and managers are mouthing platitudes. This sure seems like a good time for The Hardball Times to unveil its first-ever season preview.
For the past three years, we've published an Annual at the end of each season. Each book was a look back at what happened the previous season and why. We've been pretty happy with the results, but each Annual has told only half of the story. The other half, baseball events yet to be, are the subject of this, our first season preview.
Let me give you the specifics upfront: The THT 2007 Season Preview is 184 pages long. We think it's somewhere in between a typical fantasy baseball magazine and an in-depth book like Baseball Forecaster or Baseball Prospectus. It contains three-year statistical projections for virtually all major leaguers and many minor leaguers, as well as reviews of every major league team and several general articles. When you purchase the book, you'll also have access to a spreadsheet that contains all of the player projections.
You can download the book right away (in a PDF file format) by clicking here and using Paypal or any major credit card. Or, if you'd like to buy a real book with a cover and everything, head on over to our bookstore at Lulu and purchase it there. The price for the download is $9.00, and the price for the printed book is $15.95 (not including shipping).
The heart of our Preview is our unique take on batting and pitching projections. For every major league player we could think of, as well as a number of minor leaguers, we projected his batting, fielding and pitching performances for the next three years. Talk about a value: three-year projections in one book! The projections include a standard stats line for each player, plus an estimate of how many runs that player will save with his glove, and a "Wins Above Replacement" figure, allowing you to gauge the projected relative impact of each player to his team.
The numbers were the result of several months' work by David Gassko and Chris Constancio. David provided the overall framework, relying heavily on Baseball Info Solutions' batted ball statistics, and Chris provided the minor league stats, as well as park and league adjustments and a model of how player performance changes as players age.
Needless to say, we're tired. But we think you'll find the projections interesting and enjoyable — a different take than the other stalwarts in the projection business.
This book includes more than mere numbers, however. We also wanted to provide a review of each team's prospects for the coming year. Now, we think we're pretty good writers, but we don't really know every team in detail. So, to help with the team commentary, we reached out to some of our favorite bloggers and asked them to write about their favorite team. We think this is a pretty impressive list:
Jim McLennan of AZSnakePit
Rob Glowacki of The Cub Reporter
Chris ('The Cheat") of Southside Sox
Justin of On Baseball and the Reds
Ryan Richards of Let's Go Tribe
Brandi "Rox Girl" Griffin of Purple Row
Brian Borawski of The Hardball Times and TigerBlog
Craig of Fish Stripes
Lisa Gray of The Astros Dugout
Bradford Doolittle of the Doolittle Brothers (coming soon!)
Sean Smith of Anaheim Angels All the Way
Rich Lederer of Baseball Analysts
Jeff Sackmann of Brew Crew Ball
Will Young of Will's Title is Too Long
Dan McLaughlin of The Baseball Crank
Larry Mahnken of The Hardball Times and The Replacement Level Yankees Blog
Tom Goyne of Balls, Sticks and Stuff
Rowdy and Bones of Honest Wagner
Larry Borowsky of Viva El Birdos
Geoff Young of The Hardball Times and Ducksnorts
Jeff Sullivan of Lookout Landing
Cork Gaines of the Rays Index
Mike Hindman of The Newberg Report
The result is a "who's who" of baseball bloggers joining forces with THT's writers and, following Bill James's old "Team in a Box" format from the early '90's, creating 30 excellent takes on 2007.
For extra measure, there are articles about general fantasy baseball strategy, the top rookies to watch and things we can learn from HitTracker to assess this year's likely performances.
All in all, we think the THT 2007 Season Preview is a might darn good addition to the field. I'm sure you'll let us know what you think.
Dave Studeman was called a "national treasure" by Rob Neyer. Seriously. Follow his sporadic tweets
@dastudes
.