Apparently people like stupid lists. That's hardly news to me, but last week really drove the point home. My column was the ultimate in stupid lists: my personal rankings of MLB team nicknames. Not only was it about as lightweight an article as I've ever written, it was possibly the most linked to article I've done in memory. Suffice it to say, I kicked myself for not squeezing in a reference to the fact my new book "Evaluating Baseball's Managers, 1876-2008" is now available for purchase.
At any rate, if people like stupid lists, that's perfect for me. My two specialties are making lists and being stupid. This is right up my alley. Besides – it's the off-season. If it wasn't for dumb lists what the hell would we have left to talk about?
This week's dumb list: ranking stadiums I've attended. No, it isn't even a remotely deep or original idea. It's still a fun, dumb column to scrawl out, though.
A few guidelines:
– Distinctive features are positives, provided that distinctive isn't a euphemism for stupid.
– The most important feature is always the sightlines you have of the field.
– That said, factors like food, friendliness, and ambience also play roles here.
The second factor is key, because I am a confirmed upper-deck denizen. The majority of talk about baseball stadiums comes from the perspective of people in the good seats. This is key, because the interests of different sections can come into conflict.
For example, a long complaint of many old-time stadiums focused on people unable to follow the flight of fly balls because the upper deck hung over them. Stadiums in the last 20 years solved this by picking up the upper deck and moving them back. Voila! No more obstructed views – from either poles or overhangs. All sections have clearer views of the field, but if you're in my area , you're much farther from the action. It sucks.
But that usually gets brushed over in most accounts of stadiums. I suppose my perspective is no better than those of the lower-deck dwellers, but I do think the main interpretation needs an upper-deck corrective.
I've attended 15 stadiums, but can only rank 14. I was in Candlestick Park as a kid for about three innings. I hardly remember anything about it, though. Anyhow, here are my rankings, based on my experiences.
1. Wrigley Field (Chicago)
I suppose it's a cliché to rank this one at the top, especially since I'm a Cubs fan, but this place really does have the best upper-deck seats around because you're so close to the field. Plus the place looks great with the ivy and the old scoreboard and the rooftops and all that.
I still cherish a game I saw a dozen years ago in Seat 1, Aisle 1, Section 517. It was an absolutely tremendous seat – which was remarkable because it was directly behind a pole. Really. But I just had to lean a tad to the side and had a perfect view of the field, and could look out beyond it and see not only the rooftops, but some boats out on Lake Michigan.
Wrigley doesn't have as much amenities as other places, but it makes up for it.
2. Safeco Park (Seattle)
This place was a revelation when I saw a game there during the 2006 SABR convention. It was a pretty place with nice sightlines without anything really wrong with it. What I found remarkable was that the place supposedly has a retractable roof. The game I saw was a rain-free day, and looking at the top of the place, I had difficulty figuring out where the roof came from.
That's an overstatement – it clearly came from one side of the field – but had I not known it was retractable, I never would've guessed. The stadium just had an open-air feel, very unlike what I'd previously encountered with Miller Park's retractable roof.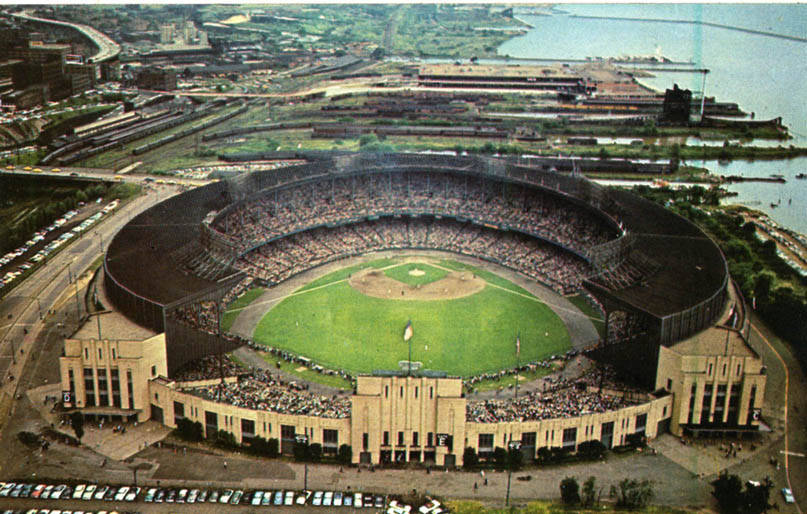 3. Rogers Centre AKA the Skydome (Toronto)
This is baseball's most underrated stadium. It's pre-Camden Yards, which is usually seen as a negative. However, at this point in time so many teams have gone the Camden route, Toronto's place comes off as a bit special.
More importantly, its most memorable features are positives. First, it's next to that big Canadian space needle thing-a-ma-jig. Awesome sight.
Second, if you go there, get there early. You can see a bunch of perfect circles of empty blue seats. It looks awesome. There is something very peaceful and inviting about seeing it that way.
4. Camden Yards (Baltimore)
Yeah, I know I'm ranking it too low. This place is an enigma for me. On the one hand, I have strong reasons to believe my experience missed a lot of what made it great. I've heard people who've been there tell me it's a great overall atmosphere when you go around the entire facility and all the accoutrements that come with it. However, in my one game there I arrived during the first inning, and decided I'd rather watch the game than walk around. Thus I missed some things that make it special.
I'd be tempted to kick it up above Toronto, except my experience watching the game was not quite what I expected. I remember when the place opened it was hailed as a bold new departure for a stadium. This point was reinforced where I lived in Chicago, where the last pre-Camden place, New Comiskey, was erected.
Thus you can imagine my surprise when I got to my seat and felt like I was back on Chicago's South Side. The places really didn't seem very different. In part that's because both stadiums have changed over the years. Camden no longer had the old style scoreboard when I went, and the Sox have retro-fitted their place to modernize it. Regardless, watching a game in noveau-retro Camden reminded me far more of Comiskey II than actual-retro Wrigley.
Baltimore's a nice place and if I had more time to experience it I'd probably rank it higher. But it ain't Safeco.
5. New Comiskey – AKA The Cell (Chicago)
The Camden commentary might've made the comparison of it and New Comiskey seem like a disparagement to Baltimore. That wasn't quite my intent, as the South Side stadium is fairly underrated.
The most common criticism of the upper deck is that the seats are set up rather steeply up there. While there's truth to that, I don't think that different from my experiences in Baltimore and Cleveland.
My main upper-deck complaint is that they won't let you walk around the lower concourse at all. Most places will, and that lowers the experience. The Sox used to let everyone do that, and then came Shirtless Father and Son Night.
That said, the sightlines are good (though far away, as is normally the case). And the place boasts a few special strengths. First, it has the best ballpark food of any place I've ever been. Some may disagree, but those people probably don't like churros, so I don't see how their opinion about food can be taken seriously.
More randomly, this place does the best job finding National Anthem singers of any place on the planet. Maybe this is just the random luck of the draw, but I'll routinely hear a sensational version of the song here when I go. I still remember a time about 10 years ago I heard four opera singers do a multi-part harmony with the song and it was so brilliant the crowd began cheering halfway through – and this was before 9/11. It's a small part of the ballpark experience, but the Sox routinely nail it.
6. County Stadium (Milwaukee)
An analogy: Ever had one of those jobs that makes the Dilbert comic strip a little too funny? For a while I worked in such a corporate-newspeak place. My superiors were always friendly and courteous and I began reflexively checking my back for stab wounds whenever I finished a conversation with one.
There was one obvious exception. One long-time veteran set up with his own little fiefdom was an out-and-out lout. And God bless him for it. He was a damn jerk and wasn't going to pretend otherwise. His openly grating attitude was frankly refreshing in that place. Whatever his faults, you always knew where you stood with him. I didn't mind him in the least, provided I dealt with him solely in small portions.
That's County Stadium. I finally made it up to Milwaukee in its final years of existence. It was a dumpy little hole with seats behind poles and plainly visible corrugated metal that the team could barely even bother keeping up to code. Its unapologetic staleness was a breath of fresh air. It wasn't putting on any false pretenses or affectations of gleam. It promised you a ball game and as an added bonus it likely wasn't going to collapse on you during the contest. That was about it. While the extra amenities are nice, isn't that all you need?
Does this contradict my statement up top that distinctive features are positives provided they're not stupid? I suppose it does. Hey – who wants to be consistent all the time anyway? Consistency is something you want when building safety features for nuclear power plants. Wasting it on your impressions on baseball parks makes even less sense that squandering a quality stadium on the 2000 Brewers.
Oh – the place also has the greatest tailgating facilities I've ever seen. I'm not a tailgater myself, but it's worth mentioning.
7. Old Comiskey (Chicago)
My dad took me to several games here when I was a kid. However, my memories are surprisingly vague. It seemed like a nice place, but it didn't really catch my attention. I liked the old green chairs and the exploding scoreboard, but aside from that it just struck me as a standard stadium.
8. Jacobs Field, or whatever it's called these days (Cleveland)
It isn't a bad place, but it's overrated. Like Camden, I heard a lot of good things about it (especially in comparison to New Comiskey), but was shocked at how generic it felt when I got there.
Not only did it remind me of New Comiskey, but it seemed clearly inferior. For example, while Comiskey has a fairly steep upper deck, Jacobs Field's was even worse. And at least Chicago puts a cupholder for you – Jacobs didn't.
My main memory was the lack of food selection they had. They had the typical wheel of commerce on the upper deck's concourse, but every single stand sold the exact same food. They made no attempt to mix it up at all, which is not only embarrassing, but shows a lack of interest in their upper-deck denizen's experience. I've been told they've addressed this issue, but it should've never been a problem in the first place. At least Wrigley can use its small size as an excuse for its food problems.
9. Angel Stadium (Anaheim)
This one is tough for me to rank because the only game I caught there came when it was under renovation. Half the park was closed down. As a result, it had an overall subdued impact on me. It was an odd circumstance, so I don't want to rank it too low. Then again, it wasn't a good impression, so I can't rank it too high. I'll put it above the stadiums I was openly disappointed in, but nothing more.
10. Great American Ballpark (Cincinnati)
It doesn't live up to the name. I attended only one game there, but it seemed a bit generic. Its main distinction was a giant red steamboat wheel in centerfield. It was just trying too hard.
One other oddity: The vendors all engaged in some odd multi-tasking. A lot had two different items for sale, and they were completely random items. I kept expecting to see someone hawking beer and cotton candy.
I was only there one time, but there was so much I didn't like. Immediately upon entering the stadium, I wanted to walk around and get a feel for it. I felt like I was in an obstacle course. I ran into a stairway, a brief jut of concessions, some other obstacle – it was an unusually difficult walk. Modern stadiums normally have an easy Wheel of Commerce behind the seats, but that wasn't the case in this bit by the outfield gate I entered at. I got frustrated and soon stopped.
It was uncomfortably humid where I sat. At first I thought it might be the luck of the draw. SABR's seats were in a corner underneath an overhang, and it stormed but good, so I figured the stadium trapped some of the moisture. Then I had an exchange with someone with more experience with the area that informed me otherwise. It went something:
Me: They weren't great seats, but I think I just had a bum location.
Not-me: How so?
Me: The place I sat trapped all the humidity.
Not-me: You know what they call that place that traps the humidity?
Me: No. What?
Not-me: St. Louis.
Me: (pauses for a beat). Oh.
That wasn't the main problem, though. It just looked … wrong. While Toronto had nice, inviting waves of blue seats, Busch II featured nothing but off-putting red. I can't really describe the type of red. It wasn't quite brick red or light red or anything like that. It's like they specifically went to the color makers and had them create a new shade of red just for the stadium: Glare Red.
That bugged. I was relieved to see the fans show up and block my view of the seats. Stop and think about that sentence for a minute. I'm a Cubs fan who was tickled to see 40,000 Cardinal fans walk into the room so I wouldn't have to see the surroundings. That is bad.
12. Miller Park (Milwaukee)
God ate concrete and crapped out Miller Park.
I haven't been to every retractable dome out there, but I have to believe this is the worst. It's the anti-Seattle. The place feels so confined when the roof is open that it makes you wonder why they didn't just go ahead and make it a year-round dome. I've been to it a handful of times, and each time my opinion of it lowers further.
They still have the tailgating facilities (it's on the same property as County Stadium was), but the park itself is dismal.
13. Olympic Stadium (Montreal)
A lot of bad things have been said about this place over the years, and all of them are deserving. Though I think many of the modern retro stadiums are overrated, they are sure as hell a step above the previous generation. Olympic was a sterile, lousy place to watch a game.
14. Metrodome (Minnesota)
It's a fight to the death between this and Olympic for the worst stadium. This ranks lower because at least Montreal had the metric system on the outfield walls and sounds of French being spoken to make it a little interesting. The place was ugly – especially the roof. And there weren't any redeeming features to it. The only good thing was that it was indoors, keeping the cold early and hot late season weather out. Unlikely as it sounds, it's possible their new open-air stadium will be a step in the wrong direction.