What a great time of year. We've got close races in several divisions, plus the drama of a couple of young teams (the Tigers and Marlins) heading in opposite directions. According to SABR-L's Frank Vaccaro (as of September 8) …
On Aug. 24, St. Louis became the first team in MLB history to lose three separate five game leads.
Since July 26, Oakland has played .744 ball (29-10), their eighth consecutive season with a stronger second half. They lead by 5.5 games with 22 to play. Only four times in history has such a lead has been lost: 1873 PHI (National Association), 1951 Dodgers, 1964 Phillies, and 1995 Angels.
Detroit is flirting with being the ninth team in MLB history to lose a 10-game lead.
Be sure to check out our division graphs daily, and also the Baseball Races site to see what each race would look like if it were a horse race. One other recommendation is Cool Standings, which has division and Wild Card title probabilities updated daily. And if you're thinking ahead to the playoffs, David Pinto had an insightful post about how each team has performed against elite pitchers.
In the meantime, everyone's talking about the Most Valuable Player "race."
Ryan Howard briefly led the majors in WPA
For at least one day, Ryan Howard zoomed out of nowhere to take the major league lead in Win Probability Added. However, as David Appelman pointed out at Fangraphs, Albert Pujols had a big hit Tuesday night to re-take the lead with 8.4 WPA, as of Wednesday afternoon.
The Balls, Sticks and Stuff guy used WPA to suggest that Howard should be the league MVP, and he's got a point. Get this: since Aug. 1, Howard has piled up 4.6 WPA. Only six other batters have accrued that much WPA over the course of the entire season.
Carlos Beltran still leads the majors in Win Shares
But Howard plays first, is an average fielder at best, and is no Carlos Beltran on the basepaths. So I updated Win Shares yesterday and found that Beltran still leads the National Leaque in Win Shares and Win Shares Above Bench. Beltran is a great center fielder, but his fielding prowess appears to be somewhat overrated by Win Shares at 7.6 fielding Win Shares. That's the fourth highest total in the majors.
Albert Pujols, the current WPA leader, is nipping at Beltran's Win Shares heels. Interestingly, Howard is only 12th in WSAB. He's really hurt by his fielding Win Shares, with only 0.9 total (making him one of the worst fielding first basemen, according to Win Shares). Last year's Fielding Bible had a different impression of Howard, ranking him second-best among all first basemen.
Johan Santana's got a very good MVP case
Amidst the Jeter/Ortiz brouhaha, Johan Santana has built a strong case for the American League MVP. At this stage, he's third in the AL in WSAB, slightly behind Jeter and Mauer. But Win Shares may actually under-appreciate starting pitchers, so let's look at a couple of different stats, Runs Created and Pitching Runs Created.
Here are the top twenty major league leaders in a combined list:
Last         First       Team    Lg         RC/PRC
Santana      Johan       MIN     AL           146
Cabrera      Miguel      FLA     NL           133
Pujols       Albert      STL     NL           131
Jeter        Derek       NYA     AL           126
Hafner       Travis      CLE     AL           124
Berkman      Lance       HOU     NL           124
Soriano      Alfonso     WAS     NL           122
Carpenter    Chris       STL     NL           119
Beltran      Carlos      NYN     NL           119
Howard       Ryan J      PHI     NL           119
Wright       David A     NYN     NL           115
Reyes        Jose        NYN     NL           113
Sizemore     Grady       CLE     AL           113
Thome        Jim         CHA     AL           112
Atkins       Garrett     COL     NL           112
Ortiz        David       BOS     AL           112
Arroyo       Bronson     CIN     NL           112
Furcal       Rafael      LAN     NL           111
Webb         Brandon     ARI     NL           111
Halladay     Roy         TOR     AL           111
Pitching Runs Created, invented by our own David Gassko, puts batters and pitchers on an even footing by acknowledging that a "run saved" is worth more than a "run scored." Note that batter's Runs Created don't include the impact of their fielding, though Pitching Runs Created does isolate the pitcher's impact from that of his fielders.
Still, Santana has a 20-run lead over his nearest AL competitor, Derek Jeter. Jeter makes up some of that gap based on his fielding, but Santana deserves his due. Each of his last three seasons have been as good as or better than any other major leaguer pitcher's, ranked by PRC. There's a bias against pitchers in MVP voting, but Johan Santana is the man to crack it.
Pujols has been really good in the clutch
According to Fangraphs, Pujols leads the majors in "clutchiness". Last year, when he won the MVP, he was actually -2.16 in clutchiness WPA, showing just how fluky clutch hitting can be.
Perhaps the best thing to come out of WPA is something called Leverage Index (LI), which was invented by Tangotiger and measures the criticality of each potential play. An average LI is 1.00, so an LI of three is three times more critical to the outcome of a game than average.
With LI, you can look at plate appearances an entirely different way. For instance, here are Pujols's top 15 plate appearances ranked by LI (all plate appearances with an LI over 3.5):
  Date       Opp    Inning   Outcome           LI     WPA
2006-08-1    CHN        9   Flied Out         6.90  -0.179
2006-04-1    CIN        9   Home Run          5.40   0.646
2006-04-1    CIN        8   Single            4.71   0.075
2006-09-1    ARI        9   Flied Out         4.40  -0.108
2006-05-0    COL        8   Home Run          4.39   0.380
2006-06-0    CHN        7   IBB               4.32   0.024
2006-04-2    PIT        9   Single            4.27   0.283
2006-04-0    CHN        5   Single            3.97   0.222
2006-07-1    LAN       10   IBB               3.88   0.005
2006-08-2    CHN        8   IBB               3.83   0.025
2006-09-0    PIT        9   Fielder's Choice  3.66  -0.104
2006-07-0    HOU       12   Flied Out         3.63  -0.117
2006-04-2    CHN        5   Single            3.61   0.212
2006-07-0     KC       11   Single            3.60   0.135
2006-05-2    HOU        7   Home Run          3.57   0.501
In his 15 most important plate appearances, Pujols has gone 8 for 12 with three home runs and three intentional walks, for a total WPA of 2.0, almost exactly his clutchiness score. Clutch hitting may come and go, but when it comes it can win pennant races.
Of course, so has David Ortiz
I kind of like that table, so let's do another. Boston's "Mr. Clutch," David Ortiz, has had 14 plate appearances with an LI of 3.5 or higher. Here are the outcomes of each one:
Several notorious players would make uncomfortable Hall acceptance speeches if inducted today.
  Date       Opp   Inning   Outcome        LI     WPA
2006-05-2    NYA      8    Struck out     6.05   -0.155
2006-09-0     KC      8    Single         5.76    0.496
2006-04-2     TB      9    Walk           5.27    0.195
2006-07-3    CLE      9    Home Run       4.83    0.785
2006-07-0    CHA     13    Grounded out   4.61   -0.078
2006-06-2    PHI     12    Single         4.44    0.383
2006-07-2    LAA     11    Single         4.44    0.383
2006-05-2     TB      5    Double         4.18    0.338
2006-05-0    BAL      6    Double         4.00    0.296
2006-08-2    LAA      9    IBB            3.96    0.030
2006-06-1    TEX      9    Home Run       3.69    0.904
2006-08-0     TB     10    IBB            3.69    0.013
2006-05-0    TOR      9    Struck out     3.60   -0.095
2006-08-0    CLE      9    Flied out      3.60   -0.095
Not too shabby, eh? Ortiz has been 7 for 11 in these plate appearances, with two home runs, a walk, and two intentional walks for a total WPA of 3.4. Despite his protestations, however, playing time and the Red Sox's collapse will keep the MVP trophy out of Ortiz's hands this year.
Speaking of the Red Sox's collapse, here are the August WPA totals for Boston. Check out Mike Timlin!
Derek Jeter hasn't been shabby in the clutch, either
The shortstop MVP candidate in New York (no, not Jose Reyes) hasn't been too bad in high-LI situations either.
  Date       Opp    Inning   Outcome        LI     WPA
2006-05-1    TEX        9    Ground out    5.40  -0.060
2006-05-2    NYN        9    Ground out    5.02  -0.146
2006-04-1     KC        8    Home run      4.71   0.624
2006-07-2    TOR        7    Walk          4.70   0.173
2006-08-2    BOS        9    Single        4.60   0.289
2006-08-1    BOS        7    Double        4.54   0.427
2006-06-2    ATL        9    IBB           3.88   0.005
2006-05-2    NYN        8    Single        3.72   0.139
2006-04-2     TB       10    Single        3.69   0.084
2006-06-0    BAL        9    Single        3.69   0.344
2006-06-1    OAK        7    Struck out    3.61  -0.108
2006-06-0    OAK        9    Ground out    3.60  -0.095
2006-06-2    ATL       12    Ground out    3.60  -0.095
In 13 plate appearances with an LI over 3.5, Derek Jeter has been 6 for 11 with a home run and an intentional walk. His WPA in those situations has been 1.6. Jeter has a slight lead over Joe Mauer and Santana in WSAB and his MVP candidacy may hinge on what you think of his fielding prowess (or lack thereof). SG, for instance, looks at Jeter's MVP qualifications in more detail at the Replacement Level Yankee Blog.
The most intense pitcher/batter matchup
While I was looking at high-LI situations, I decided to figure out which batter/pitcher matchups have been the most intense this year. So I looked at all matchups that occurred more than five times and ranked them by the average Leverage Index of those plate appearances. Want to guess which matchup has been the most intense?
It's Detroit's Fernando Rodney vs. Cleveland's Jhonny Peralta. The two AL Central opponents have faced each other six times for an average LI of 3.12. In fact, the lowest LI of any of their plate appearances has been 2.17.
Rodney has gotten the better of the situations (.219 WPA) by striking out Peralta twice, getting him to ground out twice, and giving up a walk and a fielder's choice.
Phil Rogers is too busy covering baseball games to look at baseball stats
Phil Rogers actually does a decent job covering baseball for the Chicago Tribune (though lots of people would disagree with me on that one), but he's got his shorts in a knot over this MVP thing. In an ESPN column, Rogers complained about MVP voting …
I vote, and I await the backlash, which annually comes on two fronts: from outraged fans of runner-up players and from statistical analysts whose computers see things those of us in the Baseball Writers Association of America sometimes miss. Perhaps we are too busy at the ballpark covering games.
But, Phil, that's why people like us work on The Hardball Times—to make it easier for poor, beleaguered baseball writers like yourself to easily find the most important stats. Check out our stats, Phil, or Fangraphs' to find most of the statistics you need to know. I promise it won't take much time.
Time to Make the Book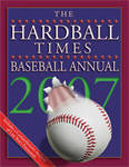 Remember the Dunkin' Donuts guy, the one who recently passed away? In the commercials, he woke up every morning in a haze and said "Time to make the donuts." It was a catchphrase for a certain generation, and it's kind of like what I'm beginning to say each September: Time to make the book.
I'm talking about the Hardball Times Annual 2007. In fact, the THT Annual is the reason I know all these WPA facts and figures, because WPA is going to be one of the major topics in this year's book (thanks to David Appelman and Tangotiger). The THT Annual will cover much more than just WPA, however, and the format will be very similar to last year's Annual. People like Phil Rogers ought to find it very useful.
So please support THT and buy the book. As you can imagine, it takes a lot of moolah to keep this site running, purchase the stats, etc. We don't ask for much from you, but it would help tremendously if you purchased the book from us instead of Amazon. I know it costs a little more, but think of it as a donation to your favorite baseball writers. It's a whole lot better than a telethon!
Steve Treder is my hero.
Steve Treder has been writing wonderful historical articles for The Hardball Times since we first went on the air, and I've marveled at how he constantly comes up with new article ideas. His knowledge of baseball history certainly blows me away.
Turns out I'm not the only one. You might have heard that Steve came in second in the SABR baseball trivia contest last summer, and he's featured in
Dave Studeman was called a "national treasure" by Rob Neyer. Seriously. Follow his sporadic tweets
@dastudes
.