The third Hardball Times Baseball Annual, this one covering the 2006 season, is just about wrapped up. I'm supposed to send it off to the printer on Monday, on schedule for shipping by the end of the month, which means we're in final panicky edit mode. But it also means that it's too late to change any of the content, so this seems like a good time to give you a detailed view of what you'll find in the 352 pages.
Here's the lineup of articles that offer coverage and commentary of the 2006 season:
Ten Things I Learned This Year, by me
Division Reviews of all six divisions
A recap of the postseason by Jeff Sackmann
Deadspin's Look Back at 2006 (contributed by Will Leitch)
The Best Ideas of the Year (by Ben Jacobs) and the year's biggest blunders (by Rob Neyer)
2006: The Year of the Rookie (Rich Lederer)
Anatomy of a Champion (Bryan Tsao)
The top thirty minor league prospects, ranked by Chris Constancio
A recap of the World Baseball Classic (Jeff Sackmann)
The Business of Baseball Annual Report (Brian Borawski)
The Impact of Drug Testing (Steve Treder)
A special piece by Vince Gennaro on the "illusion" of competitive balance
GM in a Box: this year, Mac Thomason reviews the career of John Schuerholz
We also have four historical articles:
The biggest article is David Gassko's exclusive rating of the 100 most valuable pitchers in major league history
John Brattain reviews the Federal League brouhaha of the 1910's
John Walsh ranks the greatest outfield arms of the "Retrosheet era"
David Gassko analyzes the impact of Tommy John surgery on pitchers' careers
Like last year, our analytic section is chock full:
An in-depth look at Win Probability Added in 2006
John Dewan's team defense rankings, featuring the "team defense" table format from last year's Fielding Bible, updated for 2006
Net Win Shares Value 2006
A great piece by Greg Rybarczyk, of Hit Tracker, reviewing last year's home run data.
Chris Constancio's analysis of which types of young batters are more or less likely to develop power
More batted ball analysis from David Gassko and myself, updating last year's articles and adding some new insights
Tug of War, by John Burnson, taking a deeper look into pitcher/batter dynamics
A scheme for predicting next year's most likely breakout candidates, by David Gassko
That's the first half of the book. The second half is filled with baseball graphs and statistics, closely following last year's format. In addition to all the traditional statistics and a few extra (RC, FIP and PRC), we have unique batted ball stats for all players with at least 100 plate appearances (for batters) or 100 batters faced (for pitchers). These were described last week, and I'm sure you'll find them truly useful.
Finally, there are two statistical appendices. One lists win-based stats for all regular and semi-regular players; the stats include Win Shares and Win Probability Added, so you can compare them side-by-side for each player. Plus, if you purchase the book, you will be able to download a spreadsheet with even more win-based stats for every single player.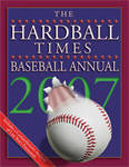 Our second appendix is brand new. John Burnson, of Heater Magazine, graciously contributed his "Playing Time Constellations" to our effort. With the constellations, you can see not only which player played which position for every team, you can see when he played each position. So changes in position over the course of the season, such as Ichiro taking over center field the last two months of the year, are made apparent.
If this hasn't whetted your appetite, I give up. If it has, please purchase the book by clicking on the link/cover on the left. As I've mentioned before, THT benefits much more from every purchase made through our publisher instead of an online discount store like Amazon. But however you choose to purchase the Annual, we hope you enjoy it.
And now, back to panicking.
Dave Studeman was called a "national treasure" by Rob Neyer. Seriously. Follow his sporadic tweets
@dastudes
.