After Ken Griffey Jr. retired in June, Joe Posnanski wrote in Sports Illustrated:
In the last years of his life Buck O'Neil, the great spokesman of baseball, would often be asked to name his favorite modern players. He always mentioned just one name: Ken Griffey Jr. When asked why, he would say, simply, "He could play in any era."
It's high praise to suggest a player might excel in a different era, and some people shy away from these comparisons, suggesting baseball changes too much, too often. I'm not one of these people. Every week in my blog, I write a column called Any player/Any era where I look at how a ballplayer might have done in another era besides his own.
In my view, Griffey's far from the only recent player who might thrive in another time. In close to a year of doing the column, I've envisioned Rickey Henderson on the Brooklyn Dodgers, Ichiro Suzuki on the Gashouse Gang, Josh Hamilton as a Deadball Era pitcher, and more. I believe now, more than ever, that natural ability and talent transfers to any era and that even the greatest of players might improve playing at another point in baseball history better suited to their strengths.
Here are ten current players who might excel in a different era:
Albert Pujols: After reading Posnanski's piece, I wrote a column placing Griffey on the 1930 Philadelphia Phillies, perhaps the greatest hitting team of all-time, certainly the best offensive club that's ever finished dead last. At the time, I wrote that Griffey might put up ridiculous numbers in the Baker Bowl. But Pujols would go way beyond. Playing in the Baker Bowl, the hitter's bandbox the Phillies called home in 1930, Pujols might be the closest thing to Babe Ruth besides the man himself.
I like to use a stat converter on Baseball-Reference.com that takes park factors and average runs scored per game by a team to translate a player's numbers from an actual season he played to another. In 2003, Pujols hit .359 with 43 home runs and 124 RBI for the Cardinals, finishing second in MVP voting. Because teams scored an average of 4.612 runs per game in 2003, and the Cardinals played in a ballpark that favored pitchers slightly, it doesn't seem unreasonable to suggest Pujols might have increased his numbers if he'd played in a historically good era for hitters.
In 1930, National League teams averaged 5.684 runs per game, and nowhere were there more runs scored than Philadelphia. It went both ways. The Phillies hit .315 but finished 52-102 since their club ERA was 6.71, all-time worst in the majors and they allowed 1199 runs, third worst ever. I don't know if Pujols could make a winner out of the Phillies—who had literally one winning season between 1918 and 1948—but the converter shows his 2003 season translating to a .411 batting average, 50 home runs, and 161 RBI with an OPS of 1.252.
Ironically, the Phillies might be the ideal team in 1930 for a 23-year-old Pujols. He probably wouldn't have appealed to the Cardinals, whose general manager Branch Rickey favored hit-and-run style players (though he made an exception in the mid 1930s for Johnny Mize.) Old Yankee Stadium would have limited Pujols' stats as a right-handed hitter—just look at what it took away from Joe DiMaggio. And on the A's or Giants, Pujols might never get off the bench his first couple seasons in the majors, as future Hall of Famers Bill Terry, Mel Ott, and Jimmie Foxx mostly sat their early years for those contenders.
Pujols would need a place he could play from the time he debuted, and while this certainly would be possible with other teams—the Brooklyn Dodgers of those days for instance—Pujols wouldn't find a better park to hit in than the Baker Bowl. It would be the perfect storm for a young hitter. And along with another young hitter, Chuck Klein and teammate Lefty O"Doul, who hit .386 and .383 respectively, Pujols might help form the greatest 3-4-5 batting order ever.
Chipper Jones: My friend Devon Young emailed me a few months ago that for players with lifetime .300 batting averages, .400 on-base percentages, and .500 slugging percentages, three have stolen at least 140 bases: Ty Cobb, Tris Speaker, and Jones. Devon asked if I thought Jones might have more triples and steals and a better batting average if he'd played in the Deadball Era.
The answer, most likely, is yes. Deadball stars often flirted with .400 batting averages and racked up lots of triples and steals. In 1912, Speaker hit .383 with 12 triples, 52 stolen bases, and a league-leading 10 home runs. This may seem wholly unrelated to Jones' 1999 MVP season when he hit .319 with 45 home runs and 110 RBI, but Jones' OPS+ of 168 isn't hugely different than Speaker's 188, and their slugging percentages, .633 and .567 roughly relate, too.
I generally don't trust the converter to accurately translate modern numbers to the Deadball Era, and I'm making no exception here. The converter has Chipper's 1999 season giving him 42 home runs on the 1912 Red Sox, an unrealistic figure for the era even if Boston hadn't hit 29 total that year. That being said, I think Jones would do much better than one triple, 25 steals, and a .319 batting average.
Felix Hernandez: King Felix was the AL Cy Young in 2010, going 13-12 for the last-place Mariners and shining in many statistical areas that weren't team-dependent. So how might Hernandez have done on one of baseball's greatest teams? The 1927 Yankees went 110-44, swept the World Series, and had a lineup so feared writers called it Murderers Row (and if that sounds like mere hype from a less-sophisticated press corps, consider that New York had a team OPS+ of 127.) On those Yankees, Hernandez's 2010 season converts to a 16-8 record with a 2.81 ERA and 208 strikeouts.
Tim Lincecum: Historically, young pitchers who throw hard burnout somewhere in their 20s, 30 if they're lucky. Every baseball generation seems to have its Smoky Joe Wood or Gary Nolan or Mark Prior who debuted early, wrecked their arm, and had to quit pitching prematurely. At least Wood resurrected his career as an outfielder, kind of a latter day Rick Ankiel (who faltered on the mound for different reasons.) It will be interesting to see if Lincecum joins their ranks as a hard-throwing, unusual-throwing 26-year-old who's led the National League in strikeouts and Ks per nine innings three of his four years in the majors.
Offhand, I can think of two fastball pitchers in the Modern Era who started very young, immediately thrived, and are now in the Hall of Fame: Tom Seaver and Bob Feller. I don't know what Seaver's secret was, some fluke or miracle of modern medicine maybe, but Feller may have benefited from having a few years off during World War II. Feller debuted with the Indians as a 17-year-old high school junior on summer break in 1936, and after Pearl Harbor in December 1941 he was one of the first players to enlist. Unlike most, he saw active combat, doing laps around his cruiser between Japanese air attacks.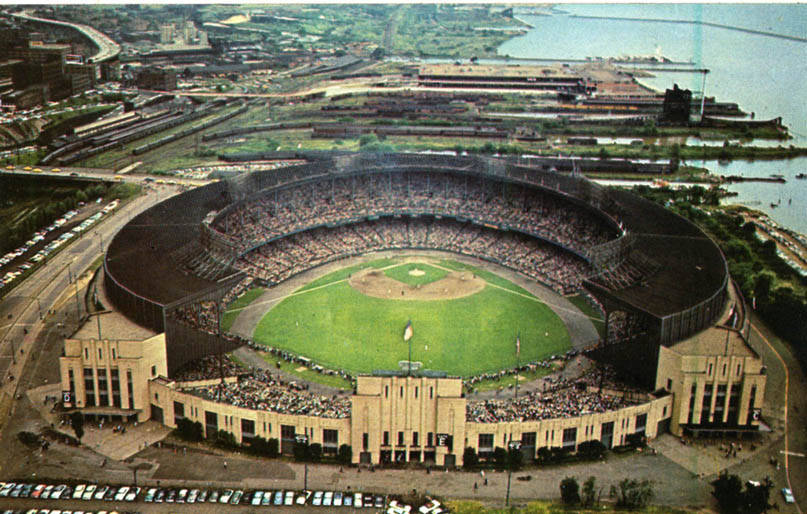 His first full season back after the war ended, 1946, ranks as one of the best any pitcher's had, certainly Feller's finest effort. Going 26-15 with a 2.18 ERA and 348 strikeouts, he posted career highs in ERA and Ks as well as WAR (10.1), innings (371.1) starts (42), complete games (36), and shutouts (10.) In general, 1946 favored pitchers, perhaps because hitters had issues with timing. Others hurlers did quite well, too. Hal Newhouser, who pitched through the war, went 26-9 with a 1.94 ERA and 275 strikeouts. Tex Hughson and Dave Ferriss went a combined 45-17, helping pitch the Red Sox to the World Series.
So it's no surprise Lincecum's numbers would improve if he replaced Feller on the Indians in 1946. The stat converter has his 2009 season Cy Young season where he went 15-7 with a 2.48 ERA and 261 strikeouts translating to 17-7 with a 2.03 ERA and 251 strikeouts for Cleveland. And if the extended break with WWII could help him do as Feller did the rest of his career, even better. Still just 27 at the end of the 1946 season, Feller pitched another decade, retired with 266 wins, and along with Jackie Robinson, was the first first-ballot Hall of Famer in 25 years in 1962.
Vladimir Guerrero: Guerrero's .320 career batting average seems unreal for a player with a modest .383 lifetime on-base percentage and no seasons with 100 walks. But this kind of thing used to happen more often. Hank Aaron hit .305 for his career, never had a 100-walk season, and retired with a .374 OBP. Fellow lifetime .300 hitter Willie Mays topped 100 walks once and posted a .384 lifetime OBP. Mickey Mantle had eight 100-walk seasons and a .421 OBP, but this was the exception, not the rule.
In the 1950s, a young Guerrero might be the Aaron or Mays of a team like the Chicago Cubs, whose short porch in left he could attack as a right-handed hitter. The stat converter has Guerrero's 2002 season good for 36 home runs, 104 RBI and a .328 batting average on the '55 Cubs. A young Guerrero wouldn't be bad in the outfield either, or running the bases. More than that, he'd be a great sidekick for Ernie Banks, who was something of a lone wolf for the Cubs in the '50s.
Johan Santana: It can be amusing to take a current pitcher and run their stats for a 1968 contender, seeing ERAs drop and win totals climb. But few hurlers today likely could handle the 1960s, when starters pitched in four-man rotations, topped 300 innings, and racked up heavy strikeout totals.
Santana is one of two active players, with Justin Verlander, who's led the league in both innings pitched and strikeouts per nine innings. Verlander did it once, in 2009. Santana has led his league in strikeouts per nine innings three times and innings pitched twice, and in the 1960s, he might be the second coming of Sandy Koufax. Here's how his 2004 Cy Young season converts to the '68 Dodgers: 18-7 record, 1.65 ERA, 272 strikeouts, and a 0.735 WHIP, the latter of which would be tops in baseball history.
Roy Halladay: If Santana is the second coming of Sandy Koufax in 1968, Halladay might be something close to Bob Gibson, who posted a historic 1.12 ERA that season to go with a 22-9 record, 268 strikeouts. Another innings eater and strikeout specialist, Halladay was National League Cy Young this year going 21-10 with a 2.44 ERA and 219 strikeouts. The converter translates that to 20-8 with a 1.86 ERA and 220 strikeouts for the 1968 Cardinals.
Currently 169-86 with a 3.32 ERA, with a decent shot at Cooperstown if he can pitch another six or eight years, one has to wonder if Halladay's numbers would be better and his case therefore stronger if he'd played his whole career in Gibson's era.
Ichiro Suzuki: What 1968 was for pitchers, it wasn't for hitters. This was the year Carl Yastrzemski won the American League batting title hitting .301, and just five other players hit over .300, led by Pete Rose and his .335 batting clip. Pitchers were so favored in 1968 that, as Jim Bouton noted in his diary of the 1969 season, Ball Four, the majors lowered the size of the pitching mound from 15 inches to 10 inches for 1969.
The Houston Astros might not have been the worst hitting club of 1968 with their .231 club batting average (the Tigers won 103 games and the World Series hitting just .235 in 1968) but with 510 runs scored and team OPS+ of 88, they finished 72-90, and even in a decent year, their cavernous ballpark, the Astrodome wrecked hitters. Some of the best Astros from that general era, Cesar Cedeno, Bob Watson, and Jimmy Wynn might have even been Hall of Famers on better hitting clubs. Too much was taken away from their numbers in Houston.
Even all-time greats would look relatively normal if they'd played for the '68 Astros. Babe Ruth's iconic 60-home-run season in 1927, where he also hit .356 with 164 RBI and a 1.258 OPS translates to 49 home runs, 119 RBI, a .301 batting average and a 1.080 OPS in 1968 with Houston. Roger Maris's 61 home runs would become 53 in Houston, to go with 109 RBI and a .243 batting average. It doesn't appear any other lumbering slugger, really, would be favored in a park that rewarded contact hitters with good speed.
This leaves a few players in baseball history that could have been successful in Houston and perhaps made a run at the National League batting title in 1968. The Astrodome seems like the kind of place someone like Ty Cobb would clean up with his disdain for home runs in favor of line drives and his speed on the base paths, and Ichiro Suzuki strikes me as his modern equivalent. His 2004 season, where he hit .372 for the Mariners with a record 262 hits, becomes .332 with 220 hits on the '68 Astros. It makes him look a bit like Matty Alou that year, but that's nothing to be ashamed of.
Joba Chamberlain: Put most relief pitchers in any era in baseball history before the last 20 or so years, before the one inning or less save became popular, and most of these men wouldn't last in the majors or be remembered. Forget Cooperstown. Into the 1980s, any pitcher in the majors needed to have the ability to pitch a few innings and most with any talent became starters. The bullpen was a place for the young, washed up, or talent-deprived to languish.
Chamberlain is one of the few relievers today who could thrive in the 1970s and be among a pioneer class of closers. Because his production has been so erratic the last few years, his role ever changing as he's gone from setup man to sometimes starter to starter to reliever again, there's no sense in running his numbers through the stat converter, though my guess is he'd be similar to Goose Gossage or Rollie Fingers as a closer capable of pitching the final five innings.
Jose Reyes: The New York Mets shortstop has cooled his jets a bit the last few years, stealing a modest 30 bases last year. From 2005 through 2007, though, Reyes led the National League in stolen bases, peaking at 78 in 2007, tied for the most anyone's stolen since 1988 and helping making a case for him being the Rickey Henderson or Tim Raines of his era. Really, Reyes has been at somewhat, to those men at a disadvantage, stolen base-wise. In their time, Reyes might up his numbers a little.
The 1980s were a Renaissance for base stealing, the efforts of pioneers like Luis Aparicio, Maury Wills, and Lou Brock ushering in a stretch where men regularly topped 80 steals and sometimes 100. Some of it may have had to do with competitiveness among the top the stealers, the steal being coached for, or that in the '80s Astroturf was more common in ballparks (only three teams have it today) and made for easier stealing since it was essentially like running on concrete. Consider that in 1983, Raines stole 51 of his career high 90 bases at home in the Astroturf-ed Olympic Stadium. Interestingly, Raines had a higher success rate in Montreal, going 51 for 56 in his attempts while managing 39 for 48 on the road.
The converter doesn't favor Reyes in Raines' place, showing him with two less steals on the 1983 Expos, though I'm going to dismiss that as a quirk of the converter. The thought here is that Reyes would have a shot at 90 steals, if not 100.