Chances are good you've never heard of Walt Bond. There's not much reason for current-day fans to be familiar with him. After all, he played in just 365 major league games, made no All-Star or postseason appearances, and took his final at-bat 40 years ago.
Bond's pedestrian-bordering-on-obscure status allowed him to be set up as comedic fodder in The Great American Baseball Card Flipping, Trading, and Bubble Gum Book, the irreverent reminiscence on the subject of growing up as a baseball fan in the 1950s and '60s. The authors juxtapose Bond with a fellow obscurity, the 5-foot-4, impossibly-cherubic Ernie Oravetz:
The short and the tall of it.

Walt Bond was a 6'7", 230-pound outfielder-first baseman who spent six years in the majors trying to prove that bad things can come in big packages too. As you can probably tell by this picture, he wasn't all that crazy about chewing tobacco either.
There we see the 1963 Topps card photo, Bond in a Cleveland Indians uniform, chaw bulging in cheek, wearing an expression that suggests he very much wants to cry, or perhaps just throw up.
It's funny stuff.
But here's something else one might find (were one so inclined) among the rare commentaries featuring Bond:
Of all of the thousands of players who have been called up late in the season and given a brief chance to show what they can do, probably the most impressive argument was made by a giant named Walter Franklin Bond in September of 1962.
So asserted Bill James, in his Historical Baseball Abstract, in the essay "A Warm Cup of Coffee" which lists the most dramatic September-call-up performances, going all the way back to 1889.
So what gives? How is it that a player, particularly one notable for his great size, could produce nothing less than the most impressive late-season call-up performance in the history of major league baseball, and yet be remembered, if at all, as nothing more than one-half of a Mutt-and-Jeff joke?
It's quite a story.
From Denmark to Cleveland
Walter Franklin Bond was born in Denmark, on Oct. 19, 1937. Denmark, Tenn., that is, in rural cotton-growing west Tennessee, between Jackson and Brownsville, in the segregated south. The strapping youth found his first job in professional baseball in the waning years of the Negro Leagues, for the Kansas City Monarchs in the mid-1950s. Bond's play there caught the attention of major league scouts, and the Cleveland Indians organization signed him before the 1957 season.
His first two minor league years were spent in environments bitterly struggling with racial integration: Cocoa in the 1957 Florida State League (Class D), and Burlington in the 1958 Carolina League (Class B). Despite the egregious indignities, large and small, inflicted upon black players in those times and places, the young Bond performed very well for both ball clubs. He presented a line drive bat with fine power, as well as an asset unusual from such a big fellow: pretty good speed.
Bond had another strong year in the Class A Eastern League in 1959, and made the big jump to the Indians' major league club to open the 1960 season. As a 22-year-old rookie in a semi-regular center field/right field platoon role, Bond was doing all right in the season's first couple of weeks, hitting .255 with three homers as of May 7. But then he went into a bit of a slump, stopped getting much playing time, and was sent to AAA in June. He bounced between AAA and the majors over the balance of 1960 and '61, unable to grab a firm hold on a big league job, but hitting quite well in the minors.
In 1962, the Cleveland organization left Bond in AAA for the entire minor league season. The big league Indians experienced a highly frustrating year: as of July 7, they were in first place, 13 games over .500. Then they fell into a ghastly tailspin, dropping 34 of their next 47 games; by late August they'd fallen all the way to eighth place, hopelessly out of contention.
Among the problems plaguing the club through this free-fall was a disastrous hitting drought: The Indians' team batting average was just .230 in July, and .232 in August. Over those two months, with the team's chances deteriorating on a daily basis, left-handed-batting Cleveland right fielder Willie Kirkland hit .170/.214/.314, left-handed-batting center fielder Ty Cline hit .184/.213/.248 and left-handed-batting utility outfielder Don Dillard hit .247/.284/.403. Yet Bond, a left-handed-batting outfielder, hitting .320/.359/.485 in AAA and with nothing left to prove at that level, wasn't promoted.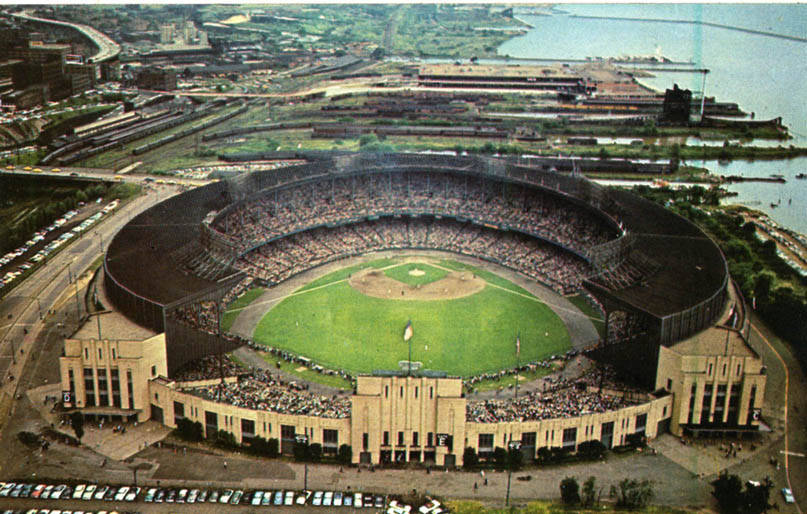 Finally in mid-September, with their once-promising season a lost cause, the Indians called up Bond.
The Steaming Cup of Coffee
He made his 1962 major league season's debut on Sunday afternoon, Sept. 16, in Minnesota. Indians manager Mel McGaha put Bond in the starting lineup, playing right field and batting cleanup against Twins ace righthander Camilo Pascual. Bond was collared, going 0-for-4 and striking out twice, and the Indians lost 4-3.
McGaha gave Bond another shot in the next game, on Tuesday night the 18th in Kansas City, again starting in right field, batting fourth. But against Athletics' righthander Dan Pfister, Bond had little more success, producing just an infield single in four at-bats. The Indians lost yet again, 6-1, their fifth straight defeat.
But he was in the lineup again the next night, facing K.C. righthander Ed Rakow, in the cleanup spot and playing right field, and now Bond made some noise, big time. He hit a two-run homer in the first inning, a two-run double in the third (chasing Rakow), and another two-run homer in the seventh, off Dave Wickersham. His six-RBI performance led Cleveland to a 10-9 victory.
Bond had three singles and an RBI on Thursday evening against the A's, and his place in the Indians' starting lineup was assured. He played every inning of every game for the remaining 10 days of the season, batting fourth or third (being dropped to the sixth slot just once, against Angels southpaw Bo Belinsky). He continued to hit up a storm, connecting for home runs against Don Lee, Dean Chance, Bob Botz and Julio Navarro in home-and-away series against the Angels. All in all, in 12 games Bond blasted six homers, three doubles and 10 singles, scoring 10 runs and driving in 17. With Bond at the core of the lineup, the Indians finally ended their long slump, winning eight of their final 10 games.
Of course no one would expect Bond to keep up that red-hot rate over a full season. But the point of putting a young player in the lineup in the closing weeks of the season is to find out what he's ready to do, and in September of 1962 Bond amply demonstrated that he was capable of hitting big league pitching, indeed capable of busting out a hot streak worthy of a first-rate cleanup hitter. Over the total of Bond's age-22, age-23 and age-24 major league exposures, his batting average was a so-so .245, but he'd delivered 13 home runs in 233 at-bats, an extremely impressive rate.
Taken with the evidence of his consistently strong AAA performance, there was every reason to see Bond as being ready for a major league role, if not as a regular, then certainly as a platoon or utility outfielder-first baseman.
But He Was Still Dangling His Participles!
Alas, in their infinite wisdom the Cleveland Indians, under GM Gabe Paul, didn't see it that way. Rather than find a way to use Bond on their 1963 roster, or even to exchange him for someone else of value in the trade market, the Indians sent Bond back to AAA for more seasoning.
Bill James:
The Indians had finished under .500 in '61 and '62, and you might think that a 6'7″ guy who could run and hit baseballs out of sight would make an impression on them, but the Indians have never been the kind of organization that would let itself be intimidated by common sense … Bond was assigned to Jacksonville for the 1963 season, and told to work on his grammar or something.
What Paul did was trade for two new first basemen, (Joe Adcock and Fred Whitfield), moving incumbent first baseman Tito Francona to the outfield. Three of the team's 1962 outfielders (Cline, Dillard and Chuck Essegian), were traded away, and a rookie center fielder, (Vic Davalillo), was promoted.
And in Paul's most curious move, a week before Opening Day in '63, he purchased 26-year-old switch-hitting outfielder Ellis Burton from the Houston Colt .45s. A year older than Bond, Burton was joining his sixth organization and had accumulated just 58 major league at-bats, in which he'd hit .224 with two homers. In AAA, Burton had been outhit by Bond, in 1960, 1961 and 1962. Yet Gabe Paul decided the Indians needed Burton more than Bond.
Burton started four of the first five games of the season for Cleveland in 1963. He went 2-for-16, and the Indians immediately gave up on him; Burton didn't start again for a month, and was sold to the Cubs in late May. Still Bond wasn't recalled. He would spend the entire season in AAA, hitting .276 with 25 homers, while the Indians stumbled along, finishing at 79-83, in sixth place.
Adcock and Whitfield did well platooning at first base, but in the outfield the Indians struggled, granting 333 plate appearances to left-handed-batting Al Luplow, who delivered an OPS+ of 85; 478 PAs to the lefty Kirkland, with an OPS+ of 90; and 553 PAs to the left-handed-batting Francona, with an OPS+ of 81. The lefty-swinging Bond didn't even get a September call-up.
In December of 1963 the Indians sold Bond to Houston.
The Lone Star Opportunity
The particular genius exhibited by Paul Richards was an extraordinary ability to discover and develop pitchers. But in his tenure as general manager of the Baltimore Orioles, the Wizard of Waxahachie had also demonstrated a knack for plucking underappreciated position player talents from other organizations. Among those he revealed there were Gus Triandos, Hal Smith, Willy Miranda, Billy Gardner, Dick Williams and Bob Boyd.
Now in the GM role for the nascent Houston franchise, Richards was endeavoring to do more of the same. In the club's first two seasons, he'd received good results from first-time regulars Roman Mejias, Bob Aspromonte, Al Spangler and Carl Warwick.
Richards found another one in the 26-year-old Bond. Given not just a spot on the Colt .45s' 1964 roster, but regular playing time (in the outfield for the first half, and at first base thereafter), Bond thrived. His raw stats may not seem especially impressive— .254/.310/.420, with 20 home runs in 543 at-bats—but understood within the context of a very poor hitters' park in a 4.01 runs-per-game league, they were rather good. And within the context of the extremely light-hitting Houston lineup, they were a godsend: Bond led his team in runs, triples, homers, RBIs, SLG, OPS and OPS+. It may have been a small pond, but the 6-foot-7-inch Bond showed himself to be a very big fish indeed.
But if bad luck were cash, Bond would have been a Rockefeller. James again:
He finally got a chance to play, with Houston in 1964, in the worst hitters' park in baseball, and when he seemed in danger of succeeding anyway, they built a park that was even tougher.
The brand-new Astrodome, indeed, was an even less forgiving environment than Colt Stadium, and in 1965, through the end of June, Bond had a .270 batting average, but just four homers and 32 RBIs in 278 at-bats. That month the Houston ball club (now called the Astros) acquired a veteran power-hitting first baseman, Jim Gentile. His arrival might have moved Bond to the outfield, but with Lee Maye in left, Jim Wynn in center and Rusty Staub in right, there was not a whole lot of room for him out there either. Bond was reduced to a utility role. In just 129 at-bats after June, he did okay, hitting .248/.367/.367.
Richards and Houston owner Roy Hofheinz had never gotten along well, and in December of 1965 they reached the you-can't-quit-I'm-firing-you stage. Richards' replacement, Tal Smith, couldn't come up with anything better to do with Bond than to trade him, on the eve of Opening Day in 1966, to Minnesota for a 32-year-old AAA catcher, Ken Retzer.
The Second Chance That Never Came
The Twins traded for Bond, but then farmed him out, and chose to deploy Sandy Valdespino on their 1966 roster as a left-handed-batting backup left fielder. In 52 games and 108 at-bats, Valdespino contributed an OPS+ of 31. Meanwhile, Bond spent the entire season for the Twins' AAA affiliate, hitting .316 with 18 homers.
In 1967, Minnesota finally promoted Bond to the big league roster. He opened the season as a utility player, and was doing well; appearing in 10 games through early May, he was 5-for-16 with a double, a home run and five RBIs.
But something more serious than playing time was affecting Bond that spring. In the 1960s, there wasn't a great deal that medical science could offer leukemia patients. Still today, in many forms it's often fatal.
Walt Bond had been diagnosed with leukemia several years earlier, but the disease had quickly gone into remission. In the spring of 1967, the cancer re-emerged. Bond underwent treatment, and was able to appear in three more minor league games, but his strength was rapidly ebbing. On Sept. 14, 1967, a month shy of his 30th birthday, he died at Methodist Hospital in Houston, survived by his wife, Lynette.
Year Club   League Class Age   G   AB   R   H 2B 3B HR RBI  BB  SO SB   BA  OBP  SLG   OPS OPS+
1957 Cocoa  Fl. St.  D    19 111  415  74 136 16  6 11  80  44  58 17 .328 .392 .475  .867    x
1958 Burl.  Carol.   B    20 123  439  66 130 25  7 13  70  45  62  5 .296 .362 .474  .835    x
1959 Rdng.  East.    A    21 128  459  74 127 17 13 16  82  32  62 14 .277 .324 .475  .799    x
1960 Cleve.  A.L.   MLB   22  40  131  19  29  2  1  5  18  13  14  4 .221 .302 .366  .668   83
1960 Tor.    I.L.   AAA   22  15   43   2   7  0  0  1   3   4  12  0 .163 .234 .233  .467    x
1960 Van.   P.C.L.  AAA   22  74  267  52  85 12  6 12  45  30  29  5 .318 .387 .543  .930    x
1961 Cleve.  A.L.   MLB   23  38   52   7   9  1  1  2   7   6  10  1 .173 .267 .346  .613   65
1961 S.L.C. P.C.L.  AAA   23  70  230  42  65 11  7  8  37  33  24  3 .283 .373 .496  .868    x
1962 S.L.C. P.C.L.  AAA   24 132  472  80 151 21 12 11  76  29  56  7 .320 .359 .485  .844    x
1962 Cleve.  A.L.   MLB   24  12   50  10  19  3  0  6  17   4   9  1 .380 .426 .800 1.226  226
1963 Jacks.  I.L.   AAA   25 134  479  55 132 22  1 25  82  33  43  0 .276 .322 .482  .805    x
1964 Hou.    N.L.   MLB   26 148  543  63 138 16  7 20  85  38  90  2 .254 .310 .420  .730  109
1965 Hou.    N.L.   MLB   27 117  407  46 107 17  2  7  47  42  51  2 .263 .337 .366  .703  105
1966 Den.   P.C.L.  AAA   28 122  361  64 114 17  3 18  74  36  42  1 .316 .378 .529  .907    x
1967 Minn.   A.L.   MLB   29  10   16   4   5  1  0  1   5   3   1  0 .313 .400 .562  .962  173
1967 Jacks.  I.L.   AAA   29   3   10   3   2  1  0  1   1   0   2  0 .200 .200 .600  .800    x

Career              AAA      550 1862 298 556 84 29 76 318 165 208 16 .299 .356 .497  .853    x
Career              MLB      365 1199 149 307 40 11 41 179 106 175 10 .256 .323 .410  .733  109
References & Resources
The Great American Baseball Card Flipping, Trading, and Bubble Gum Book, by Brendan C. Boyd and Fred C. Harris, Boston: Little, Brown and Company, 1973, page 109.
The Bill James Historical Baseball Abstract, by Bill James, New York: Villard Books, 1985, pp. 241-242.
Toward the conclusion of James's essay on Bond, he includes the remark: "I can't quite remember what it was, but I vaguely recall that he was involved in some kind of unseemly incident … in '65." I haven't been able to find any corroboration.
Steve Treder has been a co-author of every Hardball Times Annual publication since its inception in 2004. His work has also been featured in Nine, The National Pastime, and other publications. He has frequently been a presenter at baseball forums such as the SABR National Convention, the Nine Spring Training Conference, and the Cooperstown Symposium. When Steve grows up, he hopes to play center field for the San Francisco Giants.