In just a few hours, after nine (or more!) innings of exhibition baseball, we will learn two things: 1) which league's somewhat arbitrarily selected group of players beat the other league's somewhat arbitrarily selected group of players in a single game played under bizarre conditions (Five starting pitchers! Pinch hitters at every turn!) and 2) which league gets home-field advantage in the World Series.
The former is part of the fun of the All-Star Game; the latter has been a source of controversy ever since the rule was implemented in 2003. In the midst of years of declining TV ratings and following the debacle that was the tie in the 2002 All-Star Game, Major League Baseball decided the cure to all ills was to make the All-Star Game "matter." This time it counts!
The problem is that making the All-Star Game "matter" hasn't had much positive impact and may have had some negative impact. This policy came under fire again this year when there was quite a hullabaloo (that's the technical term) over the American League All-Star team nearly being the Royals and Mike Trout (because nothing can stop Mike Trout, not even the suddenly rabid Kansas City fan base). And so again there are calls for MLB to end this experiment. But to do so, the league needs a new way to determine who gets to host the first, second, sixth and seventh games of baseball's biggest showcase event.
With that in mind, we'll discuss the four options we see for determining World Series home-field advantage. Additionally, we have polled various players and coaches from around the league for their thoughts on the subject.
Option 1: Status Quo
The lone advantage to this option is it theoretically creates some interest in the All-Star Game. But there are a host of problems. First, there is no hard evidence this goal actually is being accomplished. While TV ratings were up last year, they have been dropping since before the rule change in 2003 and still are lower than they were at that time. Second, it's a totally meaningless game played by guys mostly focused on looking impressive and not getting hurt, yet we give home field in the most important games of the year based on it? Third, the entertainment value of the All-Star Game suffers. This season, for instance, Brock Holt (a good player who does everything asked of him) was chosen over superstar Alex Rodriguez–a player who has been the talk of the game in his resurgent season–because Holt offers more positional flexibility than does the player who ranks fourth all time in home runs.
Of course, that is just one point of view. The players themselves are split on it.
Pat Neshek, who took the loss in the 2014 All-Star Game, shares the notion that, to many players, winning isn't the primary focus. "You're there to enjoy the week," said Neshek. "Everybody is having fun, and baseball is the last thing you're worried about."
The Royals issue attracted the attention of at least one player. Chris Denorfia isn't a believer that it is fair to award home-field advantage when fan voting is such a focal point of who makes the team. "I like the idea of the All-Star game meaning something, but this year we're seeing the impact fan voting can have," said Denorfia. "It's not necessarily the most-deserving players getting voted in. I don't see how awarding home field in the World Series based on that is fair."
Adam Jones brought up the uneven nature of home field in the All-Star Game itself. "It's going to be tough on the American League that the next four All-Star games are in National league ballparks," Jones said.
On the other hand, Mets bench coach Bob Geren likes that there is something different about baseball's All-Star Game. "Other sports All-Star Games are kind of just a show. Baseball is not really a show sport, it's very intricate, trying to get a run over and get them in. You have to do things like that. I do like the idea that there is something on the line for the game.
Marlins manager Dan Jennings and his catcher Jeff Mathis both expressed support for the current set-up. Mathis said, "The All-Star game matters, and I don't disagree with that. It makes the game more interesting."
Jennings echoed that, but he also pointed out, "There's something to be said for both sides of it. You remember the fun things, like Torii Hunter being lifted up by (Barry) Bonds, but I think it does need to count."
That last point is one that sticks for a lot of fans. The pre-"This time it counts" era was littered with great All-Star Game moments, and almost none have anything to do with who won or lost: John Kruk looking lost and a little scared facing Randy Johnson; Larry Walker getting smart and just refusing to bat left-handed against the Big Unit; eccentric rookie phenom Mark "The Bird" Fidrych starting for the American League and facing 35-year-old icon Pete Rose in the NL lineup; Alex Rodriguez refusing to take his position in deference to a legend; that same legend hitting a home run shortly thereafter; Bonds "celebrating" with Hunter after Hunter denied him a homer. These were great moments, but they all would be totally unacceptable in a meaningful game.
Now? Now we get controversy because Adam Wainwright either admitted or joked that he grooved a couple pitches to a retiring Derek Jeter, giving him a shot at an All-Star moment like Cal Ripken's. This controversy would have been fun, but no…it can't be…because Wainwright might have legitimately cost some team (maybe even his team!) the World Series by trying to make a legend look good. He didn't, but that doesn't matter.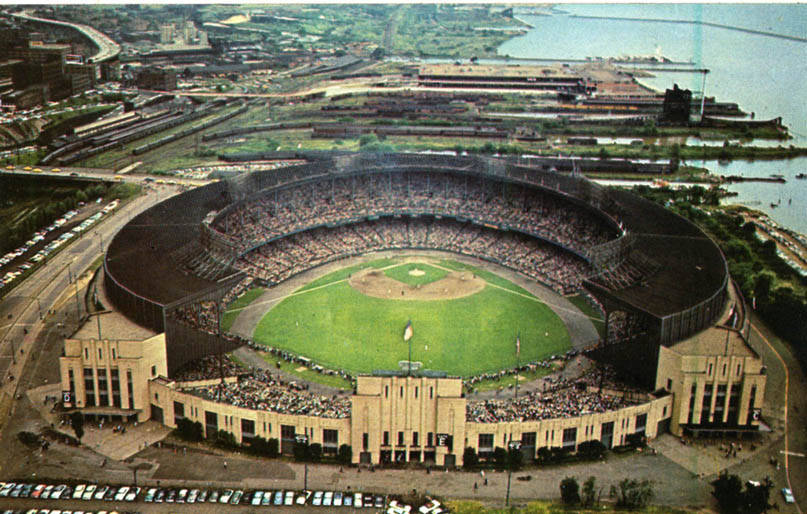 The All-Star Game can be a fun exhibition with great moments that would never happen in a real game. Or it can "count." But not both.
Option 2: Old School
Alternate leagues by year. Back in the day, the team that hosted World Series Game One was decided by the calendar. The American League hosts one year, the National League the next, and so on.
There is a simple elegance to this. It is random (make the Series in 2015, get four home games; in 2016, you get only three), but it is fair, in that it does not favor any team or league.
But it is also kind of boring. Making home field contingent on something can add some intrigue, and below we'll look at a couple options that don't require forcing that intrigue on an event that is otherwise meaningless.
Astros manager A.J. Hinch recognizes this. He voiced support for giving home field to the team with the best record (which we'll look at next), though he recognized some concerns with that approach. "Alternating years is probably the least invasive of the other ways to decide it."
Alternating years is the least likely to offend people. It is safe, if boring. But maybe we can do better.
Option 3: Best Overall Record
This is the semi-obvious route. It's what the National Hockey League and National Basketball Association do, it is home field advantage is determined in the other rounds of MLB's postseason, and it makes some logical sense. If the AL team wins 98 and the NL team wins 92, why not reward that AL team?
This is also the preferred method of the players and coaches we spoke with.
Marlins bench coach Mike Goff: "The team that ground it out and had the best record over 162 games has won the right to that advantage."
Hinch: "The 175 games the teams have played (including the postseason)…I'd expect that record to be worth something."
Red Sox infielder Mike Napoli: "You've earned the best record, so you should have the home-field advantage."
Orioles manager Buck Showalter: "Whoever has the best record. There's a novel thought. Let's put all of the emphasis on winning games."
The problem is that while this is not random (as is option 2), it also is not fair. Schedules are unbalanced, even within each league. Between leagues you have two teams who have only a small share of their games in common. If you happen to be the best team in the best division in the best league, the slog to get through that schedule may leave you with fewer wins than a team that dominated weaker opposition.
The NBA, for one, accepts this. Baseball accepts a modified version of it in the pre-World Series rounds. And there are benefits. Late in the year, we see players rest and teams take it easy to prep for the postseason. But if World Series home field might hinge on a Sept. 29 win, teams may take those games more seriously. For fans of the game, this means more meaning in those late-season games. For fans at those games, it means seeing the stars they paid to see.
But this can be really unfair. If the AL goes through a downturn and isn't as deep as the NL, a single dominant AL team would benefit greatly. You potentially punish a team for having tougher opposition. But there is clearly interest in the game in having World Series home field hinge on regular-season games, though. Which brings us to…
Option 4: Interleague Record
Whichever league has the better record in the 300 interleague games gets to host the World Series. This is our favorite option.
It is not random: one league will earn this reward, and the team that wins that league will benefit. It is the most fair: the interleague games are head-to-head, so the only way one league could have a "tougher" schedule in those 300 games is if the other league is better. Sure, there are minor issues thanks to the fact that interleague play now happens all year, and teams run hot or cold at different times, but over the course of 300 games that shouldn't be a large issue.
Andrew Miller, who is on his way to closing postseason games for the Yankees, likes that, compared to the All-Star Game, "[Interleague play] is a bigger sample size for determining which league is better."
Red Sox pitcher Justin Masterson likes the idea of best overall record (our option 3), but also notes, "there's also fairness in it being how well you do in interleague play."
Giving home field to the league champ from the better league makes sense, and there is (almost) no better way to determine which league is better over the course of the season than interleague record. Sure, the statistically inclined among us probably could find a way to measure which league is better (total WAR created?), but that probably wouldn't appeal to a larger fan base that wants a simple solution.
What would appeal to the sea of casual fans is that there could be a countdown of sorts for who actually receives home-field advantage. Interleague action happens every week of the season, and in a close race (the AL was up 98-80 entering play last Friday), the race for interleague league champion could come down to the final week of the season. Furthermore, those suffering in interleague competition, like the Padres (4-10) and Rockies (1-10) are this season, may feel external pressure to put their best foot forward in those contests.
The biggest con is that maybe interleague play is not actually fair. There are those who argue (with data to back them up) that the DH is a big advantage for the AL. In AL parks, NL teams have to use a player they never really intended to start, while in NL parks, the AL team has an elite pinch hitter ready and waiting. If there is an inherent bias in interleague play, this goes from fair to unfair in a hurry.
The Wall Street Journal article linked above cites the AL's large home-field advantage in interleague games (winning 57.5 percent of home games vs. 52.7 percent for NL teams) and concludes that "the designated hitter improved the American League's win rate in home interleague games by more than two percentage points," though the author doesn't fully explain how she reached that conclusion.
In practice, the AL has had the best record in 14 of 18 years (and is off to a lead this year), including the last 11 straight seasons. Is that bias toward the AL in the rules? Or is that just the AL being better recently? Or is it just noise? Maybe a bit of all three, but the DH has seemingly not been an issue in the World Series. With the same rule situation as interleague play, the NL has won six of the last 10 Fall Classics.
It seems likely major league teams don't think the DH is a big advantage. If every NL team thought it was disadvantaged in 10 games a year and in the World Series, you would think there would be more focus on changing the rules. The Rockies are a great example. With the slugging Wilin Rosario and former MVP Justin Morneau relegated to first base, they should have little issue fielding a competent DH, and they're pulling up the rear in interleague play this season. Of course, major league teams are not always right, but if the NL is comfortable with the rules as is, maybe there is nothing to worry about.
So, Commissioner Manfred, this is our proposal: Home field goes to the champ from the league with the better interleague record. Is it perfect? No. But it's much better than what we have today.
References & Resources
Thanks to Eno Sarris for procuring additional quotes for this piece.
David Laurila authored the Prospectus Q&A series at Baseball Prospectus, is a regular contributor to several publications, and is the author of the book
Interviews from Red Sox Nation
. Follow him on Twitter
@DavidLaurilaQA
. Chad Young is a product manager at Amazon by day and a baseball writer (RotoGraphs, Let's Go Tribe), sports fan and digital enthusiast at all times. Follow him on Twitter
@chadyoung
.