Most seamheads will recall that once upon a time (namely 1959 to 1962) there were two major league All-Star games. The reason – no surprise – was to make more money. But it was for a good cause, the Players Pension Fund, so griping was minimal. The same was true in the war year 1942 when the American League played two All-Star games – on consecutive days – for a good cause.
The regularly scheduled major league All-Star game was played on Monday, July 6 at the Polo Grounds in New York, with proceeds going to the Army-Navy Relief Fund and the Bat and Ball Fund (a charity that provided baseball equipment for servicemen). As with every All-Star game, before and since, it was well chronicled. The second game, for the benefit of the same charities, was played the next night at Cleveland Stadium. Better known as Municipal Stadium in later years, cavernous Cleveland Stadium had already hosted the 1935 All-Star game and would do so again in 1954, 1960, 1963, and 1981.
The presence of Indian All-Stars Ken Keltner, Lou Boudreau, and Jim Bagby on the AL squad doubtless attracted the Cleveland faithful, but the hometown heroes' appearance was not assured until the conclusion of the Polo Grounds contest, as the winner of that game would move on to Cleveland for the second game. The competition in that game would be provided by a team of former professional players who were serving in the Army and Navy. This second game was not as well chronicled as the "official" All-Star Game but it drew almost twice as many fans.
As it turned out, the Polo Grounds game was something of a quasi-last hurrah for serious All-Star competition, as 14 of the 50 players on the two squads would be in the military when the 1943 game was played in Philadelphia. The game itself was not one of the more memorable contests in All-Star history. The AL scored three runs (a solo homer by Lou Boudreau and a two-run shot by Rudy York) in the top of the first inning and never looked back. Final score: AL 3, NL 1. A pinch-hit homer by Mickey Owen (he hit none during the regular season) accounted for the only NL run.
On the other hand, the contest was noteworthy because it featured the first battery of brothers (starting pitcher Mort Cooper and brother Walker of the Cardinals). Also, Joe DiMaggio was the first player to play every inning in seven consecutive All-Star games.
Even more interesting, however, were the behind-the-scenes events.
For a number of reasons, the crowd was held down to just 34,178 (ironically, the game was moved from Ebbetts Field to the Polo Grounds because the latter had 20,000-plus more seats). Though the proceeds were for a good cause, the doubling of ticket prices (from $1 to $2) certainly discouraged cash-strapped fans. Another downer was the all-day rain, which delayed the starting time by 50 minutes. That meant the 1942 All-Star Game was the first to be played under the lights from start to finish (the first officially scheduled night All-Star game would be played the following season in Philadelphia).
Also holding down the crowd was the 9:30 p.m. citywide blackout test imposed by Mayor Fiorello LaGuardia. Exactly why he chose the date of the All-Star Game remains mysterious to this day. Certainly the previous evening or the next evening would have worked just as well. A number of fans, having considered the possibility of getting stuck in a dark ballpark or having to make their way home in the dark, decided to stay home and listen on the radio.
As it turned out, the American League victory was achieved in just two hours and seven minutes, a few minutes shy of the blackout starting time. Reporters, however, faced the unique challenge of getting post-game interviews in pitch-dark clubhouses. Fans who attended the game were restricted to the ballpark until the blackout ended at 10 p.m.
Like the regular All-Star game in New York, the Cleveland contest was broadcast on the Mutual Network with Reds broadcaster Waite Hoyt and the voice of the hometown Indians' Jack Graney, who had also played 14 seasons with the Tribe (1908 and 1910-1922). Also behind the mike was Bob Elson, who had worked for both the Cubs and White Sox. Elson had also worked the Polo Grounds game the day before (later in the year he would begin a four-year hitch in the Navy). Also working back-to-back games were umpires Al Barlick, Bill McGowan, Lee Ballanfant, and Ernie Stewart.
The game was preceded by marching Marines and Coast Guard "coasties," along with a parade of tanks, trucks, jeeps, and cannons. Also present for the contest were boxing legends Jack Dempsey and Gene Tunney, both now in the service, and presumably both in uniform. A blackout (mercifully, only two minutes) was observed before the game. Another blackout, for one minute, came after the top of the sixth inning.
A glance at the AL and Army/Navy rosters shows a clear mismatch. The AL squad featured nine future Hall of Fame inductees (Joe Gordon, Lou Boudreau, Ted Williams, Joe DiMaggio, Hal Newhouser, Red Ruffing, Bill Dickey, Bobby Doerr, and Phil Rizzuto), as well as such notables as Rudy York, Tommy Henrich, and Dom DiMaggio.
The Army/Navy squad had but one player who would be enshrined in Cooperstown, but it was a big one: Indians stalwart Bob Feller, who had debuted in 1936 and had All-Star seasons from 1938 through 1941. Though he already had won 107 games for Cleveland, he was just 23 years old. He would return after the war to add another 159 victories.
Navy man Feller was matched against 25-year-old Jim Bagby, his erstwhile teammate. Bagby was in his second year with the Indians but had a name that loomed large in Cleveland. Jim Bagby Sr. had won 127 games for the Indians, highlighted by 31 wins in Cleveland's title year of 1920. Junior accounted for 55 Indians wins from 1941 through 1945.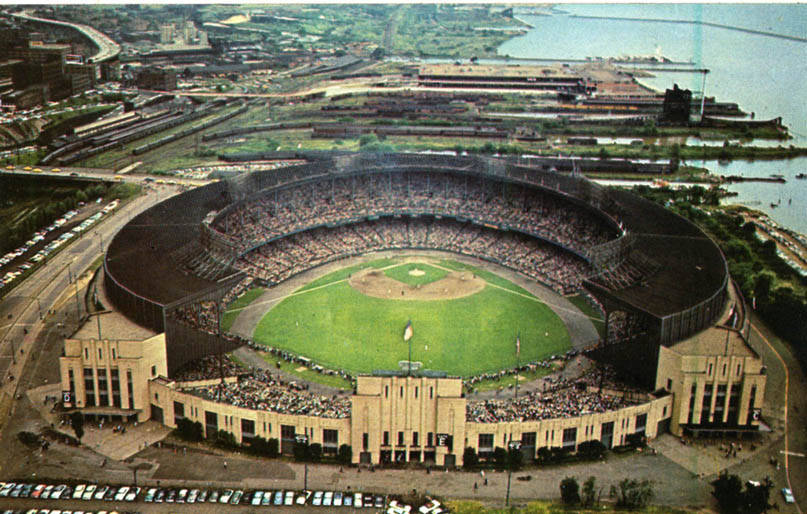 After Feller, the talent drop-off on the Army/Navy team was dramatic. This is not to say they were a bunch of bushers. There were several names that would have been familiar to contemporary fans. Certainly Ben Chapman was a name to conjure with, as he had logged 12 seasons in the majors and had been an AL All-Star for the first four games (1933-1936).
Sam Travis also was no stranger to Cleveland fans, as they had seen him play for the Washington Senators from 1933 through 1941, including All-Star seasons in 1940 and 1941. In the latter season he led the league with 218 hits. In almost any other season his .359 average would have made him a serious contender for the batting championship or the MVP award, but the former was won by Ted Williams with his .406 average, and the latter was awarded to Joe DiMaggio on the strength of his 56-game hitting streak.
Catcher Frankie Pytlak was also well known to local fans, as he had played nine seasons (1932-1940) for the Indians before being traded to the Red Sox in the deal that landed Jim Bagby. Morrie Arnovich was a six-year veteran. At age 30, his major league career was all but over. Post-war he would garner just three plate appearances in 1946.
Pitcher Johnny Rigney, who started the 1942 season with the White Sox, had won 42 games for them from 1939 through 1941. Utility player Don Padgett had played five seasons for the Cardinals and would add three more after the war.
Then there were more obscure players, such as third baseman Ernie Andres, who had played three years of minor league ball and would log just 44 plate appearances for the Red Sox in 1946. Having been an All-America and All-Big Ten basketball player at Indiana University, he went on to play professional basketball. Luckily, the powers-that-be at IU had not forgotten him. From 1948 to 1973 he was the school's head baseball coach.
Lest we forget, catcher Vinnie Smith played in nine games for the Pirates in 1941 and returned for seven more games with the Bucs in 1946. Then there was Chet Hadjuk, who had appeared in just one game for the White Sox in 1941, returned to the minors in 1946 and never appeared in the majors again.
Perhaps the saddest stories are those involving highly touted youngsters whose careers were derailed. Consider the Cardinals' Johnny Grodzicki. A 24-year-old pitcher of promise, he appeared in five games (winning two, losing one) with a 1.38 ERA in 1941. While serving as a paratrooper he injured his leg and was never the same on the mound. He returned for three games in 1946, but after 18 appearances in 1947, his big league career was over, though he continued as a minor leaguer through 1952.
Johnny Lucadello, who had a few cups of coffee with the Browns from 1938 through 1940, was finally was given a chance to play regularly in 1941 at age 22 and appeared to have won the second-base job. He returned to the Browns, in 1946, but after a mediocre year as a part-timer, was traded to the Yankees. After 13 plate appearances for the Yanks in 1947, it was back to the minors for good (through 1953). His major league career ended at age 28.
Much the same was true of his Browns teammate Joe Grace. At age 27 he had finally garnered some playing time in 1941 and responded with a .309/.410/.428 slash line. Upon his return in 1946 he got off to a bad start and was dealt to the Senators. He showed some promise in D.C., going .302/.358/.399 in 352 plate appearances, but tailed off in 1947. He was 33 years old and military service had claimed his prime years.
Then there was infielder Benny McCoy, a four-year veteran who had a couple of decent seasons for the A's in 1940 and 1941. After military service, he never played pro ball again at any level.
Another notable narrative was that of first baseman Johnny Sturm, who had worked his way up the Yankees farm system and finally reached the Show as the Yanks' first-string first-sacker in 1941 with 568 plate appearances. There would never be a 569th. After the war it was back to the minors for four seasons. What should have been his prime years (ages 26-29) were spent in the military. He did, however, have a fairly lengthy career in baseball, including his years spent as a scout and minor league manager. He also earned a footnote in baseball history as the first married major league player to be drafted into the military.
While stars like Feller, Williams, and Joe DiMaggio certainly felt the loss of their prime baseball years, and have been the subject of numerous "what if" dialogues, the sacrifices made by lesser players are all too often overlooked. Even if they remained able-bodied in 1946, the long layoff (for those who were not fortunate enough to play for military teams) and simple aging worked against them. Also, the competition for major league roster spots in 1946 was fierce, as spring training camps included the returning veterans as well as many of the holdovers from 1945.
Happily, there were exceptions, and some young players on the Army/Navy team managed to fulfill their promise, albeit belatedly. For example, in 1941 23-year-old outfielder Pat Mullin had a promising rookie season for the Tigers. He came to the plate 241 times and finished with a slash line of .345/.400/.509. After four years in the military, he returned to the Tigers and played eight more seasons. He was an AL All-Star in 1947 and 1948.
Like the Polo Grounds game, the Cleveland contest was less than eventful. The AL triumphed by a score of 5-0. The Army/Navy squad mustered just six hits. Oddly, two of them were by Andres, a career minor-leaguer at that point in his career.
The official attendance was 62,094, and surely they were expecting a better showing from Feller, who was knocked out in the second inning. Feller's mind was probably elsewhere that night, as he had just been informed that his father, who had been stricken with brain cancer, had taken a turn for the worse.
Big crowds in Cleveland were nothing new for Mickey Cochrane – make that Lt. Mickey Cochrane – the manager of the Army/Navy team. He had played in the first game at the stadium on July 31, 1932 in front of 76,979. As a member of the A's, he knocked in the only run of the game as Lefty Grove bested Mel Harder.
In 1942 Cochrane was the officer in charge of athletics, as well as the head baseball coach, at the Great Lakes Naval Base just north of Chicago. While the team (known as the Bluejackets) appeared to be outclassed by the AL All-Stars, his players did well enough the rest of the season. They compiled a 63-14 record in exhibitions against college, minor league, and even major league teams. For some players, such as Lucadello, playing for an elite military team was something of a consolation prize for missing out on major league ball.
Municipal Stadium was a particularly apt locale for the 1942 exhibition game, as it had the largest capacity of any major league park during most of its existence (1932-1993). The exceptions were the Los Angeles Coliseum, which hosted the Dodgers from 1958 through 1961, and Mile High Stadium, which hosted the Colorado Rockies in their inaugural season of 1993. In 1942 the Indians still scheduled a number of their home games for cozy (22,500) League Park, but Cleveland Stadium hosted much more than baseball that summer.
On July 4, 81,000 attended the fourth annual Festival of Freedom, featuring a military parade of Army and Marines, 180 vehicles (tanks, jeeps, trucks) and artillery, as well as music, fireworks, a march of newly minted American citizens. Also on the agenda was a mass induction of 500 recruits into the Army, Navy, and Coast Guard (there was a blackout after the induction when fans lit matches and stood for a moment of silence).
At the end of summer, a five-day Army War Show drew 340,281 spectators and benefited the Army's Emergency Relief Fund. Cleveland was one of 18 cities on the tour, which ended in Atlanta just before Christmas. Surely patriotic sensibilities motivated most of the attendees, but in this pre-monster truck era, the crowd was likely enhanced by the opportunity to witness a tank crushing a car.
For those of you keeping score at home, the total attendance for the July 4 bash, the All-Star Game and the Army War Show amounted to 483,375. The Indians' total regular season attendance in 1942 was just 525,027. A 75-79 record and a world war can have that effect on turnout.
When the Indians' fortunes waned after their glory years from the late '40s through the mid-'50s, it became fashionable to denigrate their home park as a white elephant of elephantine proportions.
But in the summer of 1942, if you thought it was the Mistake on the Lake, you would have been mistaken.
References and Resources
Baseballalmanac.com
Baseballreference.com
Wikipedia.com
"Great Lakes Naval teams were best of the World War II era," by Dan Holmes, June 13, 2016, vintagedetroit.com
"The Army War Show," by Kimberly Guise, June 12, 2012, National WWII Museum, www.nww2m.com
Classic Baseball on the Radio, 1942 07 07 youtube.
Cleveland Plain Dealer, Wednesday, July 8, 1942
Johnny Lucadello SABR biography by Richard Riis
Johnny Sturm SABR biography by Cort Vitty
"July 6, 1942: Boudreau, York homers lead AL stars to victory," by Lyle Spatz, SABR Games Project
"July 13, 1943: Depleted AL stars win first night All-Star Game in Philadelphia," by Lyle Spatz, SABR Games Project
Baseball Goes to War, by William B. Mead, Farragut Publishing Co. (Washington, 1985)
Muncipal Stadium; Memories on the Lakefront, Vol, 1, 4th Ed., by George Mc Cormack, Instant Concepts, Inc. (Cleveland, 2002)
Our Tribe by Terry Pluto, Simon & Schuster (New York, 1999)
The Spirit of St. Louis; a History of the St. Louis Cardinals and Browns, by Peter Golenbock, HarperCollins (New York, 2000)
Frank Jackson writes about baseball, film and history, sometimes all at once. He has has visited 54 major league parks, many of which are still in existence.