I've never been a huge fan of audiobooks. If given the choice between sitting down and reading a book or listening to a book on CD, I'd normally opt for print. For once though, I've found an exception.
Hall of Fame radio broadcaster Ernie Harwell recently released an audio scrapbook. If you've ever wanted to sit down with someone who's had conversations with the likes of Ty Cobb, Ted Williams and Joe DiMaggio, and who's called several thousand baseball games over the radio, then this little trip through time is a special treat. The audio scrapbook takes you through the early life of Ernie Harwell as well as his broadcasting days with the Brooklyn Dodgers, New York Giants, Baltimore Orioles and finally with the Detroit Tigers, where his career spanned over five different decades. This is a guy who's been broadcasting baseball since the 1940s and after having a conversation with him, you soon realize that he's forgotten very little.
If you're interested in purchasing the audio scrapbook or want to learn more, you can stop by Ernie Harwell's website and check it out for yourself.
In addition, I had the privilege of talking with Ernie Harwell on a wide variety of topics including the audio scrapbook. This is part one of a two part interview and today you'll read about how the idea of the audio scrapbook came about, the Dodgers/Giants rivalry when both teams played in New York, how the 1961 Detroit Tigers matched up to the eventual pennant winners, the New York Yankees and much more.
Brian Borawski: How did the whole audio scrapbook idea come about?
Ernie Harwell: There was a gentleman named Gordon Miller down in Raleigh and he set up an interview with me for his radio show that comes on every Sunday on a Raleigh radio station, and we did a rather lengthy interview. And then he called back in a couple of weeks and we did another one and then he called me and said, you know, I think we should do an audiobook and use your voice and so forth. And I said, well let's talk about it. So he contacted the fellow that works with me on things like that, Gary Spicer, and we thought it was a good idea. We contemplated doing an audiobook before, but we'd never gotten around to it so this sort of galvanized us into action and we decided to do it. So what they did, they brought up Bob Harris, the fellow you heard asking the questions, the voice of Duke football/basketball. They put him in the studio and it was strictly ad lib. We didn't have a script at all, so you just take me as I am. He asked questions and I answered them. I think we probably got about five hours of a conversation and they condensed it down to four. The big job in this project was the editing.
I didn't do anything but talk but they had to get all the sound bites from different places and coordinate those and decide what order they were going to use them in and what to place emphasis on. You know, your usual editing just like a printed book. So the editors were really the guys who did most of the work.
BB: I grew up with a stutter as a child and still do to a certain extent to this day. I went through quite a bit of speech therapy and it was inspiring to learn that you made a living on your voice, but early on in life you had to attend speech therapy.
EH: As I narrated, my speech teacher, Mrs. Lackland, was the one that took me out of being tongue tied and being able to speak more properly.
BB: Did that provide any kind of roadblock to your broadcasting career or was that just something you worked through and got over?
EH: No it worked out pretty well. By the time I got through grammar school and early high school it had passed and it wasn't a problem after that but the problem was as I said on the book was that every kid in Atlanta had to either debate or declaim at least once a month and I got lucky and won a couple of medals and, you know, after that it sort of disappeared.
BB: Early on in your broadcasting career you did radio for both the Brooklyn Dodgers and the New York Giants and you touched on the rivalry between the two teams.
EH: I think it was a huge rivalry at that time and even now it's one of the great rivalries in sports history, and in New York it was especially intense because you were right there with both teams in the same area and the guys who would be working in the office maybe in Manhattan or in Brooklyn had bragging rights each day with the team that won. So the ideal situation if you were a Dodger fan, for instance, was to have the Dodgers win and have the Yankees and the Giants lose, especially the Giants.
BB: Can you think of any kind of rivalry today that would match the old Giants and Dodgers rivalry? I know the one that I always hear about is the Cubs and Cardinals, but even that seems watered down to a certain extent these days.
EH: No I don't see any that's as intense because they are separated and sometimes they've had good teams and bad teams. I don't think it's even close to the Dodgers and Giants rivalry. In football you've got certain games like Ohio State and Michigan, but that's one day in the whole year and it's sort of a party effect that permeates football that baseball doesn't have. And I guess the Dodgers and the Giants even out there in California have somewhat of a hatred for each other although they are farther apart. But in the Brooklyn days when I was there it didn't matter what the makeup of teams were, the rivalry stayed intense all the time. It just kept on going. And I think there really was a hatred between those two teams.
BB: You shared the booth with guys like George Kell and Paul Carey, both of whom were great broadcasters in their own right. Is there any kind of difference between having a guy in the booth that actually played the game compared to somebody who didn't?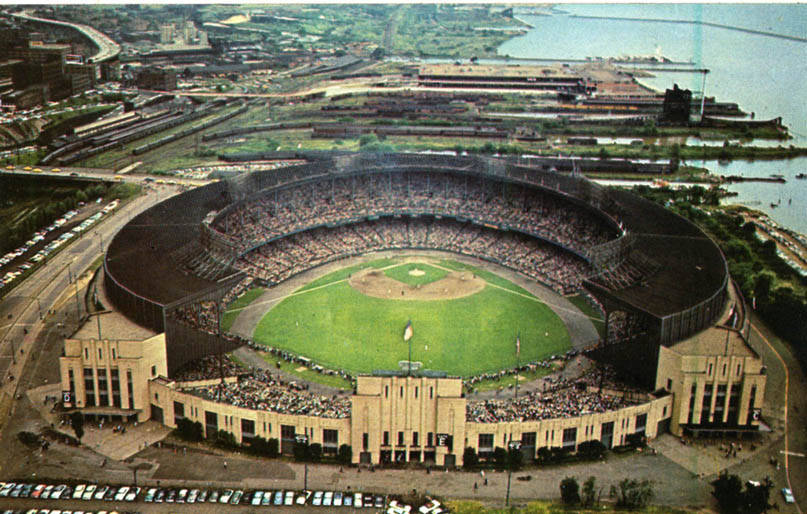 EH: No I don't think so. I think you put your finger on it. They were both great broadcasters and it didn't make a whole lot of difference what their approach was. George was able to bring a little bit from the field to the booth. But I think in the long run he became more of an announcer than he did an ex-player. And Paul had played ball but not professionally. I think that's the one thing about most everybody in America and that's that they've played a little bit of baseball, you know. You weren't good enough to be in the Majors but you played enough to understand the teamwork and signals and things like that. And it's just a matter of degree as to how good a guy was. But I think the ex-players had added another dimension of broadcasting especially on TV. I think that the analyst is a bigger guy than the play by play and the true play by play guy on television is sort of the bread and butter guy that just sets up the guy that's going to analyze the play.
BB: Here in Detroit and up until 2006, Mike Ilitch had almost become kind of a goat because the Tigers hadn't done well in several years. I'd hear people throw around opinions like he cared more about his hockey team then he did his baseball. I don't think that was necessarily true, but how was working with him and how passionate was he about the Tigers?
EH: I thought he had a passion for the Tigers. I think he admits that he's got more passion for baseball than he did for hockey. It just happened that with hockey the team was able to turn things around a little quicker but you know, they were in bad straits too when he took them over. You couldn't give away tickets. Jim Price used to tell me that he and a couple of guys would put tickets under the windshield wipers of cars in parking lots. But with baseball it just took a little longer but I think he still had the passion and he had the idea that sooner or later it would happen. And now it has happened. And that's terrific!
BB: Yes, he sure was redeemed this past season.
EH: You're right though because there was a lot of criticism about Mike. The hockey team did well. The baseball team did poorly so the results were the reason that he got all that criticism.
BB: On the audiobook, you talked about how you thought one of the best teams you had ever seen were the 1961 New York Yankees. Something that a lot of people forget about though is that the Tigers actually hung with them for awhile.
EH: Yeah they did and around Labor Day they were a game and a half out and then the Yankees swept the series, and then a week or 10 days later the Tigers found themselves eight or nine games out. But the Tigers won 100 games that year and as I said, I thought they had great balance and good home run hitting and everything that a good team needed.
BB: Did the Tigers really have a chance that year or were they in way over their head?
EH: No I think they had a chance. When you're a game and a half out in September a lot of things can happen. They just hit a bad streak there. That first game, if I remember correctly, was a 1-0 victory for the Yankees, and it could have turned around very easily but Bill Skowron got a hit up the middle in the ninth inning off of Don Mossi, and that started the demise of the Tigers after that.
BB: Also in 1961 was the Mickey Mantle and Roger Marris home run race. How do you think that stacked up when compared to the 1998 home run race between Sammy Sosa and Mark McGwire?
EH: Sosa and McGwire got a lot more publicity because of the emergence of TV and cable and all, but in its way the the Marris/Mantle battle was a big story too because it was the first time, in a long time at least, that Babe Ruth's home run record had been challenged. You had Hack Wilson in 1930 and Hank Greenberg with the Tigers coming up in 1938, but it was sort of a record that a lot of people thought would never be broken.
BB: There were a ton of great interviews on the audiobook including Ted Williams, Joe DiMaggio and Yogi Berra just to name a couple. Do any of these stand out? Or do they all stand on their own?
EH: I liked the Joe DiMaggio interview because I don't think that story about the cab ride going out there has even been talked about before. (Harwell refers to Joe DiMaggio's cab ride on the day his 56-game hitting streak came to an end). It's not as well known as some other facts about Joe, and he's telling it in his own words so I sort of appreciated that and Joe didn't give out a lot of interviews. Neither did Ted Williams for that matter, but they were two guys that were sort of removed from the general media most of the time.
BB: Can you think of any interviews that didn't make the cut that you kind of wish would have made it onto the audiobook?
EH: There might have been one with George Brett. He was one of my favorite guys to interview. Most of the interviews came from my collection that I gave to the library. Some of them came from other places.
BB: The interesting thing I heard was in the Yogi Berra interview where he's talking about the work ethic of players these days and then he mentions a player, a young player from Seton Hall, who he thinks has the right stuff. I don't know if you remember but he was talking about Craig Biggio who is now in the twilight of what could be a potentially Hall of Fame career and who's coming up on 3,000 hits. I found that kind of interesting.
EH: Yeah, I had forgotten about that, but you're right. I sort of like the Connie Mack interview. It was kind of scratchy and we had to sort of rescue it, but there was a crazy story behind that. When I was at WSB they did record some things but not a whole lot as I said on the book. This story didn't make the audiobook, but there was a guy from Ohio named Mr. Lutz, and he wrote a letter to The Sporting News when I first started on WSB in 1940 and he had listened to me up in Ohio. I was so green then I really appreciated the fact that The Sporting News printed this letter because it was sort of a boost for me that I got out of the region just around Atlanta. So I wrote this guy a thank you letter and he wrote back.
After that, we started a correspondence that kept going for about 30 or 40 years. When I got to know him pretty well I decided that I would send him a copy of the Connie Mack interview. So I had it copied on a little disk and sent it to him so he could play it on his record machine, which were pretty primitive in those days. And that's why it's so scratchy. It had been played so many times, and the only reason I got it was that when he died, his daughter, whom I had met and had dinner with at her house, gave the recording back to me. So it was a long process but that was why it was so scratchy and they didn't want to use it at first but I asked them to throw it in and even if people can't hear it so well it'll just be a symbol of the fact that I did an interview in 1940 with Connie Mack. In the interview, he's talking about the 1905 World Series and Connie Mack was born during the Civil War, you know, in 1862, I think was the year that he was born. So that gives you a long span of years to cover.
BB: Now you mentioned Vince Scully as a fellow broadcaster that you admire. Would you encourage him to do an audiobook like this too?
EH: Yeah I would think so and I think any of the broadcasters should do one because there's a lot of material there and certain guys in certain regions have a big following. You know baseball broadcasting has always been sort of regional to a large extent. You've got Jack Buck and Harry Caray in St. Louis and Harry in Chicago and Vinny in Brooklyn and L.A., more in L.A. than in Brooklyn actually. And Mel Allen in New York. You also have Bob Uecker in Milwaukee. And that's why you get so many people who say "well the greatest announcer is so and so" is because they grew up hearing him. Maybe they didn't ever hear anybody else and the networks help to sort of reinforce that but I think its still a regional business.
BB: And it's also kind of neat because it then gives me a way to tell my now two-year-old son that this was who I listened to on the radio. My son will probably grow up listening to Dan Dickerson and Jim Price who are now broadcasting here in Detroit.
EH: Well sure! And then your son is going to say the greatest announcer in the world is Dan Dickerson because he's heard of him.
Be sure to check back tomorrow for Part 2 of the interview with Mr. Harwell. And again, be sure to check out the website set up for the audiobook for more information.