By 1979, the Topps Gum Company still held a monopoly on the production of major league baseball cards, but the company may have sensed change was coming. Only four years earlier, Fleer had sued Topps and the Players' Association, claiming their exclusive relationship was illegal. Fearing the monopoly, which came into being in 1956, would soon end, Topps decided to reinforce its brand by putting its logo onto the face of each card. This had never happened before; up until then, Topps had only placed its name or logo on the backs of the cards.
Sure enough, the courts ruled in favor of Fleer in 1980, clearing the way for it and another company, Donruss, to start producing full sets of cards in 1981. Somewhat strangely, Topps opted not to include its name on the fronts of its cards in 1980 but did place the company name on the 1981 cards. With Donruss and Fleer in full production, Topps wanted to make sure fans knew exactly what they were buying.
In addition to the emergence of the logo, the 1979 set became known for a simple design that allowed the photographs to breathe. Topps borrowed from the layout of its 1976 set, creating a team banner and a nameplate at the bottom of the card while leaving the top of the card unencumbered. This decision gave the photographs more space, always a wise decision in the creation of a set of cards.
The 1979 set also has become known for its appropriate mix of portrait and action shots. Generally, the action photography is clear and up-close, giving us a good view of the players on the field, in contrast to some of the distant action shots that characterized Topps earlier in the decade.
As with any worthwhile set, 1979 Topps features a number of milestone cards. The list includes the final card of a beloved player lost to tragedy, one of the most famous error cards in history, and some particularly garish cards showing off the extreme color schemes of uniforms in that era.
Those cards, along with a few other selections, help make 1979 Topps a memorable set. Let's take a closer look at eight of the cards, including a few personal favorites.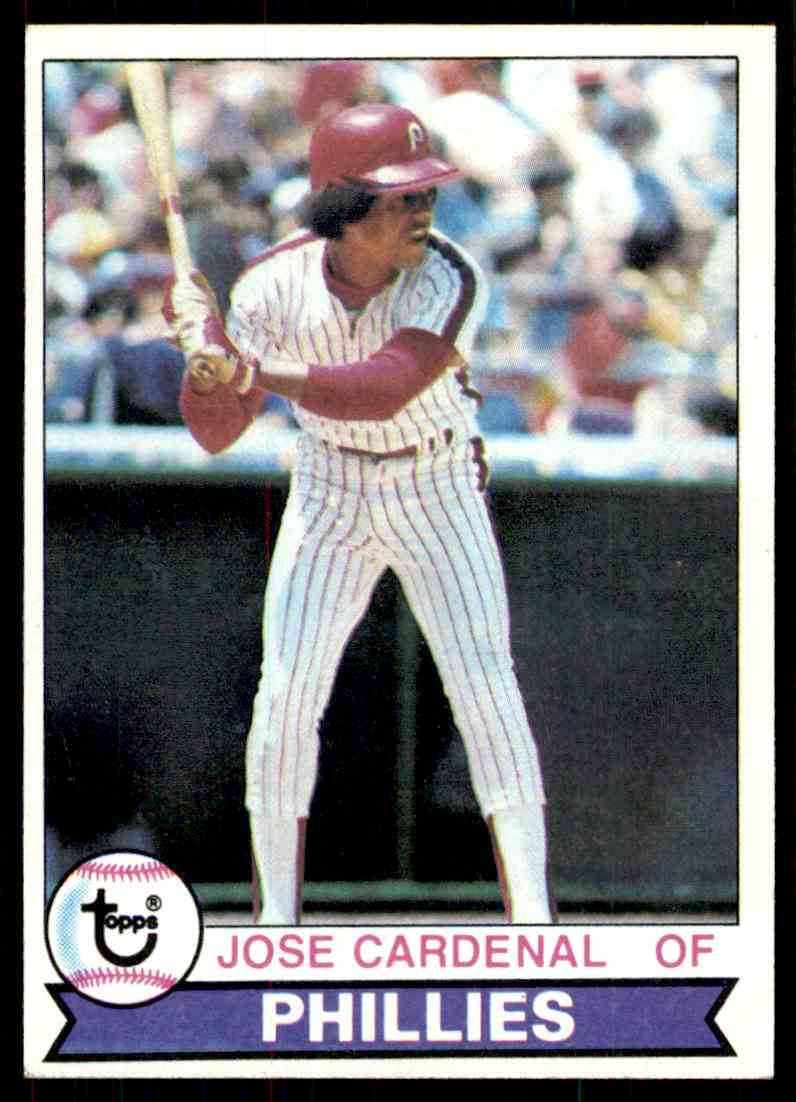 Jose Cardenal (No. 317): Few players looked as distinctive on their 1979 cards as the well-traveled Cardenal. He had one of the largest Afros in the game, perhaps second only to Oscar Gamble among players in the 1970s. We should also take note of his pants, which practically molded to his legs. Cardenal had a well-earned reputation for preferring pants that were skin-tight, to the point that it led to some rather extreme behavior.
As described by Fred Talbot in Jim Bouton's Ball Four, Cardenal once sat out three straight Winter League games because he couldn't find a pair of pants that fit tightly enough around his legs. Coming from Cardenal, this should come as no major surprise. He was the same player who once told his manager he couldn't play in a spring training game because crickets had kept him up all night.
While Cardenal's pants and hair stand out on his 1979 Topps card, it is his batting stance that really makes me take notice. Cardenal batted out of a deep crouch, bent over significantly at the waist. He also liked to keep his hands low as he set himself up in the batter's box. This kind of batting stance has become almost unheard of in today's game, but unusual stances like this were more commonplace in the 1970s.
That stance worked well for Cardenal for most of his career; he was a productive and underrated hitter for much of the 1970s. But by 1979, he was showing his age. Now 35 years old, he batted only .208/.32/.271 in 29 games for Philadelphia before being sold to the New York Mets in August.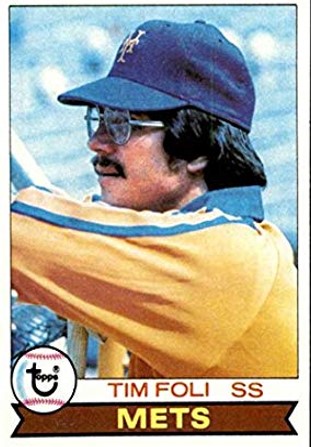 Tim Foli (No. 403): All the fashion and grooming features of this photo, taken during batting practice in 1978, conjure up memories of the 1970s. As Foli observes the proceedings from the back of the hitting cage, we notice his Robby Benson-like mop of hair, which it drapes over his ears and covers the back of his neck and collar. Then there are Foli's oversized glasses, which barely seem to fit underneath the bill of his cap. And of course, there is the ragged mustache, highly popular among players in the late 1970s.
Even with all of that, the most intriguing part of the Foli card is the oddly colored sweat jacket he appears to be wearing. This looks like the kind of sweatsuit top joggers wore during the decade, but it was not typically sported by players at the ballpark. The color scheme—heavy on yellow accented by blue striping—was not the combination used by the Mets at the time. I've checked all of the other Mets cards from 1979 (and 1978, too), and none of them show a player wearing this kind of a jacket. That leads me to believe this was not an official Mets jacket but rather something from Foli's personal wardrobe.
If that's indeed the case, it's a bit unusual for the time period. Ballplayers in the 1970s almost always wore the official team jersey or a team windbreaker when they stepped onto the playing field. Foli seems to be breaking with that tradition, instead opting for a jacket that was part of a contemporary jogging suit. Its appearance on a baseball cards looks weird to me, but then again, Foli was a unique character, a player who once earned the nickname "Crazy Horse" because of his temper. If Foli wanted to wear a jogging suit, who was going to tell him otherwise?
Foli did not last long with the Mets in 1979. He appeared in only three games before being traded to the Pittsburgh Pirates for Frank Taveras. The trade not only rescued Foli from a non-contender, but it placed him on a Pirates team that was headed toward the National League East title. Foli solidified the Pirates' infield defense while fitting in as the team's No. 2 hitter behind Omar Moreno. He then batted .333 in both the NLCS and the World Series, as the Bucs staked claim to a world championship.
When it comes to outperforming projections, some teams are better than others.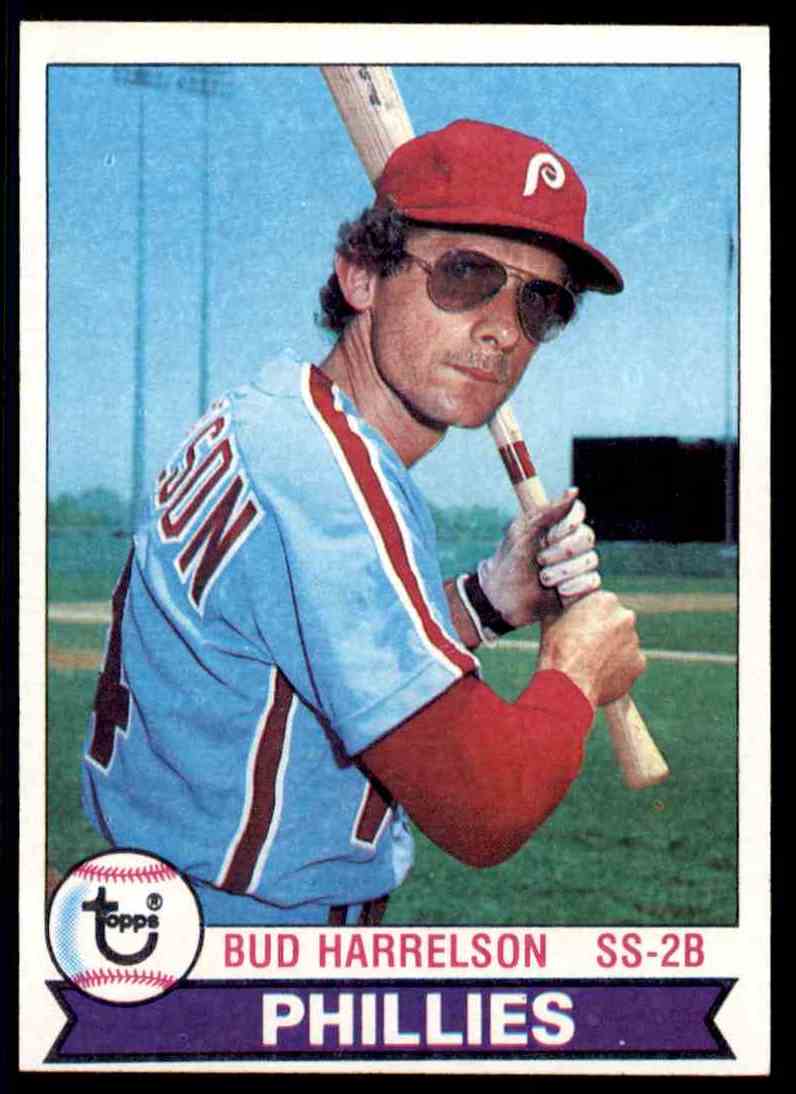 Bud Harrelson (No. 118): Most fans recall Harrelson as a member of the Mets, but he did spend two seasons with the Philadelphia Phillies toward the end of his career. One of those seasons was in 1979, giving Topps a chance to showcase the Phillies' memorable powder blue road uniforms of the era. Posing on a sunny day in 1978 at what appears to be a spring training ballpark, Harrelson also gives us a good glimpse of his aviator sunglasses, a fashion trend in the late 1970s.
While Harrelson was best remembered for his glove, Topps opted to show him holding a bat on his 1979 card. Harrelson is not shy about choking up on his bat, something he did throughout his career. And with his hands in the choke position, we can see he is holding a bat without a knob. I don't remember such bats being popular at the time, but for a player like Harrelson who liked to choke up, there was really no need for the knob at the end of the bat.
It's often debated whether good-field, no-hit shortstops like Harrelson would have a place in today's game, but there's little doubt he was highly regarded by sportswriters and fans during his prime years. Harrelson made two All-Star games and earned some National League MVP consideration on three occasions. He also did good work as a utility infielder for the Phillies in 1979, batting .282/.372/.322 while filling in at shortstop, second base, third base and even left field.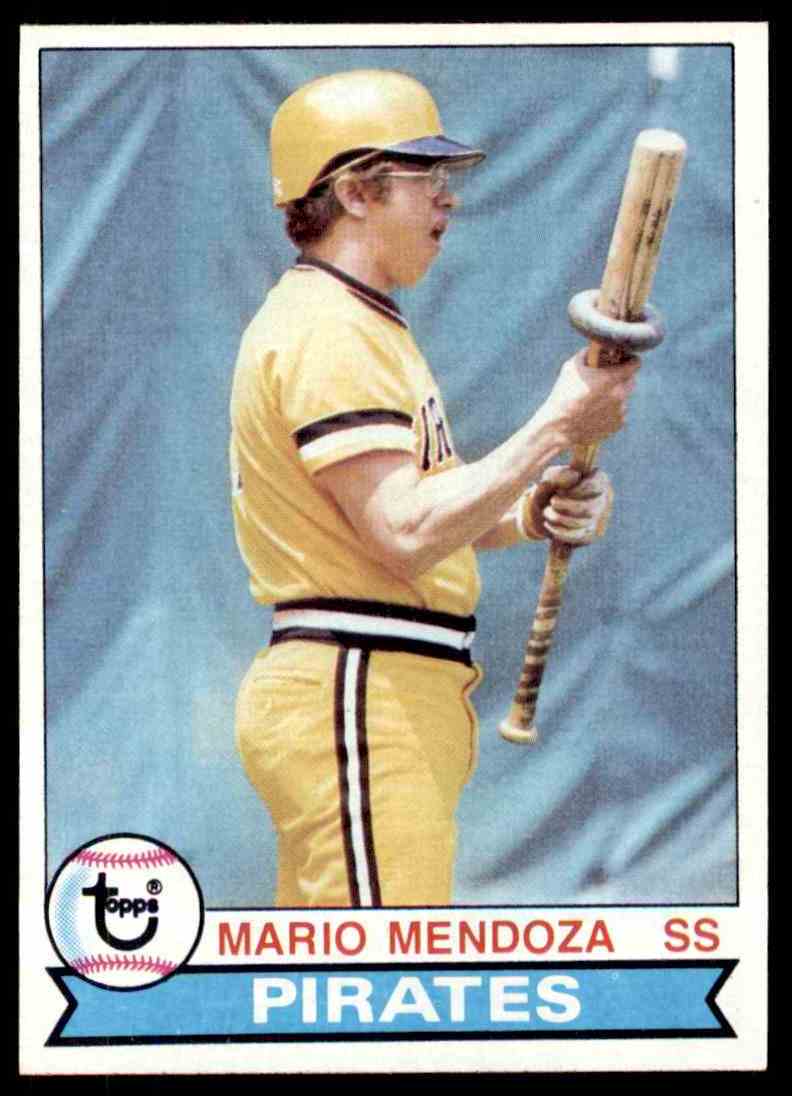 Mario Mendoza (No. 509): Like the Foli card, it that reminds us rather vividly about baseball in the '70s. Taken during the 1978 season, the photo of Mendoza (wearing his typically oversized glasses) presents the Pirates' all-gold uniforms in their full glory. The all-gold look was one of numerous mix-and-match combinations the Pirates used in the late 1970s, but none was gaudier than this selection. The gold color jumps off the cardboard, so bright it's hard to keep looking at the card for too long without wanting to move on to the next one. The beltless polyester uniforms worn by the Pirates (and so many other teams) also accentuated the player's midsection, making Mendoza appear to have a slight paunch above his waist.
There is also plenty of irony here. A slick-fielding shortstop, Mendoza became famous for his hitting futility, inspiring the phrase "falling below the Mendoza Line," for batting averages of less than .200. But we see the light-hitting Mendoza appearing not with a glove or in a fielding position, but with a bat in hand. The bat is full of tape and pine tar, and also sports a donut, something many hitters of the era used while taking practice swings in the on-deck circle.
While this card came out in 1979, Mendoza did not actually play for the Pirates that spring or summer, thereby missing out on the team's world championship season. After the '78 season, the Pirates had traded Mendoza to the Seattle Mariners, where he received the first extended playing time of his career. It was during that first season in Seattle that Mendoza inspired the "Mendoza Line" moniker. According to Mendoza, the phrase was conceived by two of his Mariners teammates, Bruce Bochte and Tom Paciorek. George Brett picked up on the phrase and used it the following summer during an interview with ESPN. The Mendoza Line has been part of baseball's lexicon ever since.
For his career, Mendoza batted .215, or 15 points above the Mendoza line, but many of his seasonal batting averages flirted with .200. He batted .198 twice and also posted averages of .185 and .180. In spite of these continuous hitting struggles, Mendoza managed to play part or all of nine seasons, a testament to his vacuum-like fielding skills at shortstop.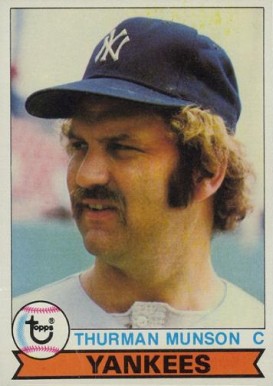 Thurman Munson (No. 310): Of all the cards Topps produced, this is the one that evokes the most sadness. It turned out to be Topps' final regular issue card for Munson, who would perish in the crash landing of his private plane on August 2 of that season. I remember that day all too well. I was home eating dinner while watching a rerun of Gilligan's Island, of all things, when Channel Five out of New York broke in with a news update. The news anchor, John Roland, informed viewers that the 32-year-old Munson had been killed in the crash earlier in the day. I immediately lost my appetite, the tragic news flash leaving me unable to finish the rest of my meal.
Simply by happenstance, my father and I attended the first home game the New York Yankees played after the tragedy. My father had purchased the tickets long in advance, so it was strictly a coincidence that we attended that game, but I'm glad we went to it. As the Yankees honored Munson with a video tribute on the scoreboard, the fans responded with an ovation that lasted almost continuously for 10 minutes. It was like nothing I had seen or heard before.
Of course, there was no way Topps could have known this would be Munson's final regular issue card. But the card does provide a fitting tribute to a beloved player. This photo, taken in close-up by a Topps photographer, captures Munson how I remember him, with his unkempt hair bursting out from either side of his cap, his heavy sideburns practically obstructing his left ear, and his lengthy mustache in full bloom. There's also evidence of a bit of five o'clock shadow, appropriate for a player who once challenged George Steinbrenner by defying team rules and growing a beard.
This card is classic Munson.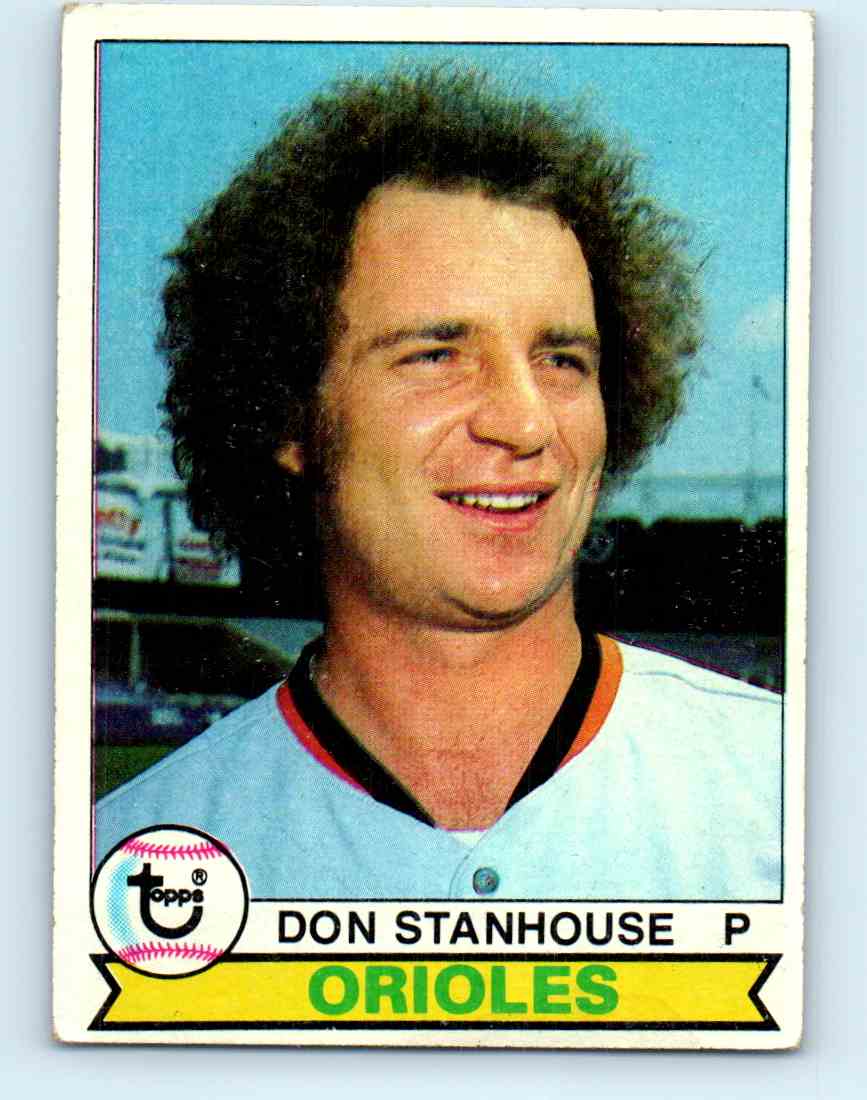 Don Stanhouse (No 119): In complete contrast to the Munson card, this card always brings a smile to my face. The Three Stooges also come immediately to mind when I take a gander at this wonderful piece of cardboard. More specifically, I think of a comedic genius named Larry Fine, one of the original members of the Stooges, known for his odd voice and his unusual coiffure, which burst out in curly tumbleweeds, juxtaposed against the scant patch of hair on the top of his head. Fine often looked like he had never applied a comb to his hair, with its frazzled look only augmenting his comedic efforts.
In his appearance on 1979 Topps, Don Stanhouse did his best imitation of Fine. Stanhouse also offered no apologies for his look, while claiming he was at least better looking than a famous hunchback. As he told the Associated Press in 1979, "I'm not the prettiest guy in the world. But I'm not Igor either. I'm pretty on the inside. When they took X-Rays of my head, they found flowers."
Such words typified the offbeat nature of a pitcher who fully earned his nickname, "Stan the Man Unusual." Still, we are left with one question: Whose idea was it for him to go capless in the photograph taken at Yankee Stadium? After all, Stanhouse spent all of spring training and the entire 1978 season with the Baltimore Orioles, so Topps would have had plenty of opportunity to photograph him in full Orioles regalia. Perhaps Topps made the request of Stanhouse. Or maybe Stanhouse, an offbeat character to say the least, simply wanted to show off his prize-winning hair and give us a nice reminiscence of the beloved Stooges.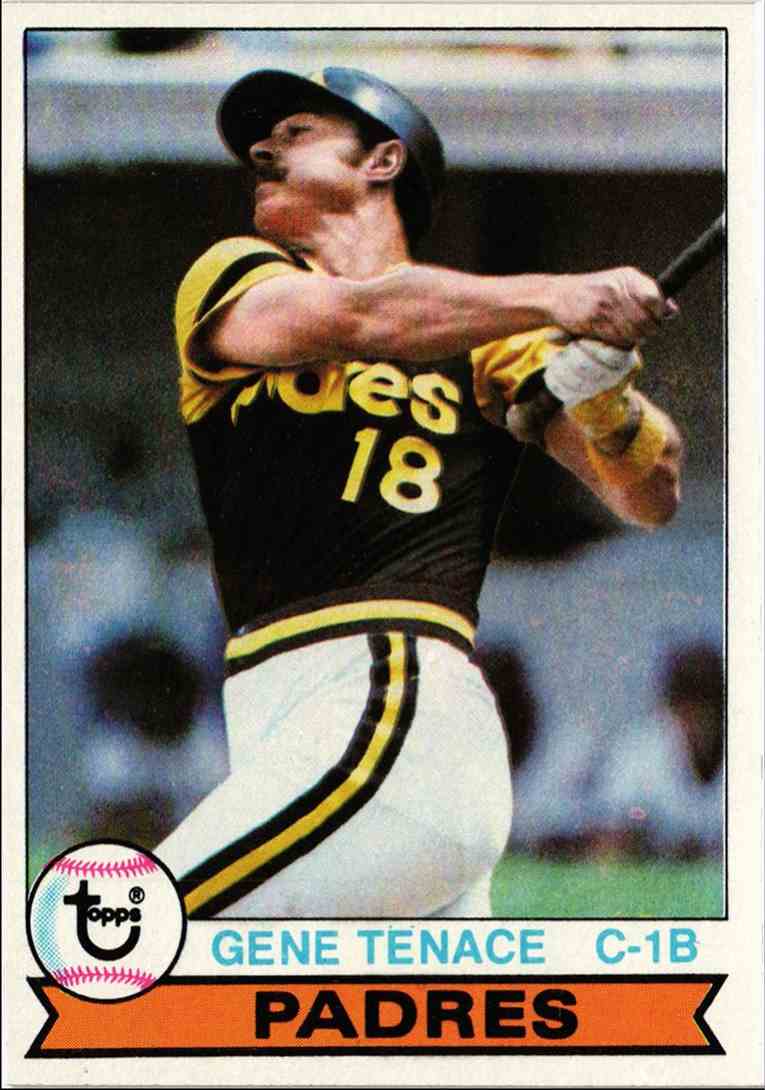 Gene Tenace (No. 435): By the late 1970s, Topps had greatly improved the quality of its action photography. A good example can be found in the Tenace card, which features a well-focused action shot that appears to have been taken at Shea Stadium. In contrast to the distant action photos of 1973 and '74, we are able to see Tenace up close, to the point that we notice the tension and movement of the muscles on his right arm just after he makes contact. Also in evidence are Tenace's left hand and arm, which are sporting a batting glove and a thick yellow sweatband, the latter another popular accessory for players of the '70s.
The card gives us a look at Tenace's rock-solid physique, clothed in the San Diego Padres' rather ghastly brown uniform tops. Listed at six feet and 190 pounds, Tenace appeared to have relatively little body fat and plenty of muscle. Even at age 32, he continued to serve as the Padres' primary catcher, appearing in 94 games behind the plate while also filling in at first base. He produced one of his typically good offensive seasons in 1979, hitting 20 home runs, drawing 104 walks, and compiling a tidy on-base percentage of .403. It was another fine season for one of the decade's most underrated players.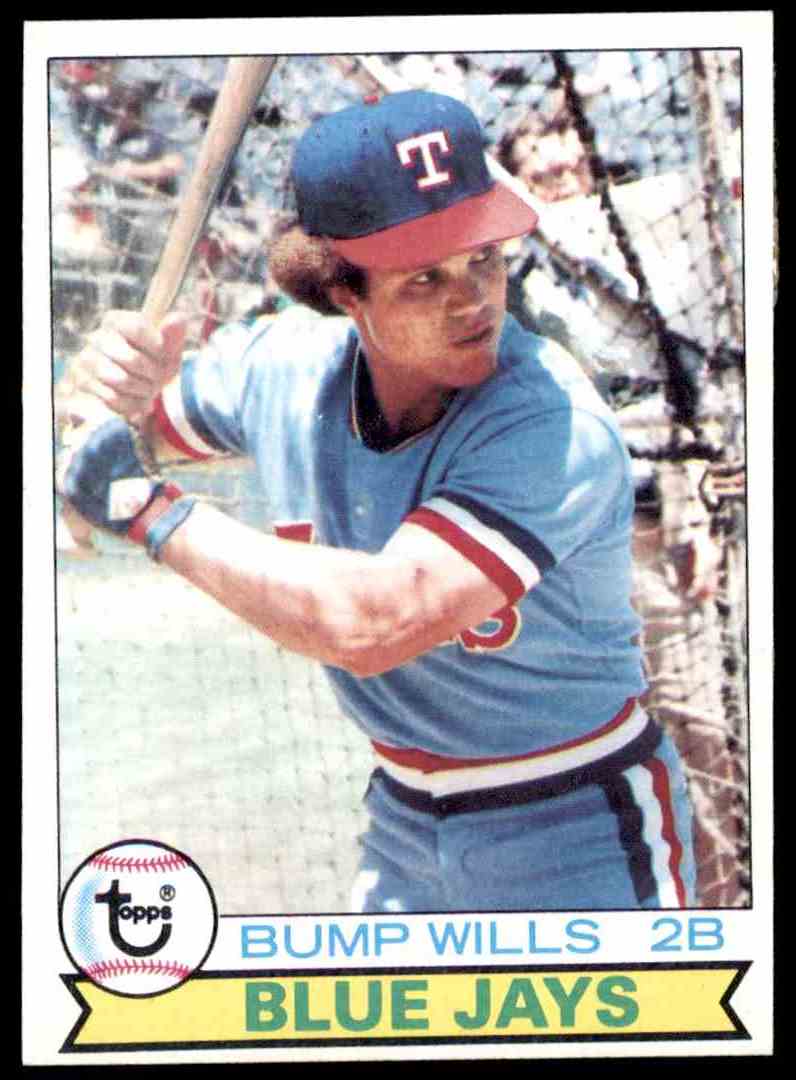 Bump Wills (No. 369): This photo, taken during a batting practice session in 1978, offers up an obvious piece of incongruity. Wills, the son of legendary base stealer Maury Wills, is clearly wearing the colors of the Texas Rangers, but the banner at the bottom of the card designates him as a member of the Toronto Blue Jays. Yet, Wills would not play for the Blue Jays in 1979. In fact, he would never appear in a game for the Jays. So what gives?
This error card, one of the most famous in Topps history, led to a great deal of mystery and speculation. The mystery began to be solved in 2002, when longtime Topps executive Sy Berger visited the Hall of Fame to take part in a 50th anniversary celebration of the company and I asked him about the Wills card. He explained that sometime after the 1978 season, he received a call from a trusted friend, who informed him that Wills was about to be traded from the Rangers to the Blue Jays as part of a blockbuster deal. The friend guaranteed the trade was a "done deal," even though no announcements had been made by either club.
In some ways, the Wills trade report made some sense. Wills had endured a subpar season in 1978, leading to some discontent within the Rangers' organization. Meanwhile, the Blue Jays needed help at second base, where Dave McKay had provided little offense in 1978. The Blue Jays also had a major need for a leadoff man with speed; a young, dynamic player like Wills would have been a near perfect fit.
Unfortunately for Berger and Topps, the trade turned out to be a rumor and nothing more. Wills remained with Texas through spring training—and through the start of the 1979 season. When it became obvious Wills was staying put, Berger decided the time was right for a do-over. He ordered up a new card for Wills, one that featured a Rangers banner at the bottom of the card.
That explains why there are two Bump Wills card featured in the 1979 set. The corrected card showing him with the Rangers is considered the more valuable, if only because Topps produced fewer of those cards than it did of the original Blue Jays version.
Some collectors have questioned the authenticity of Berger's story, claiming it to be a cover-up for a manufacturing mistake. Well, I have no reason to doubt Berger, who passed away in 2014. After all, he admitted to believing his friend without evidence and took the fall for a blatant card error. It would have been much easier for Berger to lay the blame with someone else at Topps. So I believe Berger; that's his story, and I'm sticking to it.
Other than cards of Hall of Famers, especially the Ozzie Smith rookie card, the Wills card might be the most memorable entry in 1979 Topps. It's a key ingredient to an underrated set, one with an unobtrusive design, good photography, vibrant colors—and that old Topps logo.
The set is also a pleasant reminder of how baseball looked 40 years ago, or more specifically, the way that players looked, with fashion trends and batting styles that have, for better or worse, gone by the wayside.