As the Three True Outcomes have become ubiquitous, it's easy to forget that the term began as a joke on the rec.sport.baseball board. Christina Kahrl, before she co-founded Baseball Prospectus and pioneered transaction analysis, coined the term to describe players of the early-to-mid 1990s known for their ability to walk, strike out, and hit home runs.
In the Usenet era, Rob Deer, with his 220/.324/.442 career batting line, 12.7 percent walk percentage and 31.2 percent strikeout percentage, epitomized the Three True Outcomes player. Over the ensuing years, numerous others, like Adam Dunn, Ryan Howard, and Travis Hafner, have carried that sobriquet.
Players like Deer, Dunn, Howard, and Hafner all shared certain physical attributes. They were tall, heavyset, and played first base or the outfield. Three True Outcomes players tended not to put the ball in play, which conventional wisdom held was the best and most exciting form of baseball. This led to the famous mid-2000s complaint, first made by Joe Morgan but echoed elsewhere, that such hitters "clogged up the basepaths" with their walks. It was a silly complaint—as if reaching base were somehow a bad thing—but it reflected a post-Moneyball pushback by baseball traditionalists against the encroachment of sabermetrics into the sport.
By the 2010s, the Three True Outcomes had become more important than ever. What had begun as a way of describing individual players had now become a major league-wide trend. The chart below shows the increase in the number of plate appearances ending in a three true outcome from 2008-2018.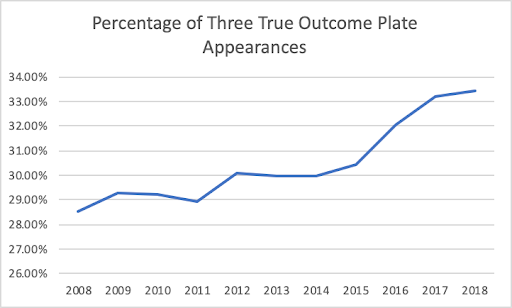 The trend has accelerated since 2014. As hitters and pitchers have gone back and forth in their eternal battle for supremacy, the home run has become increasingly important to counteract increased reliever velocity. What began with a simple idea regarding relievers—what if they threw harder?—led to an increase in strikeouts. In 2008, pitchers struck out 17.5 percent of batters. In 2018, they struck out 22.3 percent. The increase in harder throwing pitchers also prompted a response from hitters, who seemed to be trying to hit more home runs. In 2008, major league players hit 4,878 home runs. In 2018, they hit 5,858, an increase of 14.49 percent. Couple these trends with a livelier baseball and the result has been a dramatic shift in the way baseball games are played.
The increase in the Three True Outcomes has prompted introspection—one of baseball fans and analysts' favorite hobbies—about the current and future state of baseball. Opponents of the trend stress that all the walks and strikeouts have contributed to the increasing length of games, and taken much of the fun out of seeing balls in play.
Others argue that this shift towards the three outcomes will not last forever. Baseball is always changing and has changed its rules in the past to maintain a balance between hitters and pitchers. Increased pitcher dominance in the late 1960s led to the lowering of the mound. In the 19th century, leagues adjusted the number of strikes and balls to encourage balls in play. Last week, Major League Baseball announced an agreement with the independent Atlantic League in which it would experiment with rule changes designed to put more balls in play, including banning the shift, pushing the mound back two feet, and imposing a three-batter minimum on pitchers.
The debates over the Three True Outcomes are a bit trickier, especially since they often boil down to questions of aesthetics. Are quicker games always better? What makes a game "good?" A dominant pitching performance a la Pedro Martinez's 17-strikeout game against the Yankees in 1999? Or Nomar Garciapara's three home run, two grand slam, 10 RBI game earlier that very same year?
There is no right answer to any of these questions. And as much as we'd like to find a happy balance between balls in play and the Three True Outcomes, both are an essential part of the game.
In an effort to understand the impact of the Three True Outcomes, I went looking for the game that featured the fewest plate appearances resulting in a walk, strikeout, or home run in the 2018 season. My search yielded the July 2 game between the Cleveland Indians and the Kansas City Royals. Only 12 of 76 plate appearances ended in one of the Three True Outcomes. It was a fitting matchup, as Cleveland and Kansas City ranked 26th and 27th in Three True Outcomes plate appearances in 2018.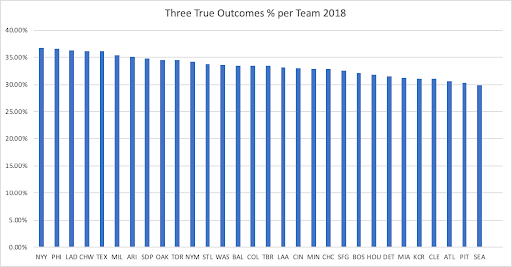 Yet even in a game where only 15.79 percent of the plate appearances ended in a one of the three true outcomes, the walk, strikeout, and home run still decided the outcome. The matchup demonstrated the hitting and on-base skills of players in their prime, and contrasted them with players whose best days had passed them by. It also showed how adjustments regarding walks, strikeouts, and home runs were crucial to a pair of prospects who will shape the future of the Royals. On that July night in Kansas City, looking at the Three True Outcomes meant looking into the past, present, and future of baseball.
In the top of the first inning, Royals starter Jake Junis retired Francisco Lindor and Michael Brantley on grounders to first baseman Lucas Duda. With third baseman Jose Ramirez at the plate, Junis threw an 80.3 mph curveball that missed the bottom part of the strike zone. Ramirez eventually worked a walk, as Junis mixed his fastball with his curve and slider to poor results. Walks were nothing new to the 25-year- old Ramirez in 2018. He had a walk rate of 15.2 percent compared to a 11.5 per cent strikeout rate. He slugged 39 home runs and produced a 146 wRC+ on his way to 8 WAR.
Whereas Junis' off-speed pitches failed against Ramirez, they were successful against cleanup hitter Edwin Encarnacion. This time, Junis worked down and away against the right-handed batter while relying only on two pitches, his sinker and slider.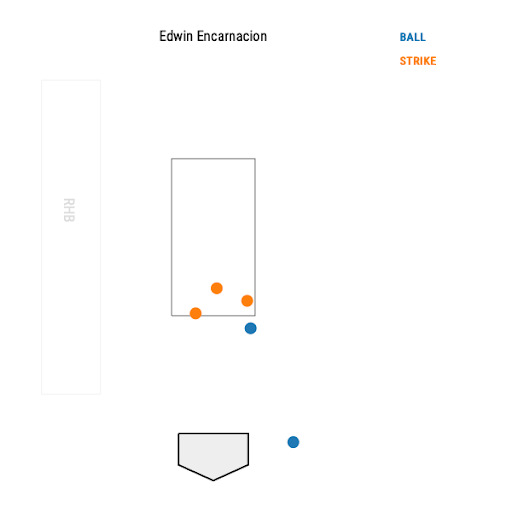 The outcomes of Ramirez and Encarnacion's at-bats typified their diverging career trajectories. On the one hand, Ramirez, the ascendant superstar, laid off the slider and curveball and took a walk for his effort. Encarnacion, the aging corner infielder turned designated hitter, kept chasing breaking pitches low and away to his own detriment. Despite his 32 home runs in 2018, Cleveland shipped Encarnacion to the rebuilding Mariners in an offseason salary dump, while Ramirez set career highs in walk rate and home runs.
Reminisces of a meeting with an all-time great.
In the bottom of the first inning, the Royals took a 1-0 lead thanks to the efforts of an unexpected star. Stepping to the plate against two-time Cy Young award winner Corey Kluber, Royals second baseman Whit Merrifield crushed a 92.3 mph sinker 405 feet into the left field stands. The 29-year-old had a breakout season, hitting 12 home runs. He improved his walk rate from 4.6 percent to 8.6 percent and successfully put the ball in play, ranking in the 85th percentile in terms of expected batting average according to Baseball Savant. All told, he hit .304/.367/.438 with a 120 wRC+ while stealing 45 bases. Not bad for a player who isn't even the most famous player drafted in the ninth round of the 2010 draft—that would be Jacob deGrom.
Merrifield's home run raised the Royals win expectancy from 55 percent to 65 percent, the second biggest swing of the game. After Rosell Herrera grounded out to second, Mike Moustakas doubled to center field. Catcher Salvador Perez promptly singled to center, driving in Moustakas. Duda then came to the plate.
Duda has long been a prototypical Three True Outcomes hitter. In his best seasons, he has coupled power (he has a .452 career slugging percentage), with the ability to draw walks (he owns a career 11.1 percent walk rate). Unfortunately, he strikes out a lot, even in an era of increasing strikeouts—27.8 percent strikeout percentage in 2018—and can't hit left-handed pitchers to save his life, producing a career .214/.284/.357 slash line against southpaws, resulting in a 79 wRC+.
With the Royals still trying to make one last run at the playoffs, the logic in signing Duda was clear. He could have been half of a first base platoon to replace Eric Hosmer. Yet Kansas City did little to fill the other half of the platoon; the Royals gave Duda 102 plate appearances against left-handed pitching. He was predictably terrible, producing a .180/.255/.258 line.
Already down 2-0, Kluber settled in against Duda, burying him with a bevy of off-speed selections. While Duda worked the at-bat to seven pitches, he chased a 91 mph cutter over the outside part of the strike zone for the second out. Kluber then retired Jorge Bonifacio on a fly out to end the inning.
In the bottom of the second inning, Royals fans got a look at their once and future shortstops: Alcides Escobar and Adalberto Mondesi.
With a career wRC+ of 70, Escobar earns the moniker of "hitter" based on the fact that he stands in the batter's box and occasionally gets a hit. Your evaluation of his career depends on which flavor of defensive metrics you prefer. DRS has Escobar rated a below average defender at short, -9 runs compared to 23.1 UZR. Clearly the Royals believed in Escobar's defense, installing him at shortstop after a 2010 trade that sent Zack Greinke to the Milwaukee Brewers.
In terms of the Three True Outcomes, Adalberto Mondesi looked like a more extreme version of Escobar.
Mondesi vs. Escobar
| | PA | AVG/OBP/SLG | BB% | K% | BABIP | wRC+ |
| --- | --- | --- | --- | --- | --- | --- |
| Mondesi | 291 | .276/.306/.498 | 3.80% | 26.50% | 0.335 | 114 |
| Escobar | 531 | .231/.279/.313 | 5.50% | 13.90% | 0.263 | 60 |
Mondesi walks less and strikes out nearly twice as much as Escobar does. In 2018, Mondesi's HR/FB rate jumped from 7.7 percent to 19.7 percent, and as a result, he hit 14 home runs compared to Escobar's four. Statcast's average exit velocity doesn't bode well for Mondesi's future power output. His 87.3 mph average exit velocity ranked 214th in the majors, nestled between Twins outfielder Eddie Rosario and 2018 teammate Rosell Herrera. Mondesi's 2018, however, was a huge improvement from his 2016-2017 performance, where he was a poster child for only one true outcome—strikeouts. He struck out in an astonishing 33.5 percent of his at-bats while producing a .181/.226/.271 slash line and a 29 wRC+.
Going forward, Mondesi won't have to do much to replace Escobar's production, but based on his erratic career, he might do something even more impressive—be worse at the plate.
In the bottom of the third inning, Moustakas popped out to Ramirez in foul territory. The Baseball Reference game log reads "Foul Popfly: 3B (3B into Foul Terr.)." That text description, however, fails to do justice to the play. Watch the video and see for yourself.
After the excitement of Ramirez's snow cone catch, the instances of the Three True Outcomes in the top of the fourth inning were pivotal—both in determining the outcome of the game and in showing the difference between the diverging careers of Cleveland's double play combo.
With the score tied 2-2, Cleveland second baseman Jason Kipnis led off the inning against Junis. The Royals righty, working way through the bottom part of the Indians lineup for the second time, used a mix of his curveball, four-seamer, and slider to retire Kipnis.
The last few years of Kipnis's career have been a reminder of the brutality of the aging curve for second basemen. Kipnis's offensive skills collapsed in 2017 after a barrage of injuries. From 2016 to 2018, his slash line fell from .275/.343/.469 to .230/.315/.389. Kipnis's flyball rates have jumped from the 37 percent range into the 44 percent range, but his HR/FB percentage has declined from 13.1 percent in 2016 to 9.7 percent. His ability to put the ball into play has nearly vanished as well. Statcast ranked Kipnis's Hard Hit rate in the 16th percentile and his exit velocity in the 13th. He is currently in the last year of his contract, and considering that Cleveland cut its payroll after winning the division in 2018, there's very little chance the team will exercise Kipnis's $16.5 million option for 2020.
After Kipnis struck out, Yan Gomes singled to right. Junis then hit Tyler Naquin and Rajai Davis to load the bases. He left an 84.8 mph changeup over the heart of the plate as Lindor imposed his own third-time through the order penalty. The ball left Lindor's bat travelling at 108 mph, eventually landing 409 feet away in the right field stands.
In 2018, Lindor continued his evolution to becoming one of the league's best hitters. Over the course of three full seasons in the majors, Lindor has seen his wRC+ rise from 109 to 117 to 130. His WAR has similarly increased from 5.4 to 5.8 to 7.6. He has added more power while also upping his walk rate from 8.3 percent in 2016 to 9.4 percent in 2018. For the 2018 season, he ranked in the 92nd percentile in xwOBA and xSLG, and the 93rd percentile in xBA.
Lindor's home run raised Cleveland's win probability from 62 percent to 87 percent, the biggest swing of the game. After the top of the fourth, the Indians led 6-2. From that point on, the game's outcome was never in doubt. Cleveland's win probability never dipped below 86 percent.
In the top of the sixth inning, Lindor came to the plate again, this time with two runners on. Royals manager Ned Yost allowed Junis to face Lindor. Lindor must have wondered what he had done to please the gods and receive such a blessing as he crushed an 82.6 mph slider 418 feet into the right-centerfield stands, giving Cleveland a 9-2 lead.
The home run finally prompted Yost to replace Junis with Brian Flynn. For his part, Junis had struggled much of the season with home runs and fly balls. In the first half of the season, Junis allowed a .255/.319/.487 slash line to opposing hitters; opponents hit 24 home runs against the young right-hander. Hitters feasted off of Junis' sinker, hitting six homers and batting .348. In late July, however, after a bad start against the Yankees, Royals pitching coach Cal Eldred suggested that Junis rely on his four-seam fastball. In the second half, Junis decreased the use of his slider in favor of his four-seamer. The results were stark. His HR/9 rate fell from 2.12 to 0.96. His walk rate fell from 6.4 percent to 4.7 percent. His strikeout rate tipped up from 20.9 percent to 22.9 percent. This improvement in Junis' Three True Outcomes saved the young right-hander's season.
By the end of the ninth inning, the Royals had scored another run to bring the final score to the 9-3. The game itself had little influence on the rest of the season for either team. The Royals began the day with 25 wins and 59 losses, on their way a 58-104 record. The collapse came just two seasons after Kansas City's 2015 World Series championship. Is core had either moved on–Eric Hosmer and Lorenzo Cain–or declined–Alex Gordon. At this point in the season, Cleveland had a 9.5 game lead on second place Detroit and, according to FanGraphs' playoff odds, had a 99.2 percent chance of making the playoffs. Years from now even the 18,285 fans in attendance probably won't be telling their grandchildren about this particular game.
And even though the Royals and Indians combined for the fewest Three True Outcomes in the 2018 season, the game served as a reminder that as much as we like balls in play, often the ones that never touch the grass matter the most.
References and Resources
Chris Bouton is a historian turned jury research analyst. He is currently writing a book on slave violence in antebellum Virginia. He is on Twitter
(@ChrisHBouton)
.