When Mariano Rivera was announced as the Baseball Hall of Fame's first unanimously elected inductee on January 22, footage of his final career appearance was a prominent part of the day's coverage. It shows Andy Pettitte and Derek Jeter sauntering to the mound on September 26, 2013, to take Rivera out of his last game, three Yankee greats uniting one last time.
Happy Mariano Rivera Hall of Fame Day. Joe Girardi sending out Andy Pettitte and Derek Jeter to get Rivera in his last game ever will always be one of the most awesome things for Yankees fans. pic.twitter.com/NFeDpHgibs

— Jimmy Traina (@JimmyTraina) January 22, 2019
It also briefly showed Robinson Cano and Eduardo Nunez talking a few steps removed from the mound and this gentleman, young and seemingly overwhelmed by the gravitas. His face didn't immediately register with me.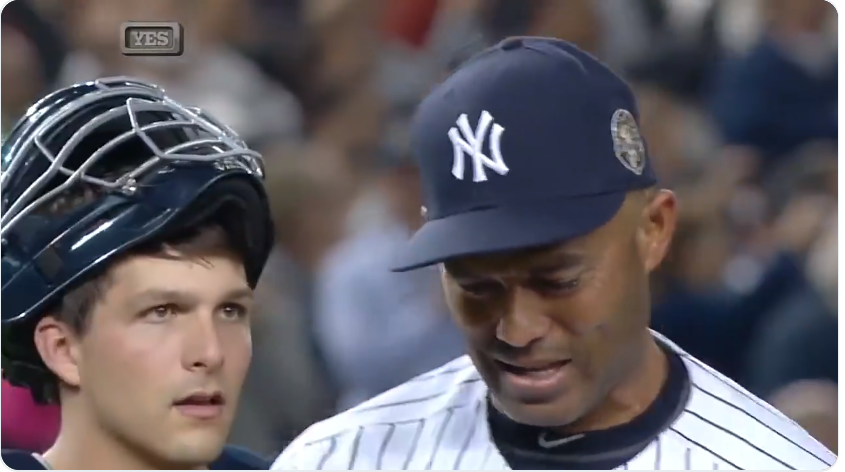 That's then-22-year-old John Ryan Murphy, now Diamondbacks third-string catcher, during his first major league cup of coffee. In fact, Mo's last game was Murphy's third complete major league game behind the plate. Imagine that, a player who was only three years old when Rivera started his career, catching an all-time great's final game as he only just begins his own odyssey.
Rivera, Pettitte, Jeter–if I were Murphy, I, too, would stare slack-jawed, expressionless, and (probably) unsure of where to put my hands.
The roster of the last game Rivera pitched, in spite of that Rushmore-resembling mound meeting, more closely mirrors the island of misfit toys. Jeter didn't play that night; neither did Pettitte. There's no Bernie Williams, no Jorge Posada, and no Mike Mussina, Riveria's Hall of Fame classmate. It was just Mo.
All eras of greatness must come to an end, to be replaced with new greatness, or perhaps a few guys just earning a paycheck and doing their best. In total, 29 players shared the box score with Rivera in his final contest. Here, then, is the who's who of the game in which the Sandman exited.
Also Playing out the String
Alfonso Soriano, DH, Yankees; Lyle Overbay, 1B, Yankees; Vernon Wells, PH, Yankees; David DeJesus, CF, Rays; Luke Scott, PH, Rays
By the end of 2013, these five guys had accumulated 111.7 fWAR between them. Each was on the tail end of productive careers. By the time all five had hung up their cleats–DeJesus the last to go in 2015–they totaled 110.8 fWAR. If there's a better definition of playing out the string than hanging on for a couple more seasons of negative value, I'm all ears.
Wells and Scott, to their credit, finished their major league careers in 2013 with Rivera. Scott, to his credit, has hung around, playing in the Mexican League and having a brief minor league stint with the Blue Jays in 2015. Before last season, he even said he'd play again if he got the call.
But as it stands, Rivera's last game was the second-to-last major league game either Wells or Scott would play. Wells got one more start in Game 162, putting up a goose egg across six at-bats. Scott pinch hit again the next day, striking out. I'm not sure which is worse, sitting the final two games of your major league career or failing repeatedly in the final contest.
Soriano and Overbay both played in 2014, combining for -1.1 WAR. Together, they hit 29 doubles, 10 home runs, and struck out 131 times in 484 at-bats. It wasn't a pretty way to go.
And DeJesus? Well he got two more seasons in, actually contributing positively in 2014 before falling below replacement level in 2015 and retiring after the season.
Considering baseball through the lens of game design.
Soriano is really the only one of these guys who has a shot to join Mariano in the Hall, and even that shot is beyond long. Wells fell off the ballot this year, and Scott didn't even make it. But despite paling in comparison to Mo's greatness, these five had good, productive careers that ended with a whimper as Mo left with a bang.
Still Chugging Along
Ichiro Suzuki, RF, Yankees; Curtis Granderson, CF, Yankees; Mark Reynolds, 3B, Yankees; Brendan Ryan, SS, Yankees; Ben Zobrist, SS-2B, Rays; Yunel Escobar, SS, Rays; James Loney, 1B, Rays; Joel Peralta, RP, Rays
Ichiro really should be in the previous category. In 2013, Ichiro was 39 years old, and his production had slipped below league average in 2011 and not recovered. But he had yet to get to 3000 hits, so on he trudged. Ichiro is here, slated to appear in the Mariners' 2019 opening series, so he is still an active player and therefore cannot be written off as a past great, retired to our memories.
As for the rest, there are the steadily productive Zobrist and Granderson, the recently retired Escobar, and four other players who had extremely pedestrian careers. Reynolds is still kicking around the league like Zobrist and Granderson, so I guess he can't be written off quite that easily.
What's most interesting about this group of eight is that if you throw Zobrist behind the plate and play with two outfielders, it makes for a pretty decent barnstorming team.
"The Electric Eight," some gaudy cursive font would proclaim, even if "The Erstwhile Eight" would be more fitting. "Led by the true hit king Ichiro Suzuki and featuring Curtis 'The Grandy Man' Granderson and baseball's Swiss Army Knife, Ben Zobrist! Barnstorming a college campus near you!"
Flashes of Greatness, with More to Come
Robinson Cano, 2B, Yankees; Ivan Nova, SP, Yankees; Dellin Betances, RP, Yankees; Evan Longoria, 3B, Rays; Alex Cobb, SP, Rays; Wil Myers, RF, Rays
Ah, yes, in the prime of their careers, these six show so much promise, verve, and moxie. Some already have demonstrated greatness, while others have felt the expectation of greatness thrust upon them. Nova also makes an appearance.
First, the two who had already demonstrated greatness–Cano and Longoria. In the three seasons before 2013, Cano was worth 6.3, 5.1, and 7.3 WAR, a superstar player. He was on track to be the next face of the Yankees once Jeter retired and the old guard of the late '90s officially had passed the crown. But Cano signed with Seattle, searching for a different legacy. He's back in New York these days, just in Queens this time. PED suspension aside, his career is on track for the Hall of Fame, and he is the one player in the box score closest to Mariano's legacy.
As for Longoria, the wheels didn't necessarily come off after 2013, they just kept spinning in place. After starting his career with seasons of 5.6, 7.1, 7.5, and 6.3 fWAR, Longoria has not topped 5.0 WAR since 2013. In the long history of baseball, Longoria is still a great player (his career WAR is 48.7)–he's just not an all-time one.
Now, those with the expectation of greatness–Betances, Cobb, Myers, and Nova. At one point in his career, Betances was the Yankees' No. 2 prospect. Standing 6-foot-8 with high heat and a biting cutter, he had moments when he seemed like a more physically imposing version of Mo, even as he remained a healthy distance from Rivera's heady heights.
But on this particular night, he was bad. He faced five batters, allowing three hits and two runs while only getting one out. Soon, he ceded the mound to Rivera, with the Rays up, 4-0. Betances finished 2013 with a 10.80 ERA in six major league appearances. He has figured it out since (from 2014 through 2018, no reliever in baseball has been worth more WAR than Betances' 11.6, narrowly edging out teammate Aroldis Chapman), but that night at least, greatness was a long way off.
Myers, as a prospect, dusted Betances. Tampa's top prospect for a bit and the AL Rookie of the Year that year, Myers was considered the future of the Rays and delivered admirably in his rookie year. The path since has been harder. Now with the Padres, Myers has roamed the field looking for a positional home while oscillating between flashes of his former promise and league-average production.
For Cobb and Nova, greatness is maybe too grandiose a word, but both have put together strong careers as starters. In this game, both lasted seven innings and around 100 pitches. Cobb struck out four; Nova five. Cobb kept the Yanks scoreless; Nova allowed two runs. Both pitched admirably. Both were classic starters. Sometimes, greatness is nothing more than vestiges of an era past.
Happy to Be There
Eduardo Nunez, 3B-SS, Yankees; John Ryan Murphy, C, Yankees; Matt Daley, RP, Yankees; Matt Joyce, LF, Rays; Delmon Young, DH, Rays; Sam Fuld, CF, Rays; Jose Lobaton, C, Rays; Sean Rodriguez, 2B, Rays; Jake McGee, RP, Rays
A collection of John Ryan Murphys: awe-struck and hoping not to intrude on someone else's moment. These nine are the boyfriend who tags along with the second cousin to Thanksgiving every third year. They probably want a helping of sweet potatoes but will not raise their voice above a whisper to ask for them.
A ranking of our wallflowers' most impactful moments on Rivera's last game:
9. Rodriguez leaves the game in the seventh.

8. Murphy enters the broadcast camera's shot as Mariano leaves the mound. This article is conceived.

7. Fuld takes over center field in the seventh. An inning later, he catches a short fly ball by Murphy that, if missed, would have allowed two runs to score.

6. Joyce, later replaced by Fuld, pops out to the shortstop in the top of the fourth with the bases loaded and one out. According to WPA, this was the fifth-most important play of the game. Overall, it was a dull game.

5. Nunez begins a double play with no outs in the top of the sixth. It was the fourth-most important play according to WPA. Again, this game featured very little action.

4. Lobaton grounds out to Rivera for the first out of the ninth and Rivera's third out of the game.

3. Young hits a line drive solo shot to deep left, putting the Rays up 2-0 in seventh. It's the most important play of the game, and in all likelihood the play that ensured Rivera lost his final game. Foiled by Delmon Young–what a way to go.

2. McGee completes a perfect inning in the bottom of the ninth, officially ensuring the Yankees lose Rivera's last game.

1. Daley replaced Rivera on the mound in the top of the ninth, and baseball officially marks the end of Mariano's career. Daley struck out Zobrist. After the game got Rivera to sign the ball for him.
The Opposite of Mariano Rivera
Zoilo Almonte, LF, Yankees
It might seem odd to single out a guy who went 0-for-3 with a strikeout in Rivera's last game. Even odder considering Almonte only has 47 major league games, 142 at-bats, and -0.5 fWAR to his name. Unlike every other player who took the field that day, Almonte had no real MLB career to speak of. If Mo is the most accomplished player in this particular boxscore, then Zoilo is easily the least.
But as Sheryl Ring pointed out in early January, Almonte has done so much more outside MLB. He mashed in the Mexican League in 2016 and 2017 and then moved across the Pacific to keep mashing in Japan.
Almonte's presence in the box score next to Mo proves something simple: Playing major league baseball is hard. Like Wladimir Balentien, Almonte remade himself into a successful player once he left the highest stage. What he couldn't do in the States due to overmatched ability or overbearing expectations or any other reason he may have had, he could do abroad.
It's clear, in the boxscore of Rivera's last game, that Mo is the best-known name on the list and Almonte, an accomplished slugger in Mexico and Japan, is perhaps the least. I forget occasionally, when comparing the merits of future Hall of Famers, how far the gulf of greatness can span from Mo to the men barely hanging on.
It's like that old thought experiment: What would it look like to have an average Joe playing next to the pros for context? Except in this video, John Ryan Murphy and Zoilo Almonte are the average Joes, or Joe's closest proxies, just a pair of mostly anonymous baseball players providing context to the legacy of the greats.
Wes Jenkins is a staff writer at Redleg Nation and freelances when he can. You can follow him on Twitter
@_wesjenks
or check out more of his writing on his website,
wesjenks.com
.