One of the thing that drives me nuts is an inconsistently applied standard. The Hall of Fame voting is supposed to be about excellence. But often, and for random reasons, it isn't. And no, I'm not talking about steroids. I'm talking about Lou Whitaker and Ron Santo and the variety of other players who waited forever to get in or never got in despite having qualifications at least as good as many players who were elected, some of whom even appeared on ballots with them. This brings me to Derek Jeter.
Derek Jeter is going to sail into the Hall of Fame. We all know that, right? And you know what I think of it? Good. That's what should happen. He absolutely deserves to be in the Hall of Fame. One of the greats. All that. I want this as a preface because some of what is about to follow might read as an indictment of Jeter. It isn't. Rather, it's about the absurdity that results from Jeter being a lock while Scott Rolen got only 17% of the vote last year.
Let's start with WAR, easily the most common stat these days in Hall of Fame arguments.
FanGraphs WAR
Jeter: 73.0
Rolen: 69.9
Baseball-Reference WAR
Jeter: 72.4
Rolen: 70.2
That's absurdly close. Jeter basically has one solid but unspectacular season over Rolen in terms of WAR. If the voting between them were going to be close, and Jeter got in and Rolen fell just short, you'd maybe get it. Maybe. But probably not.
Still, maybe there's a reason for it. Maybe Jeter just had a better peak than Rolen. Great peak seasons can make a big difference. I think we all get that.
But no, that's not it. Rolen's best season according to Fangraphs (9 WAR in 2004) is better than Jeter's best season (7.4 WAR in 1999). Rolen's second-best season is better than Jeter's second-best, too. And his third. And fourth. And so on until we get to their 12th best seasons when Jeter's 3.6 WAR tops Rolen's 2.7.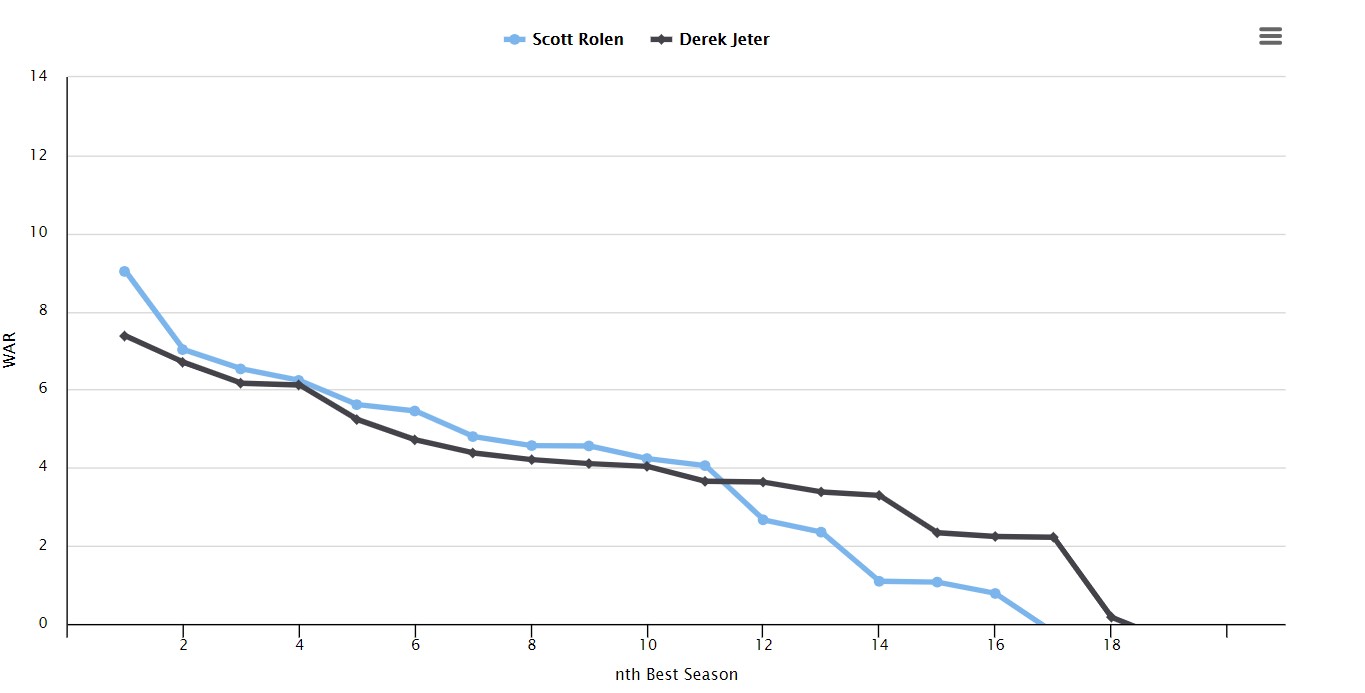 Jeter did play short. So there's that. But we all know who the better defender was between the two, and it wasn't close. Defensive WAR is deeply flawed, but we're talking about entire careers here, not a season or two.
There really are only two "good" reasons why someone would think Jeter was a slam dunk and Rolen wasn't, and I want to try to beat back both of them.
The Compiler Argument
Derek Jeter has a lot more big numbers than Rolen. A lot more. It's the classic difference between a player who burns out and one who fades away. He has, notably, 3,465 hits. Even his power numbers (260 home runs and 1,311 RBI) are in the same general echelon as Rolen's (316 homers and 1,287 RBI), which is not what you'd expect given their reputations.
But here's where I think the compiler argument falls apart. Jeter has more big counting stats than Rolen, but he also got a lot more playing time, 4,000 plate appearances more than Rolen. That's an enormous amount of playing time. And because of that giant difference but their near identical WAR totals, Baseball-Reference tells us that Rolen was good for 44.1 WAA (Wins Above Average) while Jeter accumulated only 31.0 WAA.
Rolen was hurt a lot, there's no denying that, but when he was on the field. He was MUCH better than Jeter. Rolen has more WAR than 108 of the 158 position players in the Hall. Only five of the 50 above him have fewer plate appearances than he did. Again, this is not a knock on Jeter. He was great and should go into the Hall, but imagine this: You could add 4,000 replacement-level plate appearances to Rolen's career and he would STILL have a case for being as good as Jeter. The same Derek Jeter who is about to waltz into Cooperstown.
The Optics Argument
Derek Jeter has five rings. He has an entire season's worth of plate appearances from the playoffs — where he performed well. He played for one team his entire career. The Yankees, the flagship team of major league baseball. He was a superstar and he liked being a superstar. He's still in the public eye.
Scott Rolen played for four teams. He has one ring. He was adequate in limited playoff appearances. Though he did piss off Tony LaRussa enough to get banished to Canada, and that's not nothing. He is not in the public eye. He farms llamas in Indiana.
I hate the optics argument. The reason I hate it is that the whole reason the writers have the vote is ostensibly because they are supposed to have this broad and far reaching understanding of the game. Instead, they seem to have the same biases as fans in general. Guys who get on national TV a lot get more consideration. Same for guys who are good interviews or who play for the same team their whole career. They are in the public eye more, so they get more credit. This shouldn't be the case. What should matter is your body of work. How good were you and for how long?
Scott Rolen was not on the field as much as Derek Jeter. But when he was on the field, he was so much better that, according to our best measures of value, he made up for almost all of the 4,000 more plate appearances that Derek Jeter had. If the compiled stats really, really, really matter for you, then okay. Sure. Put him in and leave Rolen out, but by any other measure, if Jeter belongs, then so does Rolen.
Jason teaches high school English, writes fiction, runs a small writing program and writes about education and literature. He also writes for
Redleg Nation
and both writes and edits for The Hardball Times. Follow him on Twitter
@JasonLinden
, visit his
website
or email him
here
.