What Could Have Been
I would describe the Minnesota Twins' bullpen as "fair" so far in 2004. They haven't been great, but they definitely haven't been horrible. They rank tied for 10th in the American League in ERA at 4.34, and they are actually closer to 1st (3.23) than they are to last (5.64). If I were handing out grades, I think I'd probably give them a solid C.
Still, I can't help but think about what could have been. After the Twins got Joe Nathan in a trade with the Giants, there was a chance, however slight, that they could team him up with Eddie Guardado and Latroy Hawkins, who were both free agents. As we know now, that never happened, as both Guardado (Seattle) and Hawkins (Chicago) signed with other teams during the offseason.
But what would the Minnesota bullpen look like if they would have been able to keep both of those guys, along with Nathan and the emerging Juan Rincon? Take a look at this "front four" that they would have been featuring …
                        IP        ERA       SO/9       OAVG
Eddie Guardado        29.1       0.92       9.82       .144
Latroy Hawkins        36.0       1.50       6.50       .180
Joe Nathan            29.0       1.55      10.86       .186
Juan Rincon           33.0       2.18      11.73       .167
How nasty would that have been? Four guys — three righties and a lefty. Three of them are striking out more than a batter per inning, all of them are holding hitters to a sub-.200 batting average, and the highest ERA in the group is 2.18.
Here are their combined numbers …
                                IP      ERA      W     L     SV      SO     BB     OAVG
Edjojutroy Rinhawnatdado     127.1     1.56     11     3     33     136     48     .170
Looks like a season from one of those old-time relief aces, doesn't it?
Of course, maybe Joe Nathan doesn't pitch as well if he isn't given the closer job or maybe Juan Rincon doesn't step his game up like he has if he's stuck pitching the middle innings. You never know, obviously, but man, that four-some has been almost unhittable this year. Toss in Aaron Fultz (28.2 IP, 3.77 ERA, .228 OAVG) against lefties and Joe Roa (32.1 IP, 2.78 ERA, .260 OAVG) for some long-relief, and that's looking like one of the best bullpens in recent memory.
Now, About the Pitching …
As a fan of the aforementioned reigning back-to-back American League Central champions, the Chicago White Sox are the team I've been worrying about for the past few years. Sure, the Royals had me worrying a little bit at the beginning of last year, but it's always been Chicago's boxscores that I check first.
All of a sudden though, the Cleveland Indians, once the bullies of the division, have me taking notice. I've been saying for a couple years now, since the Indians went into full rebuilding-mode, that they would be the team to watch out for starting in about 2005 or 2006. From the looks of things so far this year, their offense is ready for primetime right now.
The Indians scored just 699 runs last season, next-to-last in the AL. They hit just .254, got on base only 31.6% of the time and slugged a powerless .401. This year is just a little bit different.
The Indians have already scored 324 runs in 60 games this season, putting them on pace for 875 runs, an increase of 25% over last season. The source of their offensive improvement is easy to spot — they rank just 6th in the AL in batting average and 10th in slugging percentage, but they are leading the league with a .361 on-base percentage. Take a look at the on-base percentages of the eight hitters who have had the most plate appearances for Cleveland …
Travis Hafner       .414
Ron Belliard        .402
Matt Lawton         .396
Victor Martinez     .376
Casey Blake         .361
Omar Vizquel        .361
Jody Gerut          .351
Ben Broussard       .351
The only position not represented there is center field, where the Alex Escobar/Coco Crisp combo has not been productive at all. Center field is the spot that used to be manned by Milton Bradley, before they shipped him off to the Dodgers at the end of spring training. Bradley had a .421 OBP for the Indians last year, and he's OBP'ing at .355 for Los Angeles so far.
In addition to the big OBPs up and down the lineup, the Indians are also getting some serious power from Victor Martinez and Travis Hafner, which is really what has me worried. You see, I expect most of those other guys to be gone by the time the Indians are ready to battle the Twins in a year or two, but Martinez and Hafner are there for the long haul and will likely be the cornerstones of Cleveland's offense.
Quote/Announcer of the Week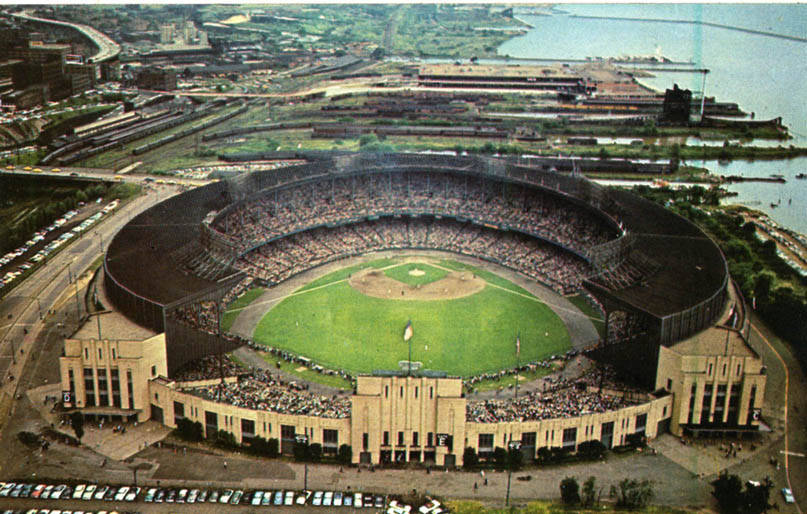 I was watching the LSU/Texas A&M NCAA Super Regional game on Saturday night. 8th inning, LSU up 9-8 with a runner on first and no outs. The batter at the plate squares around to bunt and the play-by-play guy, whose name I never did catch, says, "LSU going for the bunt here."
The color commentator, Kyle Peterson, who I have really enjoyed, says, "The Moneyball guys would say differently here … not to bunt."
So the guy bunts it, Texas A&M throws to second to get the lead runner, and LSU essentially gives away an out. Both announcers, strangely, don't say a single word about the bunt or Peterson's comment preceding it.
I haven't heard enough of Peterson to say for sure if he was simply pointing out that "Moneyball guys" aren't big fans of bunting, if he was agreeing with that, or if he was disagreeing with it. I did find it odd that he didn't follow-up his comment after the bunt was unsuccessful. From what I have heard of him, I wouldn't be surprised if Peterson, a former standout pitcher at Stanford and first-round pick of the Brewers whose career was ruined by injuries, not only agreed with "the Moneyball guys," but also maybe was a bit of a "stathead" himself.
A couple moments later, Peterson and the play-by-play guy started discussing "projecting high school players" and Peterson commented that the difficulty doing so is why teams like the A's have gone to drafting so many college players and then said, "It's hard to argue with what the A's have done over the last few years."
I've now heard Peterson as a sideline reporter, as a color-man for college games, and as a color-man for MLB games. I am just about ready to say he's my favorite "national" color commentator, although some might say that's not much of a compliment. He's got a nice voice, a laid-back style, he's smart, and he doesn't just repeat tired cliches. Now we just need to find this generation's Jon Miller to team him up with, and ESPN might have something special.
College Ball
While I'm on the subject of the NCAA baseball tournament, I just want to say how much fun it is watching these games. I've been trying to catch as many of them as I can on ESPN and ESPN2, and the games are incredibly enjoyable and made even more enjoyable by the fact that the MLB draft was held earlier this month.
While it's a little weird to have players who were already drafted still playing, it is also really cool to know when these guys were drafted and what organizations they are now a part of. So far I've had a chance to watch Jeremy Sowers (#6 pick, Cleveland), Jered Weaver (12, Anaheim), Stephen Drew (15, Arizona), J.P. Howell (31, Kansas City), Huston Street (40, Oakland), Jon Zeringue (56, Arizona), Curtis Thigpen (57, Toronto), Kurt Suzuki (67, Oakland), Eddy Martinez-Estevez (70, San Francisco), Jason Windsor (97, Oakland), John Bowker (100, San Francisco), and J.C. Holt (101, Atlanta). And those are just guys from the first three rounds!
If you've got cable and you're a baseball fan, make sure to catch some of these college games. It's great baseball and you'll have a chance to get your first looks at guys who will be their team's big-time prospects in a year or two.
Incidentally, judging by what I've read, what I've seen, and what Craig Burley's adjusted NCAA stats show, the Oakland A's had a great draft this year. I think this draft is what the famous "Moneyball draft" was supposed to be, and I think the A's have improved their methods for drafting college players by making more of an effort to take a player's hitting environment and quality of competition into account.
Instead of just drafting college players with good raw numbers, they drafted college players with legitimately dominant stats. And in case you missed it, the A's ended up with one-third of Craig's top 25 hitters from 2004 who were drafted, so whatever they're doing, it's in agreement with what Craig is doing.
Keep Fighting
Sometimes I lose sight of just what the "average" baseball fan is thinking. I talk to readers of this website and my blog, I chat with my buddies who are big baseball fans, and I read articles from some of my favorite writers. And all the while I start to think that "the average fan" is starting to come around to some of the things I have come around to over the years.
Like the importance of on-base percentage and the devaluing of batting average as the be-all and end-all of hitting. Or that a player's environment can significantly impact his performance and his numbers. Or that RBIs aren't the best way to judge who the best players in the league are. There are plenty of other things, and since you are here reading this right now, you're probably familiar with most of them.
I start thinking that word is spreading on those types of things, and that the "revolution" (to use a word that makes it sound far too important) is really making some progress. And then, on Saturday night, I talked to someone right before the Twins/Phillies game started and she said to me, "I was listening to the radio and a lot of people were complaining that the Twins shouldn't have traded Eric Milton because he is 8-1, even though he costs a lot of money."
Do you ever start to argue with the messenger? I know I do. I started to say, "But … he … Silva …" And then I just stopped. After all, she was just reporting what she heard, and I think the fact that someone would fill me in on some Twins talk they heard on the radio is a pretty nice thing, anyway.
Here are some other facts:
                    GS       IP      ERA     W     L     SALARY
Eric Milton         12     69.1     4.28     8     1     $9,000,000
Carlos Silva        13     81.0     4.00     7     3     $340,000
Carlos Silva, who came to the Twins in the deal that sent Eric Milton to Philadelphia, has pitched more innings than Milton this year (and more innings per start) and he has a lower ERA, despite pitching in the league with designated hitters.
Milton, of course, has eight wins and only one loss, while Silva has seven wins and three losses. However, anyone who has been reached by that revolution I talked about knows that a pitcher's wins and losses are often misleading and sometimes completely meaningless, especially when we're talking the difference between 8-1 and 7-3.
Wins and losses depend far too much on the offensive support a pitcher receives, the quality of the pitching performance his counterpart comes up with, and the quality of the pitcher's bullpen support. For instance, a big part of Milton's 8-1 record is that the Phillies have scored him (according to ESPN.com) 7.79 runs of support per nine innings he's on the mound. Silva has received 6.56 runs of support per nine innings, or more than a full run less than Milton. You don't think an extra 1.23 runs of support per nine innings can do a little something to help a pitcher's won/loss record?
All a pitcher can really do is go out there and try to allow the fewest runs for the most innings he can. In that respect, Silva has been better than Milton this year. Here are some other ways he's been better …
QUALITY START PECENTAGE 
 
          QS     GS      QS%
Silva      7     13     53.8
Milton     6     12     50.0
*QS stands for "quality start," which is a start of 6+ innings and 3 or fewer runs allowed.
FIELDING INDEPENDENT PITCHING
 
             IP      FIP
Silva      81.0     4.04
Milton     69.1     5.39
*FIP is an approximation of what the pitcher's ERA would be with an "average" defense behind him.
Oh, and there's one final thing … Eric Milton makes $9 million this season and then becomes a free agent, whereas Carlos Silva makes $340,000 and is under the Twins' control for several more years. And the Twins also got Nick Punto (49 PA, .242 GPA, $307,500) in the deal.
Teams win and lose, pitchers just try to prevent runs. And $8,660,000 makes a big difference to a low-payroll team, so big that Silva wouldn't even have to be pitching better than Milton for the Twins to come out happy with the trade.